Activating Our Downtown Parks & Public Spaces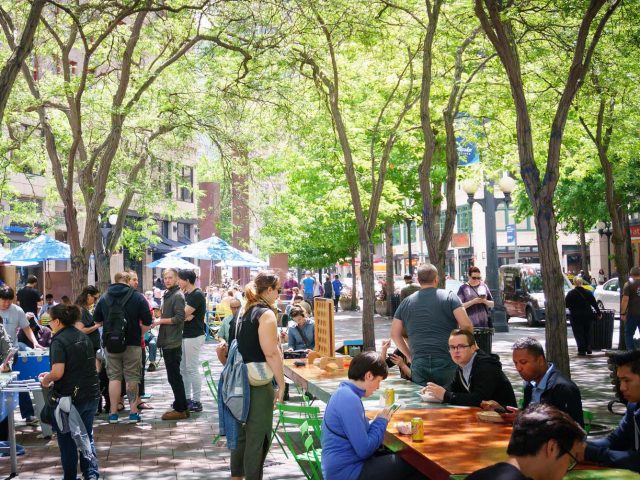 Reimagining our downtown parks through advocacy and activation
Well-managed parks and public spaces are a key ingredient to a vibrant public realm. In 2014, the Downtown Seattle Association partnered with the Alliance for Pioneer Square, Waterfront Seattle, Seattle Parks and Recreation and the Seattle Parks Foundation to take a look at how our parks could further elevate the urban experience. With generous funding from public and private partners, we examined best practices from parks across the globe. With a strategy in hand, DSA led an effort in 2016 to negotiate a management agreement with the city of Seattle to activate both Westlake Park and Occidental Square year-round.
DSA and partners have built on this success by expanding care, activation and involvement to additional spaces in downtown, including McGraw Square, Bell Street Park, Pine Street Plaza, Denny Park, Freeway Park and the brand-new Pier 62. The 2019 results speak for themselves:
Westlake Park and Occidental Square see more than a million park visitors every year*.
In 2019, there were 4,000 hours of scheduled parks programming in Westlake Park and Occidental Square
Occidental Square and Westlake Park continue to see significant improvements in visitor perceptions of safety, being welcoming and cleanliness.
Compared to 2018, Occidental Square saw nine-point improvements in both the perception of the park being clean (95%) and welcoming (95%).
Westlake Park saw solid increases in perceptions of cleanliness (91%) and being welcoming (90%), both increasing more than 10-points from 2018.
For more information about our work in the parks, follow this link to the Parks & Public Space Program or contact Vice President, Public Realm & Ambassador Operations, Jennifer Casillas:
Email: jenniferc@downtownseattle.org
*Visitor counts are based data provided by Placer.ai. Each person is counted once per day that they are present in the park. International visitors are not included due to data limitations.