DSA Virtual Access with Feliks Banel
A virtual series focused on issues impacting downtown
Moderator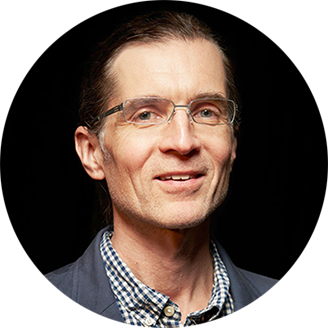 Feliks Banel
Historian, Producer & Host, KIRO Newsradio
Feliks Banel is a producer, host and historian for KIRO Newsradio and podcast host/producer for parent company Bonneville/KSL. He was deputy director of MOHAI from 1999-2006 and has produced multiple Emmy-nominated pieces for KCTS and the Seattle Channel.
The Transformation of Downtown's Waterfront
Nov. 16, 2023
If you've been near Seattle's waterfront recently, you've seen the amazing transformation taking shape. Our final fall Virtual Access event was a conversation with three of the people involved in achieving this new vision: Seattle Center Director Marshall Foster, Elliott Bay Connections Consultant Leslie Koch, and Friends of Waterfront Seattle President & CEO Joy Shigaki.
Watch the Webinar
Office and Commercial Space in Downtown Seattle
Oct. 26, 2023
Speculation around the potential use of urban commercial space is one of the most persistent post-pandemic issues. What is the potential for conversions to residential? What's the state of the market? And how are workspaces being designed to further the value of in-person work and collaboration? Our October panel unpacked these questions and more with HKS Seattle Principal & Office Director Doug Demers, Skipstone President A-P Hurd, and Newmark's Seattle Office Executive Managing Director Jesse Ottele.
Watch the Webinar
Fentanyl: Seattle's Public Health Emergency
Sept. 21, 2023
King County is on pace for more than 1,000 overdose deaths this year, with most taking place in Seattle due to fentanyl. What's the status of our community's efforts to address this crisis? What can we learn from public health officials? The first event in our fall Virtual Access series dug into this difficult issue with UW Center for Community-Engaged Drug Education, Epidemiology and Research Director Caleb Banta-Green, Purpose. Dignity. Action. Medical Director Dr. Cyn Kotarski, and Downtown Emergency Services Center Executive Director Daniel Malone.
Watch the Webinar
A Sizzling Seattle Summer
June 15, 2023
From MLB All-Star Week to Seafair, the Emerald City is set for an exciting summer event season. At our June 15 Virtual Access, the leaders behind some of the biggest productions gave us a sneak peak of what's in store. Panelists included Seafair President & CEO Eric Corning, Seattle Sports Commission President & CEO Beth Knox, and Seattle Center Director of Programs & Events Chelsea Riddick-Most.
Watch the Webinar
Local and National Urban Recovery
May 18, 2023
Our second spring Virtual Access event dug into downtown revitalization — here and across the country. Attendees heard from the head of Seattle's Office of Economic Development along with experienced urban leaders from across the country. Panelists included University Circle President Kate Borders, and Alliance for Downtown New York President Jessica Lappin.
Watch the Webinar
Seattle Politics and Elections 2023
April 20, 2023
We kicked off our spring Virtual Access series with a focus on the current state of politics in Seattle. What does recent polling tell us about voter priorities for the city and downtown? How do sentiments compare with voters in other major urban areas? And what's at stake as Seattleites elect seven of nine City Councilmembers this fall? Our panel of experts explored these topics and more with moderator Feliks Banel.
Watch the Webinar
Meet the New Leaders Shaping Downtown
Dec. 22, 2022
The third installment of our fall Virtual Access explored downtown's recovery momentum and the needs of our returning workers, visitors and record number of residents. The robust conversation was driven by three new leaders of critical city departments and Sound Transit. Panelists included Julie Timm, CEO of Sound Transit, AP Diaz, Superintendent of Seattle Parks and Recreation, and Gregg Spotts, Director of the Seattle Department of Transportation.
Watch the Webinar
A New Focus on Safety in Downtown Seattle
Nov. 17, 2022
In the second of our three-part fall Virtual Access series, we brought together the leaders behind a new effort to implement a "focused response" to improve public safety downtown. Panelists included Lisa Daugaard, Executive Director of the Public Defender Association, Founder and CEO of Community Passageways Dominique Davis, and Steve Strand, Captain, West Precinct of the Seattle Police Department.
Watch the Webinar
An Update on Chronic Homelessness Downtown
Oct. 20, 2022
We kicked off our fall DSA Virtual Access series with an update on chronic homelessness in downtown. In this first segment of our three-part series we focused on the King County Regional Homelessness Authority's targeted effort to connect those living unsheltered to housing through a public-private effort known as the Partnership for Zero. Panelists included Marvin Futrell, Director of Policy & Strategy, Washington State Lived Experience Coalition, Mary Frances Kenion, U.S. Housing and Urban Development Disaster Response Technical Assistance Specialist, Sam Oppenheimer, Director of Policy & Operations, KCRHA Systems Advocate Team, and Heidi Wiersma, KCRHA's Director of Special Projects.
Watch the Webinar
Downtown Recovery: Addressing Chronic Homelessness Downtown
May 19, 2022
The final segment of our three-part spring series focused on the issues influencing downtown's recovery and renewal. Following up on a panel conversation at our State of Downtown event in March, we took a closer look at efforts to address chronic homelessness downtown. Moderator Feliks Banel interviewed a panel of local leaders at the forefront of this ongoing crisis, including Marc Dones, CEO of the King County Regional Homelessness Authority, Felicia Salcedo, Executive Director of We Are In, and Tiffany Wilson, Seattle's Deputy Mayor.
Watch the Webinar
Downtown Recovery: Current Efforts to Address Safety and Security
April 21, 2022
At our second DSA Virtual Access event of 2022, we focused on what's being done to address public safety. Moderator Feliks Banel interviewed leaders who share responsibility for ensuring downtown is safe and welcoming for all. Our panel included Monisha Harrell, Seattle's Senior Deputy Mayor, Leesa Manion, Chief of Staff at the King County Prosecutor's office, and Natalie Walton-Anderson, Criminal Chief at the Seattle City Attorney's office.
Watch the Webinar
Downtown Recovery: A Look at Three West Coast Cities
Feb. 17, 2022
We kicked off 2022 with a panel of leaders from West Coast cities examining their downtowns' recovery and renewal. How are they responding to the impacts of the pandemic? Are they seeing the return of workers, residents and visitors? How are they working with elected officials on public safety concerns and homelessness? Speakers included Andrew Hoan, President & CEO of the Portland Business Alliance, Suzanne Holley, President & CEO of the Los Angeles Downtown Center Business Improvement District, and Marisa Rodriguez, Executive Director of San Francisco's Union Square Alliance.
Watch the Webinar
Downtown Recovery: Return to the Office
Nov. 18, 2021
At our final DSA Virtual Access program of the fall, presented by Alaska Airlines, we examined the benefits and challenges of returning to the office following a prolonged period of remote work. We heard from Magnusson Klemencic Associates about their experience coming back and learned about a recent global return-to-office study by Cushman & Wakefield. An executive from the Woodland Park Zoo discussed their plans to remake their workplace into a hybrid work environment.
Watch the Webinar
Downtown Recovery: Retail's Road Ahead
Oct. 21, 2021
In the second entry of our three-part fall Virtual Access series, presented by Alaska Airlines, our panel expressed optimism for downtown's future, the value of a built-in residential base and why we are still at "class-A location" for retail businesses. Speakers included MJB Consulting Founder & President Michael Berne, West Coast Commercial Realty Retail Specialist/Principal Tiffini Connell and Sandy Lew-Hailer, owner of sandylew.
Watch the Webinar
Downtown Recovery: The Future of Hospitality in Downtown Seattle
Sept. 23, 2021
Downtown Seattle enjoyed a robust tourism and hospitality rebound in the summer months. Visitor levels were up, hotel occupancy soared, the cruise season brought passengers from all over the country and restaurants were full. Then came the delta variant. Now these sectors are forced to once again adjust and adapt.
What's ahead for these critical components of downtown's economy? The first session of our fall DSA Virtual Access series, presented by Alaska Airlines, focused on the future of hospitality and tourism in downtown Seattle. Host Feliks Banel was joined by Visit Seattle President & CEO Tom Norwalk, Fairmount Olympic Hotel General Manager Sunny Joseph and Tom Douglas Restaurants Managing Partner Eric Tanaka.
Watch the Webinar
Downtown Recovery: Insights from Other U.S. Downtowns
May 20, 2021
Much has been written about the future of downtowns post-pandemic. Predictions about the future of work, retail, public transit and place amenities abound.
At this event, we talked with three urban leaders with direct perspective on how downtowns across the country are planning and mobilizing for recovery. Whether it's the future of office space, the changing retail landscape, homelessness, public safety or social and racial justice, urban centers across the country are emerging from the pandemic with the opportunity to adapt and innovate in different ways.
Our panel of experts included Neil Albert, president & CEO of the DowntownDC Business Improvement District, David Downey, president & CEO of the International Downtown Association, and Jessica Lappin, president of the Alliance for Downtown New York.
Watch the Webinar
Downtown Recovery: A Return to the Office
April 22, 2021
Downtown Seattle was the first urban core in the country to experience the economic impacts of COVID-19. In March 2020, more than 70% of downtown office workers shifted to remote work. Now that we're in Phase 3 of reopening, employers are considering their return to downtown.
At this event, we explored the health implications of returning to the office, what to expect of our transit system, what we know about employers' timelines and how offices will change.
Our expert panel included Dr. Vin Gupta, public health policy expert and critical care physician, Alex Hudson, executive director of Transportation Choices Coalition and Kris Richey Curtis, managing director of JLL.
Watch the Webinar
Downtown Recovery: Spotlight on the Mayor's Revitalization Working Group
March 18, 2021
One year after COVID-19 devastated our local economy, activity is returning as downtown begins to open back up. Still, recovery will be multi-faceted and take many months.
Panelists discussed the city's Downtown Revitalization Working Group. Launched by the mayor's office in February, this team is charged with accelerating the vaccine rollout, supporting small and disadvantaged businesses, activating public spaces, completing infrastructure projects, addressing the root causes of homelessness and bringing workers back to downtown safely.
The audience heard from the group's co-chairs Pamela Banks and DSA president & CEO Jon Scholes, as well as District 7 City Councilmember Andrew Lewis. Welcome remarks were given by Amazon's vice president of Global Real Estate, John Schoettler.
Watch the Webinar
The Future of Cities
Dec. 10, 2020
Prior to the pandemic, cities across the U.S. were concluding a record decade of growth, and downtown Seattle outperformed nearly every other urban core across North America.
Today, downtowns across the country are quiet, having been disproportionately impacted by the devastating economic effects of the coronavirus. How will cities reemerge? Will preferences for urban areas change following a vaccine? What is the future of the office? And how can cities rebuild better?
Our panel of experts in urban design, commercial real estate and multi-family development explored what's next for cities and shared insights from recent research.
Watch the Webinar
The State of Local Politics
Nov. 19, 2020
The political environment in Seattle continues to draw national attention. As a city, we face some of the toughest challenges in nearly 100 years. Unfortunately, there isn't political consensus on how to move our city forward. At this event, we explored what it will take for Seattle leaders and community members to listen to each other and work together, and whether there is room for thoughtful, inclusive and deliberate policymaking. Audience members heard from our panel of experts who research and report on local politics and attitudes of Seattle residents.
Watch the Webinar
A Better Crisis Response
Oct. 15, 2020
Last year, Seattle police responded to over 16,000 calls for people experiencing mental-health or substance-abuse crises. At this event, King County leaders discussed new approaches to crisis intervention.
What are those programs and how can they address the needs of our community? Are there upstream connections to treatment, services and housing that can prevent tragic events?
Panelists also explored initiatives to help shelter chronically homeless individuals, and attendees learned about a new state-funded mental-health pilot program in Los Angeles based on global best practices.
Watch the Webinar
Investing in Behavioral Health for a Safer Seattle
Aug. 6, 2020

After years of shrinking budgets and divestment in our social services sector, COVID-19 is laying bare the vulnerabilities in our criminal justice, behavioral health and homelessness systems. Recently, calls for renewed investment from around the country have captured the attention of policymakers and are shaping how cities are investing in public health and community safety. As our council deliberates calls to defund the Seattle Police Department, some leaders are proposing new investments that would bolster these aims for a safer and healthier downtown.
At this event, our panel talks about innovations they are championing and the impact they believe this work could have on Seattle's safety and health outcomes.
Watch the Webinar
Transportation in the Era of COVID-19
July 17, 2020
As downtown begins to open back up and move toward recovery, how will our transportation systems manage the safe and efficient return of workers and visitors?
At this event, we gathered local and regional transit agency leaders for an update on their preparedness to support mobility and access to downtown. What do riders of public transportation need to know about safely riding a bus or train? What's the outlook for addressing challenges created by the West Seattle Bridge closure? We also shared findings of a recent Commute Seattle survey conducted with company leaders on their return-to-work plans.
Watch the Webinar
Downtown Development in the Recovery
May 22, 2020
Prior to COVID-19, 264 downtown projects were under construction, in design, or awaiting permitting approvals. They would have delivered more than 38,000 housing units, over 16 million square feet of office space, and millions in city revenue. Today, many of these projects hang in the balance.
What is the role of the real estate industry in the economic recovery? What innovations in construction and permitting can allow projects to continue? And how will the economic crisis impact future development and project viability? Our experts explore the answers to these questions and more.
Watch the Webinar
Reopening Our Economy
May 7, 2020
There is strong evidence to suggest that Washington's early actions to shelter-in-place are having a profound impact on the number of COVID-19 cases in the state. Early planning is underway to relax physical distancing and gradually reopen the economy, leaving many to wonder what "the new normal" will look like.
At our May 7 webinar, attendees learned about what measures will guide public health decisions to reopen businesses, which industries will be the first to return, and how employers are considering new practices that will make it possible for our city and state to get back to business.
Watch the Webinar
The Private and Nonprofit Response to COVID-19's Economic Impact
April 23, 2020
The statewide closure of most Washington businesses began in mid-March, 2020. Downtown Seattle — as the region's jobs, tourism and cultural center — was hit particularly hard.
At this time of great need, many private companies, individuals and community nonprofits stepped up to support small businesses, arts organizations, workers, families and others affected by this global pandemic.
At this Virtual Access event, we welcomed a panel of experts leading some of these relief efforts. How did their strategy come together? What have they learned along the way? And how can others join in the effort to get our community and economy back on its feet?
Watch the Webinar
Note: Video joins event in progress due to recording issue.
Sawant's Jobs Tax in the Context of COVID‑19
April 16, 2020
The coronavirus pandemic has had a swift and severe impact on Seattle's economy. Many business and nonprofits are fighting to remain viable and some estimates suggest we are already seeing double-digit unemployment. It is against that backdrop that Seattle City Councilmember Kshama Sawant proposed a new tax on jobs that would impact over 800 companies and more than half of Seattle's workforce.
Watch the Webinar
COVID-19 Federal Stimulus Package
April 3, 2020
The economic effects of COVID-19 have been widespread in downtown Seattle, impacting every sector. At our DSA Virtual Access event, we hosted a panel of experts who broke down the recently passed $2 trillion federal stimulus package. They discussed what relief measures are in place for small businesses and nonprofits and offer insights on how to best access these resources.
Watch the Webinar
The Impacts of Coronavirus on Downtown
March 27, 2020
Like cities across the country, downtown is grappling with the impacts of COVID-19. What is the latest public health information available? What are the local, regional and national economic impacts of this rapidly spreading virus? What measures are being taken at the federal, state and local level to provide relief? Our panel offered the latest information and answered audience questions.
Watch the Webinar