DSA Virtual Access
A new series to keep you informed about the impacts of coronavirus and related issues affecting downtown and our city
Prepping for the Return of Professional Sports
When:
Friday, June 5
9–10 a.m.
Where:
Online: Zoom Webinar
Cost:
Free
Open to DSA members, partners and nonmembers.
Register
COVID-19 has impacted every sector of our national and local economy, including professional sports. Join us for our next Virtual Access event where we'll discuss the impacts of a global pandemic on the NHL specifically, and professional sports more broadly. How has COVID-19 impacted construction of the new arena at Seattle Center? How did the league put together a plan to move forward with the Stanley Cup Playoffs? What has NHL Seattle done to respond to community needs during this time? Join us for a moderated discussion with NHL Seattle executives.
Guests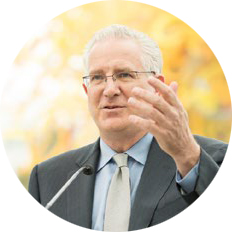 Tod Leiweke
CEO, Seattle Hockey Partners
As the CEO for Seattle Hockey Partners, Tod is responsible for building a competitive NHL expansion team and the $1.6 billion dollar redevelopment of the Arena at Seattle Center. Prior to being appointed CEO, Tod served for three years as COO of the NFL, where he oversaw the league's day-to-day operations. Tod has also held executive positions with the Minnesota Wild, the PGA Tour, the Vancouver Canucks and the Golden State Warriors. He currently serves on the advisory committee for the WELL Building Institute, which recently launched a safety rating for facility operations and management of sports and entertainment venues in response to the pandemic.
Mari Horita
VP, Community Engagement & Social Impact, NHL Seattle / Executive Director, NHL Seattle Foundation
Mari joined NHL Seattle in January 2019. She is charged with developing and implementing the organization's social impact, philanthropic, and community engagement strategy and objectives. Previously, Mari spent seven years as president and CEO of Seattle-based ArtsFund. At NHL Seattle she leads the franchise's community partnership and philanthropic efforts. She is a graduate of the University of Washington School of Law and spent nearly 10 years practicing law at firms in Seattle. She currently serves on the DSA Board of Directors.
Downtown Development in the Recovery
Friday, May 22
Prior to COVID-19, 264 downtown projects were under construction, in design, or awaiting permitting approvals. They would have delivered more than 38,000 housing units, over 16 million square feet of office space, and millions in city revenue. Today, many of these projects hang in the balance.
What is the role of the real estate industry in the economic recovery? What innovations in construction and permitting can allow projects to continue? And how will the economic crisis impact future development and project viability? Our experts explore the answers to these questions and more.
Watch the Webinar
Reopening Our Economy
Thursday, May 7
There is strong evidence to suggest that Washington's early actions to shelter-in-place are having a profound impact on the number of COVID-19 cases in the state. Early planning is underway to relax physical distancing and gradually reopen the economy, leaving many to wonder what "the new normal" will look like.
At our May 7 webinar, attendees learned about what measures will guide public health decisions to reopen businesses, which industries will be the first to return, and how employers are considering new practices that will make it possible for our city and state to get back to business.
Watch the Webinar
The Private and Nonprofit Response to COVID-19's Economic Impact
Thursday, April 23
The statewide closure of most Washington businesses began in mid-March, 2020. Downtown Seattle — as the region's jobs, tourism and cultural center — was hit particularly hard.
At this time of great need, many private companies, individuals and community nonprofits stepped up to support small businesses, arts organizations, workers, families and others affected by this global pandemic.
At this Virtual Access event, we welcomed a panel of experts leading some of these relief efforts. How did their strategy come together? What have they learned along the way? And how can others join in the effort to get our community and economy back on its feet?
Watch the Webinar
Note: Video joins event in progress due to recording issue.
Sawant's Jobs Tax in the Context of COVID‑19
Thursday, April 16
The coronavirus pandemic has had a swift and severe impact on Seattle's economy. Many business and nonprofits are fighting to remain viable and some estimates suggest we are already seeing double-digit unemployment. It is against that backdrop that Seattle City Councilmember Kshama Sawant proposed a new tax on jobs that would impact over 800 companies and more than half of Seattle's workforce.
Watch the Webinar
COVID-19 Federal Stimulus Package
Friday, April 3
The economic effects of COVID-19 have been widespread in downtown Seattle, impacting every sector. At our DSA Virtual Access event, we hosted a panel of experts who broke down the recently passed $2 trillion federal stimulus package. They discussed what relief measures are in place for small businesses and nonprofits and offer insights on how to best access these resources.
Watch the Webinar
The Impacts of Coronavirus on Downtown
Friday, March 27
Like cities across the country, downtown is grappling with the impacts of COVID-19. What is the latest public health information available? What are the local, regional and national economic impacts of this rapidly spreading virus? What measures are being taken at the federal, state and local level to provide relief? Our panel offered the latest information and answered audience questions.
Watch the Webinar