Sound Transit 3 Implementation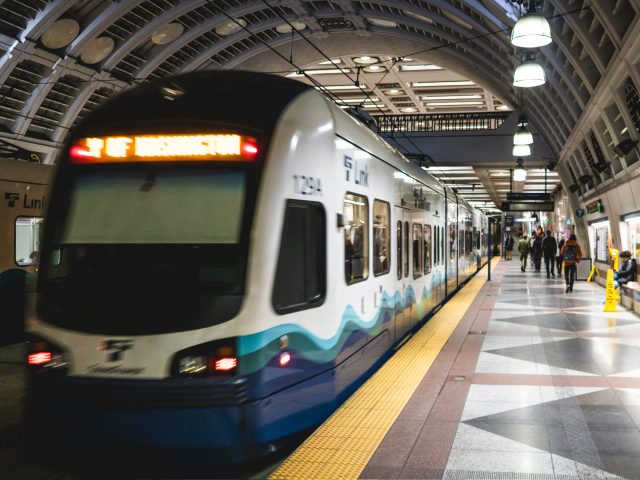 Growing the capacity of our transportation system is critical to the health of downtown. With the 2016 passage of Sound Transit 3, we took a large step toward ensuring an efficient and interconnected regional transportation network. ST3 is the region's single biggest investment in our transportation future. It will dramatically increase connectivity to, through and within downtown.
DSA supported the campaign to pass ST3 and weighed in early on the specifics of the plan ultimately approved by voters. The levy funds an additional 62 miles of light rail lines, expands bus rapid transit lines, increases Sounder train capacity and adds a second downtown transit tunnel to serve six new stations in downtown Seattle.
The new downtown transit tunnel must be developed to maximize ridership, enhance system visibility, and improve navigation at the street level. Our advocacy is rooted in the following guiding principles:
Ridership & Access
All six downtown stations must be maintained in the final tunnel design.
Tunnel and station design must anticipate the possibility of future expansions beyond Ballard and West Seattle, but also north from Harrison and east to Madison Valley.
Sound Transit must plan for increased regional demand beyond 2035 by maximizing station capacity with more access points and larger platforms.
Transportation infrastructure such as the streetcar should remain in operation throughout construction.
Hubs & Connectivity
Investments must emphasize transit connections to current and future jobs, residential hubs, cultural assets and regional growth centers.
New stations must have high-quality system navigation and visibility at the street level while integrating excellent bus/rail/bike/walk connections.
The Jackson Hub in the Chinatown-International District should become Seattle's premier transit hub and leverage both public and private investment — specifically incorporating and connecting King Street and Union stations to ensure direct, high-quality, in-station transfers between existing light rail and heavy rail.
The Westlake Hub must be designed with intuitive at-grade and below-grade connections that leverage investments in the public realm as well as downtown's retail core.
Land Use
Sound Transit and the city must work together to maximize employment and housing density on future Sound Transit sites.
Sound Transit and the city must maximize affordable housing opportunities around existing and future stations to ensure increased light rail access for citizens of lower income levels.
Efficiencies
Agencies should look for efficiencies by working with private property owners and developers in and around stations to develop stations and access portals.
Agencies should collaborate to identify efficiencies and potential cost-sharing opportunities with other public works projects planned in downtown.
For more information, please email info@downtownseattle.org.