MID Unveils Fleet of New Trikes – Part of Downtown Cleaning Investments
Posted on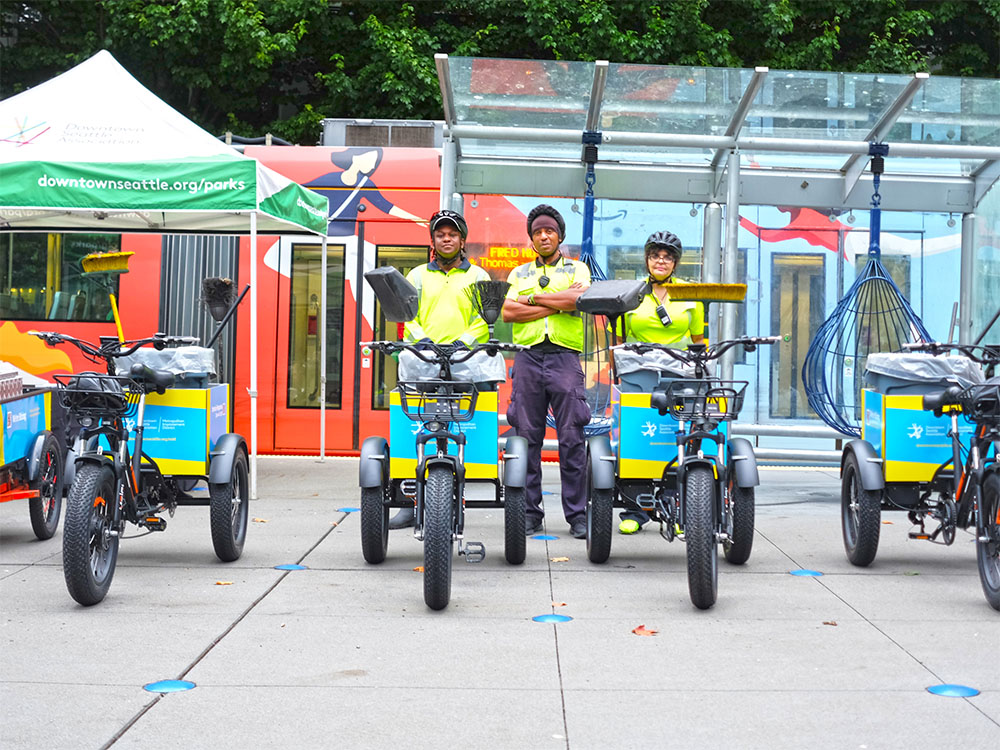 On Sept. 1, Seattle-area media and MID ratepayers got an up-close look at the latest cleaning equipment purchased with MID funding to keep downtown Seattle clean and inviting. The new machinery – 18 mobile trikes – allows ambassadors to respond more quickly to sanitation incidents and provide more rigorous cleaning throughout the MID's 285-block footprint. The trikes are part of a $15.5 million investment MID ratepayers will make in programs and services this fiscal year.
Held in McGraw Square, the event was organized by the MID Board's Clean & Safe Committee and DSA/MID staff. Members of the MID Clean & Safe Committee also received a tour of the Times Square Building, where ambassadors deploy seven days a week. Media coverage from the event can be viewed here: KING 5, FOX 13, KOMO 4 and Seattle News Now.
"Maintaining downtown sidewalks and alleys requires constant, diligent effort by nearly 50 Clean Team ambassadors deployed daily," said Steve Walls, the DSA/MID director of cleaning services. "Adding to our fleet of trikes — several of which are equipped with pressure washers — helps us address highly visible areas of trash, graffiti and disorder in addition to biohazard cleanups."
Last year, the team responded to thousands and calls and collected millions of gallons of trash. The results of the Clean Team's hard work are captured below:
60 miles of sidewalks and alleys washed
1.4 million gallons of trash collected
27,039 graffiti tags and stickers removed
"With the support of downtown property owners, we're continuing to invest in a clean, safe and welcoming downtown," said Jon Scholes, DSA President & CEO. "With a record-high residential population, visitors at pre-pandemic levels and a steady return to the office, keeping the downtown environment clean and inviting is crucial to our continued recovery."
For more information about DSA and MID services, visit downtownseattle.org/mid.