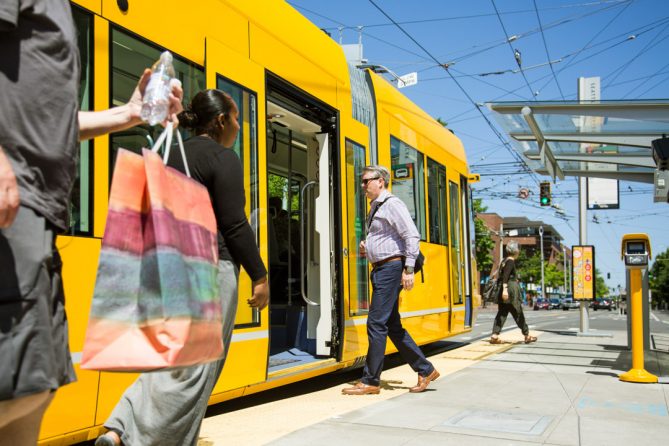 Leading the effort to connect our downtown neighborhoods with a new streetcar line on First Avenue
Seattle has two streetcar lines that are fully integrated into the ORCA card system, but remain disconnected to our center city. As a member of the Seattle Streetcar Coalition, the DSA has led the effort to design and build a new link, called the Center City Connector. Initially approved by Seattle City Council in 2014, the alignment will connect Chinatown-ID and Pioneer Square to the Pike Place Market and South Lake Union. When the line is completed, streetcars will arrive every five minutes and travel in a dedicated travel lane along First Avenue. The Seattle Streetcar Coalition is a group of more than 70 member organizations that support the development of an expanded and highly functional streetcar network in our center city.
After pausing the project in 2018, Seattle Mayor Jenny Durkan announced on Jan. 17, 2019 that the project will move forward. DSA firmly believes the Center City Connector is essential given record jobs, visitors and residential growth in downtown. Public polling also indicates strong support for more transit options in Seattle. We look forward to working with the Mayor and Seattle Department of Transportation to secure all remaining funding.
For more information, visit the project website or contact Emily Mannetti:
Phone: 206-613-3211
Email: emilym@downtownseattle.org