Seattle Times: New data shows why Seattle's downtown feels more lively
Posted on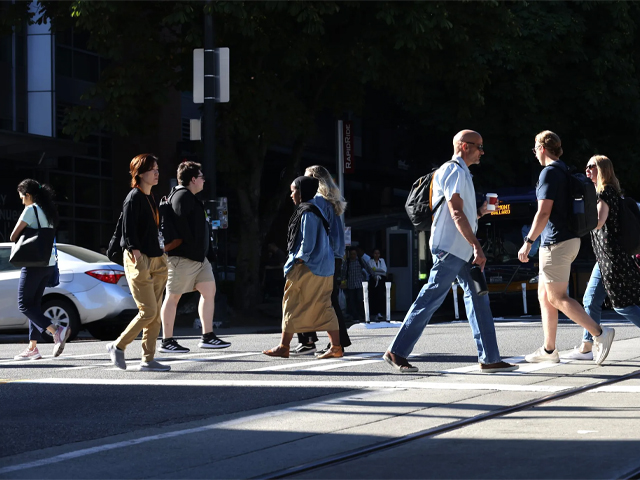 This story was originally published by the Seattle Times on July 20, 2023
By Gene Balk / FYI Guy
Seattle Times columnist
Has downtown felt a bit more lively during the weekdays lately? There's a good reason why.
Newly released data shows June was the second consecutive month in which worker foot traffic surpassed 50% of downtown's pre-pandemic levels — the first time that's happened since offices shuttered in the early part of 2020.
According to the Downtown Seattle Association, the average number of weekday workers downtown in June was 86,444 — that's 54% of the average from June 2019, which was 160,153.
In May, the figure was originally reported as 48% of the level for the same period in 2019, but after a routine reassessment, it has been revised to 51%.
June was also the second month in a row during which downtown worker foot traffic averaged more than 80,000 visits daily. The figure for May was 82,449. Before that, the last time average worker foot traffic exceeded 80,000 was February 2020.
The return-to-office data comes from Placer.ai, a national firm that provides foot-traffic analytics from smartphone tracking technology. Placer.ai defines a downtown worker as anyone who visits the area at least three days during the week from Monday to Friday.
There are some other bright spots in the downtown-recovery data compiled by the DSA. Demand for hotel rooms in June exceeded pre-pandemic levels for the first time, hitting 101% of the June 2019 number. And there were 2.98 million visitors to downtown Seattle last month, beating the June 2022 total by more than 80,000.
As you'd imagine, Jon Scholes, president and CEO of the DSA, is pleased with these new numbers.
"The increased foot traffic we experienced In June from workers and visitors is driving our continued revitalization and helps fuel our restaurants, small businesses and arts and cultural venues," he said. "Downtown is buzzing — we just need to ensure a clean and welcoming environment is the foundation for all of this activity."
July's numbers are expected to be pretty big too with the MLB All-Star festivities and this weekend's Taylor Swift concerts. At least for tourism and hotel rooms.
To be sure, the return-to-office figures are still way off from where we were, and from where we'd like to be. But the latest figures do represent significant progress when you consider how bad things were at their worst.
In April 2020, just as the pandemic really took hold, the average daily worker foot traffic was just 28,232, or 17% of the average one year earlier. Downtown didn't hit 30% of 2019 levels until July 2021, and it took another year to pass the 40% mark.
Another thing to keep in mind: The benchmark for downtown's recovery shouldn't be 100% of pre-pandemic levels. Some changes brought on by the pandemic are here to stay, including the rise in remote work.
Scholes believes worker foot-traffic numbers will keep rising over the course of 2023, but only up to a point — he thinks somewhere around 70% of 2019 levels is eventually realistic.
"I think companies are recognizing the importance of in-person work," he said. "I think we'll end with the majority of people working in their offices the majority of the week."
Probably the biggest factor in bumping up the worker foot-traffic numbers was Amazon, downtown's largest employer, requiring workers to return to the office at least three days a week as of May 1.
But Scholes says other large companies have also made changes recently to encourage in-office worker presence, including Google and Redfin. He also thinks that companies are starting to move away from merely encouraging their workers to return, instating harder mandates instead.
"I think that could be the next variable that drives up more people (returning to the office)," he said.
Scholes feels another reason that the return-to-office trend is gaining momentum is because crime and public-safety issues are improving.
"If you've come downtown to go to a Mariners game or a Kraken game, or to show your family the market, I think you've seen improvements relative to a year ago," he said. "And the reduction in crime has been notable."
Data from the Seattle Police Department shows violent crime in the city's downtown commercial core declined by 23% in the first six months of 2023 compared to the same period in 2022.