Seattle Times: Downtown Seattle is showing a turnaround. If only it can last
Posted on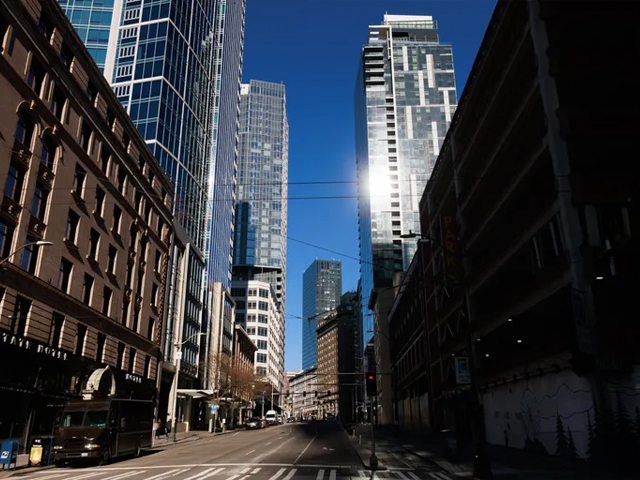 This story was originally published by The Seattle Times on July 21, 2023
By Jon Talton
Columnist
It seems as if downtown Seattle may avoid the feared "doom loop" after all.
My colleague Gene Balk reported that worker foot traffic crossed 50% of pre-pandemic levels in May and June. The data is from the Downtown Seattle Association, compiled by Placer.ai. The Silicon Valley firm uses foot-traffic analytics from smartphone tracking and defines a downtown worker as anyone who visits the area at least three days from Monday to Friday.
That translates to 82,449 this past May (51%) and 86,444 in June (54%), the first time Seattle's central core has cracked the halfway-back employee numbers since February 2020.
As Balk also noted, the demand for hotel rooms this past month hit 101% of the numbers in June 2019. According to the association's Recovery Scoreboard, 2.98 million visitors came downtown this past month. That surpasses the June 2022 total by more than 80,000. It's a significant climb from the low point of around 445,000 in April 2020.
Columbia University real estate professor Stijn Van Nieuwerburgh should be paying attention to Seattle. He coined the term "doom loop" for downtowns and urban areas suffering from the pandemic and its fallout.
The loop works like this: Remote work reduced the value of office space, cutting real estate taxes to cities, while more affluent people able to work from home move away along with their spending on retail and paying tax dollars. Next restaurants and shops close, leaving empty storefronts. Cities, hard-strapped for revenue, curtail services, while foot traffic also goes down except for rising homelessness.
As The New York Times completes the loop: "Crime and grime increase. More people feel unsafe and leave the city, leaving more storefronts and office buildings empty. More crime, more grime, more cuts in services."
Van Nieuwerburgh was examining New York City, but the term went viral and has especially been applied to Seattle's West Coast big brother, San Francisco. The City by the Bay has been hit by repeated blows, including closing the downtown flagship Whole Foods and Westfield handing urban mall San Francisco Centre back to its lender.
Seattle has performed better. According to the Economic Innovation Group, Seattle was the only West Coast city to climb above its 2020 levels this past year.
The bipartisan policy outfit wrote in a recent report, "More impressively, [Seattle's] 2.4% growth rate from 2021 to 2022 was the highest among any of the 50 largest cities, including the sprawling growth hubs in Florida and Texas. Its success defies an easy answer because, like its other West Coast peers (all of which are still shedding population), it struggles with rising crime, a high cost of living, large share of remote jobs and high numbers of the unhoused."
In other words, many of the causes of the doom loop.
Certainly, Amazon, downtown Seattle's largest employer, bringing people to the office three days per week or more since May has had a significant impact. I hoped it was the kind of move that would have a flywheel effect and we'd see other employers follow. We may be seeing a little of that momentum coming to fruition, and those numbers should continue to grow.
To be sure, the pre-pandemic days of Monday through Friday in the office from 8 a.m. to 5 p.m. are gone for most, and companies are embracing flexibility. Yet they also see a very real benefit to in-person collaboration that simply isn't attainable via Zoom.
Regular readers will recall that the federal Bureau of Labor Statistics reports that nearly 73% of businesses rarely or never engaged in remote work in 2022.
The economic benefit of getting more people downtown during the week is vital. They support small businesses, restaurants, arts and culture. Mayor Bruce Harrell's inclusion of getting workers back to the central core in his Downtown Activation Plan is a necessary ingredient. He's looking to have private- and public-sector leaders share strategies to drive successful work policies.
As hopeful as the office-return numbers are, Seattle still faces major challenges.
Hanna Love and Tracy Hadden Loh of the Brookings Institution published a report in April regarding perceptions of crime in four major cities, including Seattle.
They interviewed 100 local leaders, employers and residents nationally, concluding, "Respondents overwhelmingly pointed to crime — not the desire for flexible work arrangements — as the top barrier preventing workers' return to office."
In reality, violent crimes and property crimes rose only about 1% from 2019 to 2022 in downtown Seattle. This jibes with Downtown Seattle Association data showing downtown experienced a 13.8% decrease in violent crime and a 35.1% decline in property crime in the first five months of 2023 compared with the previous year.
But perceptions matter and are grounded in reality. The Brookings scholars quoted one Seattleite saying, "Safety, security, substance abuse and mental health — just the experience in public areas — are the No. 1 issues preventing return-to-office."
Many people write to me saying they'll never go downtown, even though I live there and rarely feel threatened.
Beyond this challenge is the looming financial storm facing commercial real estate nationally. We're in a race to convert some offices to residences and get people back in other commercial space.
Still, if Seattle can keep making ground on the basics of public safety and cleanliness, while making significant action on the fentanyl crisis, we could see momentum taken to another level. That would be in time for the waterfront to be complete in two years and the FIFA World Cup coming to town in 2026.
Jon Talton: jtalton@seattletimes.com; on Twitter: @jontalton. Talton writes about business and the Pacific Northwest economy in the Sunday Seattle Times.