Downtown Seattle Worker Return Reaching New Post-Pandemic Heights
Posted on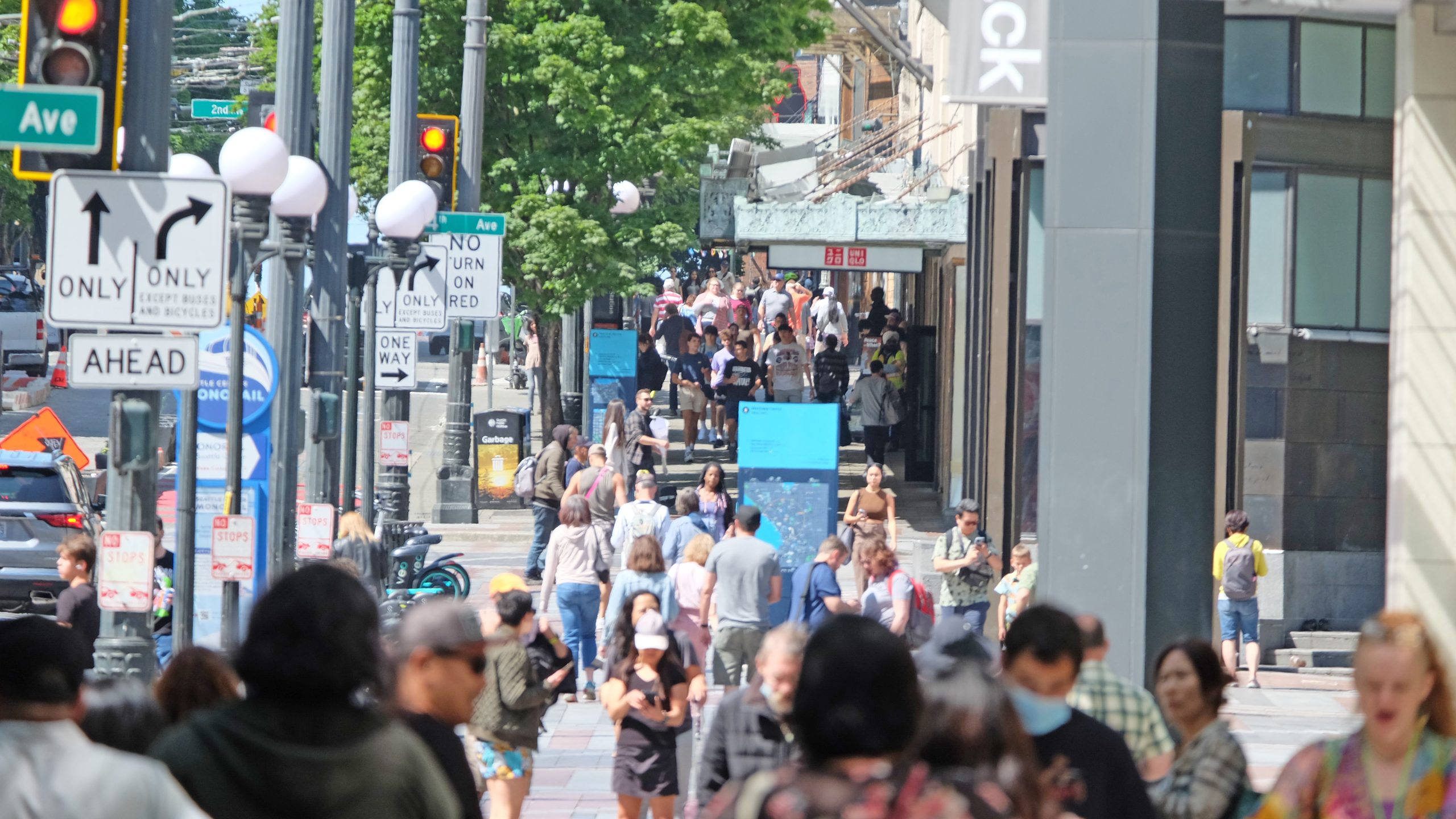 City core also welcomes nearly 3 million June visitors – 96% of June 2019  totals
SEATTLE (July 14, 2023) Downtown Seattle marked another recovery milestone with the percentage of returning workers climbing to 50% or higher in consecutive months for the first time in more than three years. According to the latest data from Placer.ai, 54% of downtown-based employees were back in the office in June, up from 50% in May. An estimated 168,585 workers were downtown in June, the highest number since the start of the pandemic and nearly 75% of June 2019 figures.
Additionally, downtown welcomed nearly 3 million visitors in June, the second-highest month for visitors since March 2020 (August 2022 saw 3.04 million visitors). A strong start to the tourism season in downtown, the June visitor total was 96% recovered compared to June 2019. The hotel sector continues to benefit from robust visitor numbers with Visit Seattle data indicating June 2023 hotel demand was 101% recovered compared to June 2019. This is the first time since the start of the pandemic that hotel demand has surpassed the comparable 2019 month.  Hotel demand is a reflection of hotel rooms sold. This metric is captured by STR and provided by Visit Seattle.
"The increased foot traffic we experienced In June from workers and visitors is driving our continued revitalization and helps fuel our restaurants, small businesses and arts & cultural venues," said DSA President and CEO Jon Scholes. "We have momentum on our side right now. These numbers don't yet reflect MLB All-Star Week, Taylor Swift concerts, Bite of Seattle, the art fair and other big July events. Downtown is buzzing, we just need to ensure a clean and welcoming environment is the foundation for all of this activity."
Other June data highlights include:
Residential units continued their post-pandemic climb in June, reaching more than 56,500 occupied units for the first time ever.
The Seattle metro led all U.S. markets in hotel occupancy from June 11 – 17 at 86.8%, according to data from Visit Seattle. During that stretch, Seattle also set two single-day market records of more than $5 million in revenue and 96.7% occupancy.
More than 10,000 people visited the area around Westlake Park and Westlake Center's plaza from 4 – 6 p.m. on Friday, July 7. That time frame corresponds with the UMI concert kicking off the 44th season of the DSA's Downtown Summer Sounds concert series.
For more information and detailed statistics, visit DSA's Economic Recovery Dashboard. For more information about DSA's summer programing, including our free outdoor concert series, visit our parks and public spaces page.
About the Downtown Seattle Association (DSA)
Established in 1958, the Downtown Seattle Association (DSA) is a nonprofit membership organization whose mission is to create a healthy, vibrant downtown for all. By advocating on issues including downtown recovery, the urban experience and transportation, DSA works to ensure that downtown remains a great place to live, work, shop and play. DSA also manages the Metropolitan Improvement District, a business-improvement area spanning 300 square blocks downtown.