DSA and MID Boards Welcome New Leaders for Three-Year Terms
Posted on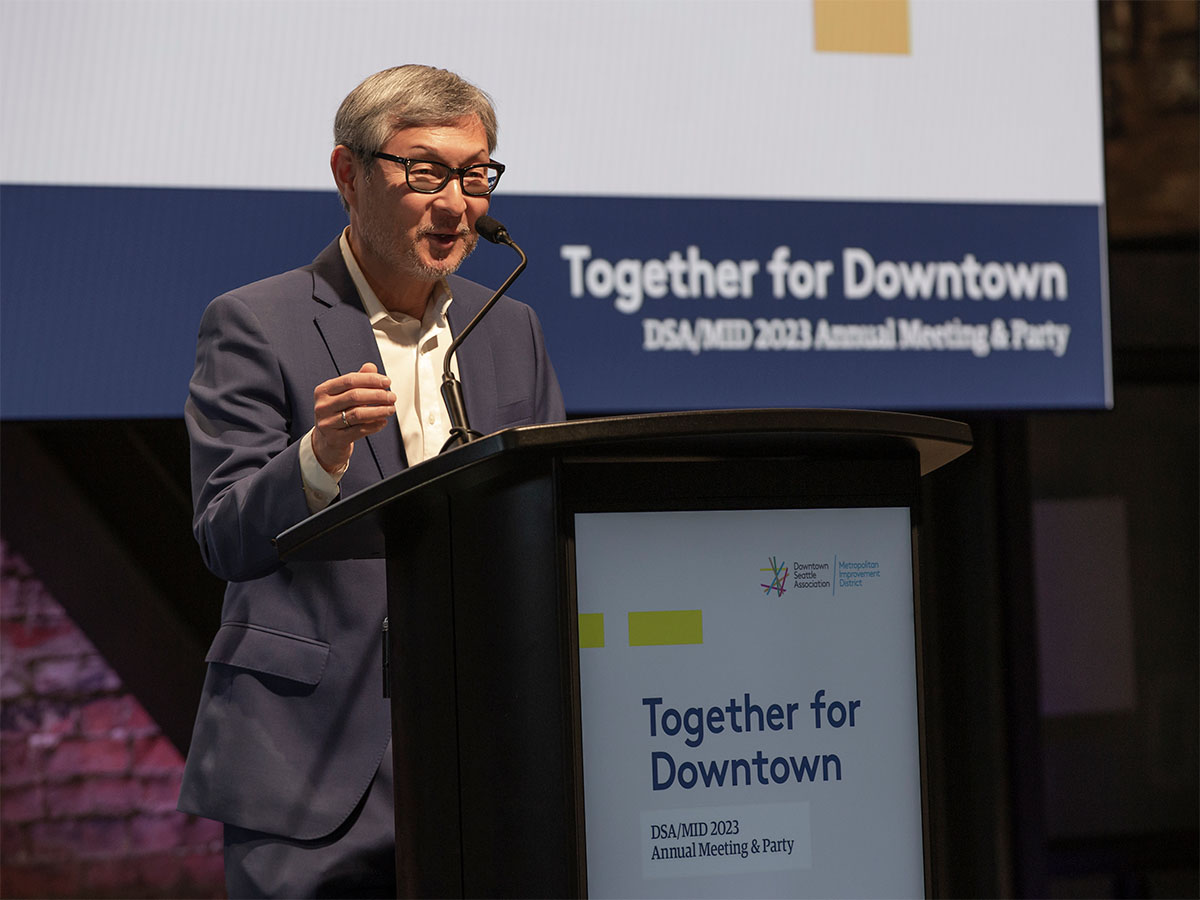 The Downtown Seattle Association and Metropolitan Improvement District welcomed new board members on July 1. These leaders represent a variety of sectors and bring a wide range of perspectives to our boards. Members serve three-year terms.
DSA Board Leadership
Sung Yang, DSA Board Chair
Sung has more than two decades of experience managing public policy issues, legislative advocacy, communications, political campaigns, crisis management, coalition building, and public opinion research. As a principal with Pacific Public Affairs, Sung advises clients as they seek to successfully navigate complex government processes and public issues. Previously, Sung was deputy King County executive and chief of staff for King County Executive Dow Constantine. In this role, Sung directed policy and economic development, regional planning, communications, external and government relations, and the climate change team.
Mari Horita, DSA Board Vice Chair
Mari is vice president of community engagement and social impact for the Seattle Kraken and executive director of the Seattle Kraken's charitable foundation. Mari leads philanthropic strategy for the Kraken and is charged with implementing the organization's social impact and community engagement strategy and objectives. Prior to joining the Seattle Kraken, Mari was president and CEO of ArtsFund.
New DSA Board of Directors Members
Derrick Belgarde
Chief Seattle Club
Derrick is executive director of Chief Seattle Club, where he leads the organization's mission of providing basic needs for American Indian and Alaska Native people. Derrick is an enrolled member of the Confederated Tribes of Siletz Indians of Oregon, and also Chippewa-Cree from Rocky Boy Montana.
Salone Habibuddin
Urban Visions
Salone is vice president of development at Urban Visions and a licensed architect with more than two decades of industry experience. She has served on several industry organizations, including the Seattle Design Review Board, the American Institute of Architects and as a consultant for Rumi Schools in Hyderabad, India.
Karen Lee
Plymouth Housing
Karen Lee joined Plymouth Housing as chief executive officer in 2022. Karen has broad experience in both the public and private sectors, especially helping those in need of help and rehabilitation. Prior to her work in supportive housing, Karen was CEO of Pioneer Human Services, where she assisted individuals with a history of incarceration and addiction.
Lisa Nitze
Nitze-Stagen
As principal at Nitze-Stagen, Lisa is responsible for branding, community engagement and partnership development. She has 30 years of experience leading organizations and initiatives seeking to develop and implement strategies for positive social change. Lisa served as chair of the MID Advisory Board Committee from July 2021-June 2023.
Michele Smith
MoPOP
As MoPOP CEO, Michele currently leads the world's most immersive pop culture experience museum, which showcases iconic moments in TV, rock music, science fiction and more. Michele is a mission-focused leader with extensive experience in business development, operations and finance in the nonprofit industry. Before joining MoPOP, Michele was chief business and financial officer with the award-winning Woodland Park Zoo.
MID Ratepayer Advisory Board Leadership
Reza Marashi, Board Chair
Kilroy Realty Corp.
Reza is director of government affairs at Kilroy Realty Corp., where he interfaces with public officials on issues related to Kilroy's properties. With operations across the U.S. and Seattle, Kilroy is recognized for its leadership in sustainability, building operations, innovation and design. In his free time, Reza enjoys cooking, traveling and playing basketball.
Sabrina Villanueva, Vice Chair
Clise Properties
A veteran of the real estate and telecommunications industries, Sabrina has built an exceptional record of commercial property management over the past 16 years. As senior director of property management at Clise Properties, Sabrina has continued to hone her skills, expanding to data centers, colocation, retail and office space. In her current role, she manages several commercial properties in downtown Seattle, including in the Denny Regrade area.
New MID Ratepayer Advisory Board Members
Tim Andrews
Seattle Children's Research Institute
Tim is a Western Washington native who started his professional career at Genetic Systems Corp., an emerging, downtown-located research company focused on providing testing for Acquired Immune Deficiency Syndrome (AIDS). This began a service-oriented career in various research, biotech and pharmaceutical roles focused on operational, engineering and life safety leadership at various organizations, including Genetic Systems Corp., Targeted Genetics and Xcyte Therapies, leading him to his current role at SCRI.
Sally Bagshaw
Downtown Resident
Sally is a lawyer with over 40 years of municipal experience. She served as chief civil deputy for the King County Prosecuting Attorney's Office and as an assistant attorney general for both the University of Washington and Washington State University. Between 2009 and 2020, Sally served three terms on the Seattle City Council. She is known for her energy and bringing people together to solve complex problems. Sally lives in the retail core.
Adam Bowser
Gaw Capital
Adam is a senior vice president of investments with Gaw Capital USA. Adam has been in commercial real estate in Seattle for 19 years, originally with Clarion Partners, then with Cascade Investments before joining Gaw to open the Seattle office in 2017. Gaw Capital USA owns Columbia Center (1.5M sf) and Seattle Tower (172K sf), contributing a combined ~$340,000 annually to the MID. Gaw Capital USA is an affiliate of Gaw Capital Partners, which has $35B of assets under management globally.
Gabe Grant
Downtown Resident
Gabe is a Seattle native with a passion for creating great places, a deep commitment to civic affairs and a strong multidisciplinary approach to real estate. He has extensive experience identifying investment opportunities, structuring and negotiating complex real estate ventures, and managing creative development and repositioning of assets. Gabe lives in the Belltown neighborhood and represents his HOA.
Laura Horn
Amazon
Laura oversees the program responsible for the management, operations and community partnerships of Amazon's owned-property assets in Puget Sound. She has nearly 15 years of experience leading property management teams, overseeing multimillion-dollar capital projects and developing workplace programs focused on sustainability and DEI. In her free time, Laura loves spending time with her husband and two daughters, cooking, photography and traveling.