Midweek Office Worker Return Reaches 51%, Strengthening Downtown's Recovery
Posted on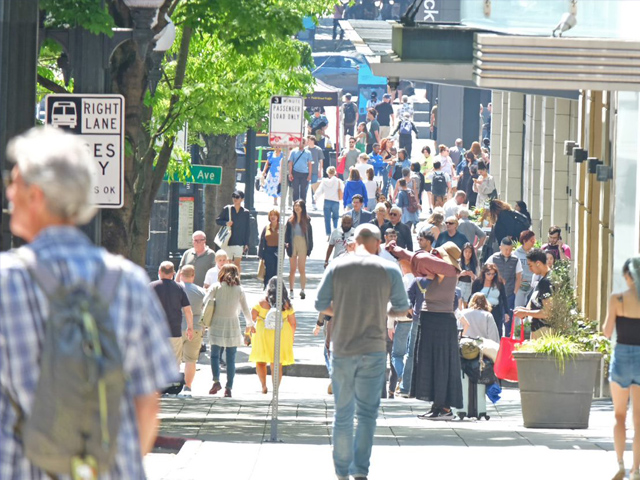 Downtown is the busiest it's been in three years thanks to a surge of returning workers. As of May, according to data from Placer.ai, 51% of downtown-based employees are back in the office Tuesday-Thursday. Downtown is home to more than 300,000 jobs and thousands of businesses. A robust worker base supports an ecosystem of small businesses, with more than 2,000 street-level shops, cultural attractions and organizations now open in Seattle's urban core.
"We're excited to welcome thousands of office workers back to downtown, where DSA/MID teams are out every day ensuring a safe and clean city core filled with activity," said DSA President & CEO Jon Scholes. "Street-level businesses are bustling, and we've set the stage for a great summer season of events. Workers, residents and visitors can look forward to our Downtown Summer Sounds concert series, food truck festivals, MLB's All-Star Week activities and more.
"Workers returning to downtown benefits not only the restaurants and businesses who cater to them, but residents, tourists and area families — even visitors who only stop by on occasion," said Chef Ethan Stowell, founder & CEO of Ethan Stowell Restaurants. "Downtown has historically been a vibrant social and commercial hub, and the presence of our guests, friends and neighbors is the best way to ensure the continued health of our community."
"Office workers are a key element of our local arts and cultural scene," said Bernie Griffin, managing director of The 5th Avenue Theatre. "In addition to being patrons and audience members, workers create a bustling, energetic environment that encourages artistic expression, collaboration and cultural exchange."
Downtown-based employees are a key pillar of the city center's economy, and their weekday presence enlivens public spaces and provides a steady customer base to ground-level businesses. While there is much progress yet to be made, breaking the 50% return-to-work threshold is good news for all who work, live and visit the center city. Downtown also welcomed 2.5 million visitors last month – 92% of 2019 totals.
For more recovery information and detailed statistics, visit DSA's Economic Recovery Dashboard.