Downtown Summer Sounds Fills Heart of Seattle with Live, Local Music
Posted on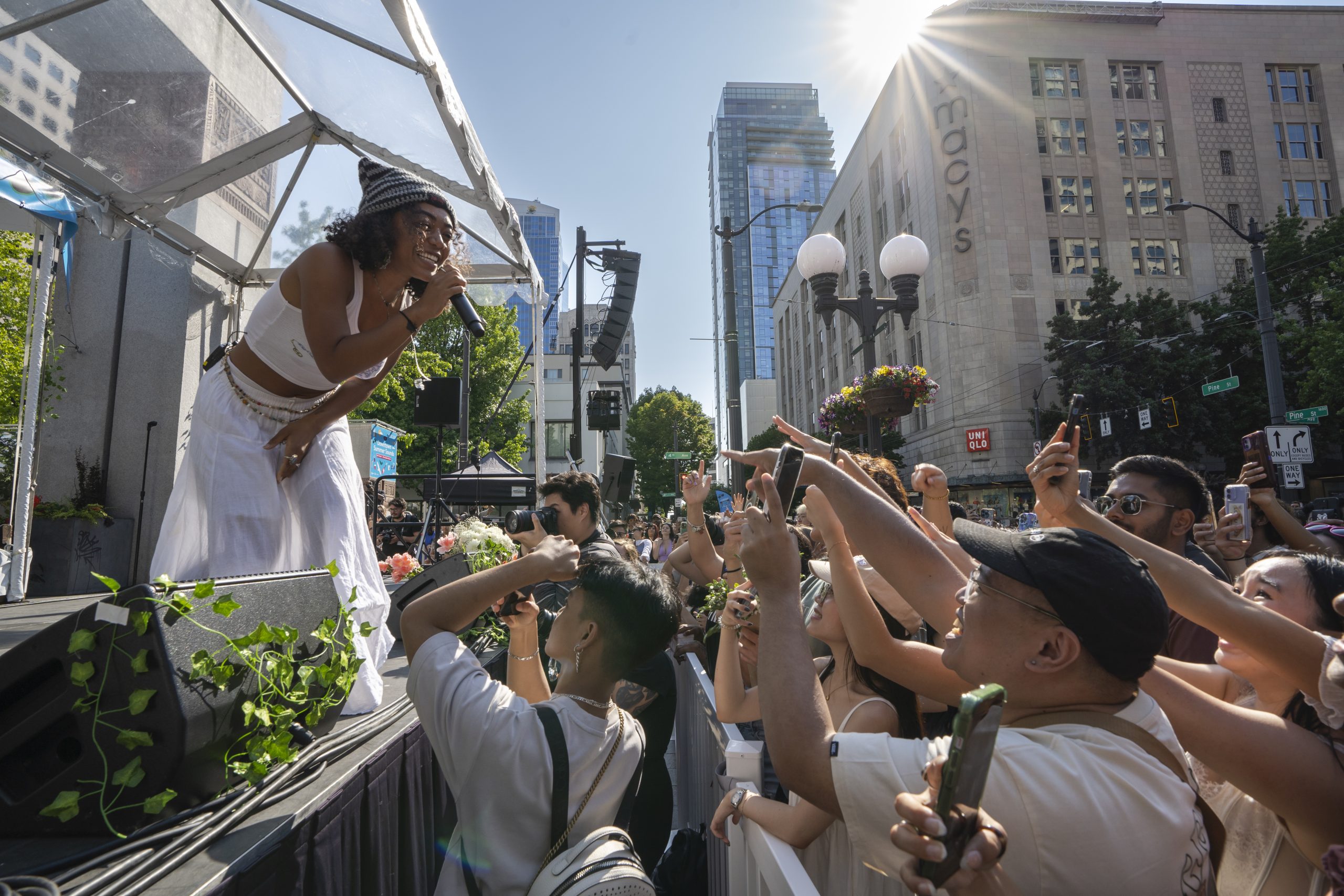 Now in its 44th year, the concert series, produced by the Downtown Seattle Association with financial support from the Metropolitan Improvement District, features two months of free shows.
SEATTLE (June 30, 2023) Downtown Summer Sounds is back for its 44th year, bringing free live concerts to parks and public spaces in the heart of Seattle all summer long.
Supported by Presenting Sponsor Amazon, DSA/MID's popular series kicks off in Westlake Park just days before MLB All-Star Week – one of several activations DSA has planned during that time. This year, Downtown Summer Sounds features 37 acts from across the Pacific Northwest at 10 locations. A diverse lineup of genres and artists offers a concert for every musical taste as this four-decade-long tradition of free live music for downtown Seattle workers, residents and visitors continues.
The fun begins with a one-night-only show on Friday, July 7 featuring R&B singer-songwriter UMI, a local YouTube sensation who made her Coachella debut earlier this year and who is set to take the stage at Lollapalooza in August. UMI brings their neo-soul sound vibrations to Westlake Park at 4:30 p.m.
DSA-managed Westlake Park and Occidental Square will host the majority of concerts, with additional shows at City Hall Park, Bell Street Park, The Square at 2+U, Lake Union Park, Rainier Square and City Hall Plaza. The series runs through Friday, Sept. 8.
"Downtown is the busiest it's been in three years, and free outdoor concerts are a great way to build on our momentum while cultivating a sense of community and vitality in the city core," said Jenn Casillas, DSA's vice president of public realm and ambassador operations. "We're inviting everyone to come enjoy these talented local bands."
DSA President & CEO Jon Scholes added, "Downtown Summer Sounds is a perennial crowd-pleaser and a boon to foot traffic in downtown. This series draws thousands of people each year, benefiting our restaurants, retail stores, ground-level attractions and more."
Visit downtownseattle.org/summersounds for information on bands, times and additional summer programming in downtown parks.
For visuals of previous Downtown Summer Sounds concerts please email jamess@downtownseattle.org.
About the Downtown Seattle Association (DSA)
Established in 1958, the Downtown Seattle Association (DSA) is a nonprofit membership organization whose mission is to create a healthy, vibrant downtown for all. By advocating on issues including transportation, economic development and the urban experience, DSA works to ensure that downtown remains a great place to live, work, shop and play. DSA also founded and manages the Metropolitan Improvement District, a business-improvement area spanning 285 square blocks downtown.