KOMO 4: Seattle leaders talk fentanyl crisis, public safety during town hall
Posted on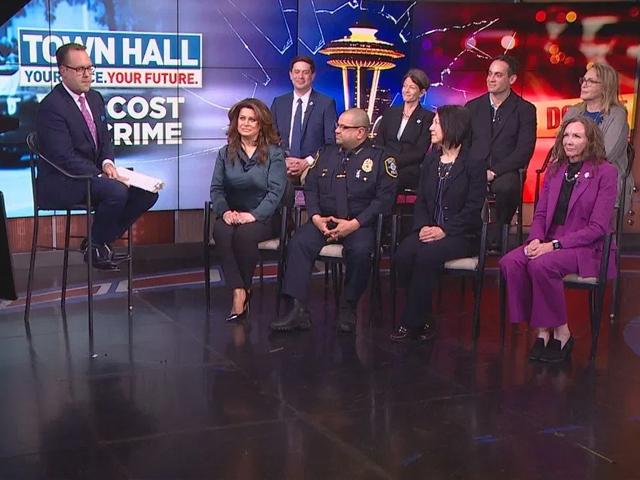 This story was originally published by KOMO 4 on April 16, 2023
SEATTLE — The city of Seattle has seen exponential growth in the last decade, fueling our region into economic prosperity and arguably, despair. As home prices went up, so did the amount of homes at the side of the road. Then the coronavirus pandemic hit the region as the nation simultaneously grappled with a social reckoning that altered how people feel about police.
Small businesses closed down, people left downtown cores for their home offices, and police officers retired or quit. Areas once vibrant were replaced by hubs for criminal activity, open air drug use and abuse, leading to deaths from fentanyl-use higher than ever.
All of this leads to a pivot point in our recent history.
Billions have been spent to build a new arena and convention center. The Seattle waterfront is about to get a massive facelift all with a goal to host some of the biggest events in the country. Yet, there is an underlying tension about how to fix the rest of it, and whether issues on the street threaten to derail the train to recovery.
KOMO News convened a town hall where we asked leaders in business, politics, and policing about the cost of crime in Seattle and King County and what's on the horizon.
The speakers include:
Seattle Police Chief Adrian Diaz
Downtown Seattle Association President Jon Scholes
Leyla Farange, small business owner
King County Prosecuting Attorney Leesa Manion
President of the SODO Business Improvement Area Erin Goodman
Seattle City Councilmember Sara Nelson
Seattle City Councilmember Dan Strauss
KOMO News asked what are the solutions? How much money should be spent on policing and public safety, or on the homeless crisis in Seattle? Watch the townhall.
Small Businesses and Crime
Small businesses in downtown Seattle quite literally feed off the traffic from office workers, but when the pandemic hit and people switched to working from home, it posed significant challenges for businesses especially those on Third Avenue.
Leyla Farange describes herself as a wife, proud mom, and business owner. She has run a restaurant in the Century Building with a view of Third and Pine Street since March 2019. Farange has watched first hand how crime has impacted her restaurant.
"It got bad," she said, "There is a still people out there and we have a huge drug problem. We keep saying homeless but this is a drug problem. We should take care of the drug dealers they need to go to jail and drug addicts they need our help." Farange said she believes the situation is better than it was a year ago.
She asked KOMO News Senior Reporter Chris Daniels for months to ask Mayor Bruce Harrell and Seattle City Council members what they were going to do to clean up the city.
Now, she joined KOMO News for this discussion about crime and getting to bring her questions straight to city leaders. Watch.
Safety Concerns in SODO
In Seattle's SODO neighborhood, business owners have or are echoing Farange's concerns about crime.
In February, KOMO News featured a story about a 116-year-old business in SODO that's closing up shop and leaving Seattle due to persistent health and safety issues from nearby encampments.
Thea Sand, the owner of Emmanuel's Rug and Upholstery, told KOMO News their trucks had been stolen and there was graffiti and needles on the ground. Someone in an RV even dumped raw sewage into a drain in their parking lot.
The industrial core of Seattle took a hit during the pandemic with no public sporting events, smaller crowds, parking wasn't enforced as it once was — and businesses complained about growing RV encampments. But recently, there have been some changes.
SODO has been the center of the action in a discussion about camps and crime and activity around balls and strikes.
Fred Rivera is the Mariners senior vice president and general counsel, who has managed a massive expansion of the franchise's footprint.
Watch: KOMO News takes a look at how the pandemic impacted the SODO neighborhood and how changes are afoot with major investments, including from the Mariners. (KOMO)
Forbes says the Mariners is now valued at $2.2 billion and made the most of any major league franchise last year with $86 million in operating income. They're spending some of it in a new three phased SODO development on 1st Avenue South in what is likely their biggest investment in the neighborhood in two decades — all of it under long term leases.
That includes that Hatback Bar and Grill and Steelheads Alley. A new Victory Hall event space opened last month, and another year-round training center in the old Great Floors warehouse next door will open later this year.
The Mariners aren't the only ones investing in SODO. Public Records show the owners of the Silver Cloud Hotel have recently spent millions on two properties north of their existing building.
The renewed activity has visibly changed the corridor and has it moving in the right direction.
Seattle City Council Candidates
The issue of improving public safety is proving to be a key talking point in the Seattle City Council elections this year. Those candidates who have led with with messages of increasing policing and reducing homelessness are leading in fundraising.
Rob Saka is running in District 1, which includes Seattle and SODO. He told KOMO News he was prompted to run after 30 gunshots were fired outside his Delridge home back in December. He's leading the fundraising in District 1, and candidates who have shared a similar message – like Fremont Chamber Director Pete Hanning in District 6 – are doing the same.
The Chinatown-International District
Another Seattle neighborhood that's been stuck in a vicious cycle of crime is the Chinatown-International District (CID). It's also home to many small businesses, but the pattern of violent crime and property crime is forcing some of them out.
KOMO News spoke to Nick Bui in February, who is actually moving his restaurant Dong Thap Noodles all the way to Tukwila after eight years. Bui said he's had so many issues with property damage and crime, that his insurance provider dropped him and a new policy cost him significantly more.
KOMO News has heard similar stories from other pained business owners. In February, we heard from Tanya Woo who officially launched her campaign for the Seattle City Council's District 2 seat. She feels strongly that the District needs a new voice.
"I think we need people who are in the streets, going to these encampments, who are chatting with community members," Woo said.
Ballard neighborhood
Seattle's Ballard neighborhood has seen a lot of progress recently, with one of the most noticeable changes being the reopening of Ballard Commons Park.
Crowds of people came to enjoy the renovated park on March 11 when it reopened. The park now has fresh landscaping, benches, a children's splash pad, and a bowl for skateboarders. It's quite the change from what it was a year ago. The park originally closed in December 2021 after the city cleared an illegal encampment that had been the source of crime, fires, assaults and overdoses, among other issues.
Despite the progress in Ballard, business owners said there's still a lot of work to do. In January, a local barbershop hosted a town hall where those business owners shared their concerns and asked for help from elected leaders.
During the town hall, Seattle Police Chief Adrian Diaz, City Attorney Ann Davison, and City Councilmember Dan Strauss discussed the progress in Ballard and what business owners are still looking for. You can watch that discussion in the live player above.
The Seattle and Bellevue Connection
Downtown Bellevue is about a fifth the size of Seattle but does not have the same crime, homelessness, or public safety staffing challenges of other cities.
Crime against people is still up 10% year over year, and the city had similar economic issues with office vacancies growing. Bellevue Mayor Lynne Robinson said the successes there are related to small businesses and housing in the downtown town core.
"We used to have this situation where only 10% of the people who worked in Bellevue lived in Bellevue. Also a lot of people who live in Bellevue worked outside of Bellevue. And with a pandemic, everybody came home. We had a lot more people at home during the work day. And I think that really helped our small businesses," said Robinson.
But if you ask around the city, there is still uncertainty about how massive restructuring at Microsoft and Amazon may impact the future in Bellevue. KOMO News talked about some of that with Bellevue chamber president and CEO Joe Fain.
Watch: KOMO News talked with Bellevue Chamber President and CEO Joe Fain about how the city compares with Seattle on crime and homelessness.
Seattle's Fentanyl Crisis
Joe Fain's colleague across the pond is Downtown Seattle Association President Jon Scholes, who painted a slightly different picture at his State of Downtown address last month.
"We need urgent action on this crisis. We can have a revitalized, thriving downtown with retail and restaurants and arts and culture… or we can have a fentanyl market. We can't have both," said Scholes during that address.
In the KOMO News town hall, Scholes reiterated his concern about the fentanyl crisis and its impact on the downtown core.
"Well, we've got a crisis here, we've had more people die from overdose deaths in our city since the beginning of the pandemic that have died from COVID," said Scholes. "But we're not treating it like a crisis. We're not rising to the occasion at the federal state local level, like we did to battle COVID in this community. And we need to do that because there's a health cost there's a cost to human lives. And there's an economic cost people make other decisions, other than being in our downtown for all the reasons they want to be if they've got to go through a fentanyl market, in order to get there to experience a small business or the Pike Place Market or a great performance at one of our arts and cultural venues."
Watch: Downtown Seattle Association President Jon Scholes discusses the fentanyl crisis in our city during the town hall discussion. 
What Kent is doing differently
The issues in Seattle are not isolated. Dana Ralph is the mayor of Kent, Washington's sixth largest city.
KOMO News talked with her about a slew of new ordinances that to reduce crime and improve the business climate. You can watch that discussion below:
Watch: KOMO News talked with Kent Mayor Dana Ralph about a slew of new ordinances that to reduce crime and improve the business climate.
Seattle's Future
The purpose of this town hall was to talk about the cost of crime in Seattle and King County.
The key to the equation in the future is uncertain, whether it's a ban on sales of spray paint, funding and maintaining parks and sidewalks, or increasing housing density to boost foot traffic. They are all ideas that aren't necessarily about funding the police.
Yet, complex challenges remain. A fentanyl crisis, encampments that have become hubs for organized crime, fires, and shootings – endangering drivers, neighborhoods – are not problems that will be solved overnight.
But perhaps one little thought will become a big solution as the city and the Puget Sound region attempt to regain its mojo and that pre-pandemic prosperity.