State of Downtown 2023 Celebrates Optimism and Opportunity
Posted on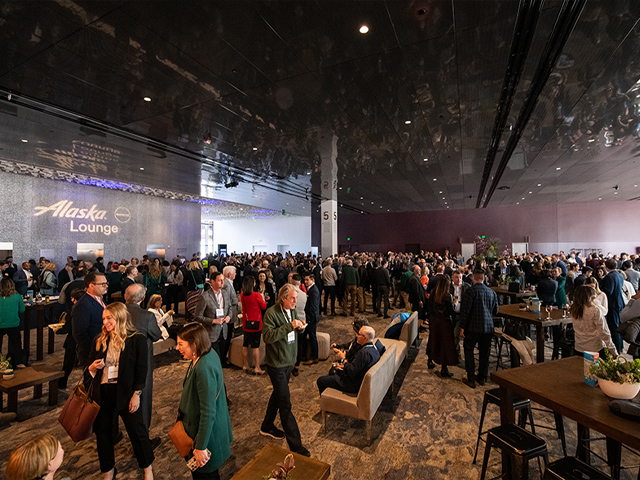 Earlier this month, a record 1,200-plus DSA members, public officials and guests joined our 18th annual State of Downtown: Optimism & Opportunity at the new Seattle Convention Center Summit building. Thanks to everyone who attended, and a special thanks to presenting sponsor Lane Powell PC and our other generous event partners.
State of Downtown 2023 was one of the first major Seattle business gatherings in the new addition, and we were honored to tell the story of this project and its impact on downtown in a tribute video during the event.
In his address, DSA President & CEO Jon Scholes offered insights into downtown's value to the Seattle-area economy, highlighted challenges that must be addressed for downtown to thrive and called upon attendees to do their part to support the heart of the city.
Keynote speaker Ed Glaeser, Harvard economics professor, described in his remarks how urban centers fuel economic and social benefits. He then participated in a fireside chat moderated by DSA board members Liz Dunn, principal of Dunn & Hobbes, and Sung Yang, principal of Pacific Public Affairs.
In conjunction with this event, DSA publishes an annual State of Downtown Economic Report that examines trends and key indicators for the heart of Seattle. This report explores the major storylines of 2022, including transformative projects, the downtown experience and statistics about how we live, work, shop and play in the center city.
Highlights from the report:
A record high 104,000 residents now call downtown home.
Nearly 130 new street-level businesses opened downtown in the past 12 months. About 40% were dining establishments.
More than 340,000 jobs are located downtown – 55% of Seattle's total jobs.
The first month of 2023 marked the largest construction delivery in downtown's history with the opening of the $2 billion Seattle.
Convention Center Summit building, adding 573,770 square feet of space to the heart of downtown.
As of December 2022, 44 downtown construction projects were in final planning or underway.
More than 6,000 residential units are under construction or in final planning in downtown, and more than 11,000 additional units are proposed.
Downtown had a record 55,639 occupied apartments in 2022.
Office worker foot traffic reached 44%, up from 15% at the height of the pandemic.
During the 2022 cruise season, a record 1.28 million revenue passengers, or 640,000 individual travelers, came through the Port of Seattle on an Alaskan cruise.
In 2022, downtown had 9.3 million unique visitors — a strong improvement over 2020 and approaching 91% of 2019's visitor total.