MyNorthwest: Mayor Harrell: Downtown has made 'incredible progress,' still further to go
Posted on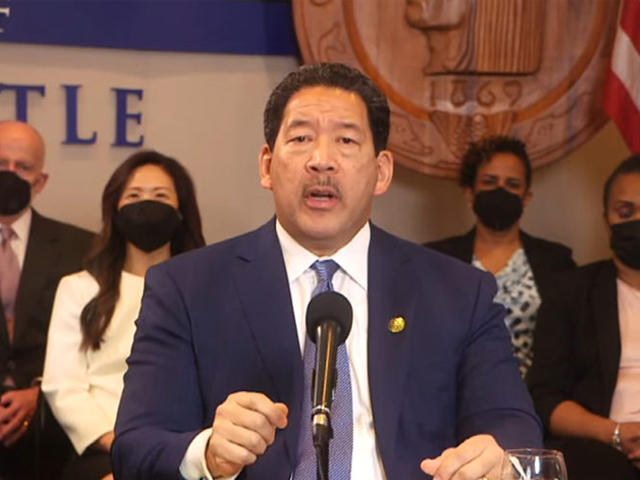 This story was originally published by MyNorthwest on Jan. 23, 2023
A new year means a renewed effort to revitalize downtown Seattle, and Mayor Bruce Harrell is optimistic the city can reorient itself in the aftermath of the COVID-19 pandemic.
Mayor Harrell just returned from the U.S. Conference of Mayors Winter Meeting in Washington D.C., where a significant focus of the conference was on revitalizing downtown areas, and spoke to Dave Ross and Colleen O'Brien about strategies the city has to get people visiting downtown again.
"I just believe that we have to keep it vibrant, but I think there's a balance between being just residential, and you also have to look at the city [as] an economic engine," Harrell said. "We still have to make sure that businesses have a place to thrive and that it's safe. So my first responsibility is to make sure that the area is safe, such that employees will come back and tourists will spend consumer dollars there."
The downtown retail core has been having trouble since the COVID-19 pandemic. Crime has also been a concern.
According to data from the Seattle Police Department, the city recorded the lowest amount of crime in a month since June 2021, with just 3,894 crimes logged in September 2022 — the most recent month of crime data available.
While that number would only qualify as the sixth-lowest month of crime in the previous year, Seattle has witnessed a 13% drop in crime from January through October, according to SPD statistics.
A part of this process is to ensure that the city helps reduce homelessness downtown, which Mayor Harrell said they have made progress alongside the King County Regional Homeless Authority, but there is still more work to be done.
"Am I satisfied? No, I'll just be direct, I won't be satisfied until everyone is housed," Harrell said. "The city feels as though we've made incredible progress. I don't think anyone is, quite frankly, satisfied with the progress our city or our region has in this regard."
Earlier this year, Harrell announced a plan to hire 500 additional officers by 2027 in an attempt to stave off a "crisis-level" police staffing situation.
The city is slowly regaining visitors to the downtown core but still lacking outside major surges around events. According to the Downtown Seattle Association (DSA), the city had 2.1 million visitors in November 2022. A bright spot was Thanksgiving, when the retail core had more than 115,000 visitors, a 6% increase over the year before.
Harrell spoke to the issue of people no longer needing to visit Seattle institutions like the Pacific Place shopping center, Macy's, the Nike store, or the Regal Meridian 16, all of which have had to close or underwent significant changes in the past two years.
"The fact of the matter is, is that in an e-commerce world, many people's shopping habits have changed," Harrell said. "Given that, we have to explore what will drive someone to go downtown. Is it music? Is it art? Is it entertainment? Is it a restaurant? Is it affordable daycare? Is it an educational area? So this reimagining the downtown gives us that opportunity."
In a statement, the DSA talked about the changing landscape of downtown as retailers continue to shut their doors.
"For several years, retailers have been evaluating changing needs for space and scale. We've seen that in urban areas since before the pandemic. We never like to see a downtown retailer choose to close and Niketown has been a great part of our retail mix through the years. We are excited about several newcomers who have opened their doors in recent months with more on the way. To help foster their success we need to ensure a safe and welcoming environment, something that's been improving in downtown and is top of mind for our city leaders."
Since the start of the pandemic in March 2020, the DSA estimates that around 500 street-level businesses closed and approximately 300 new businesses opened in downtown Seattle.
"I want people to be able to walk, ride or jog down a street or ride their bike and say this city is coming back to where it's supposed to be," Harrell concluded.