FOX 13: Seattle Police Chief officially sworn in, committed to reduce violent crime and hire officers
Posted on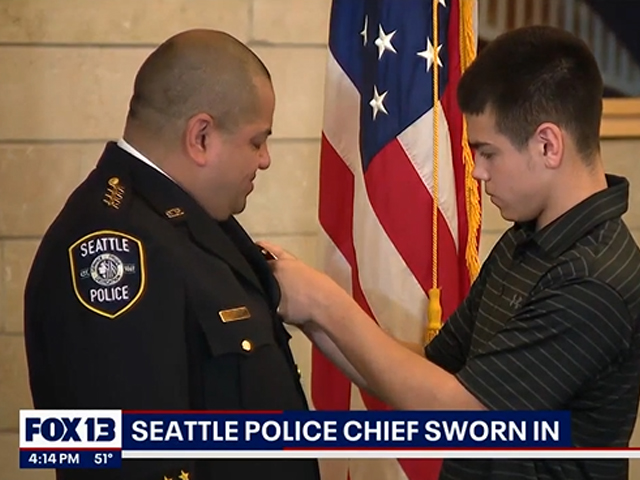 This story was originally published by FOX 13 on Jan. 12, 2023
SEATTLE – Climbing the ranks since joining the Seattle Police Department in 1997, Adrian Diaz was sworn in as police chief on Thursday.
For the past two years—125 weeks to be exact according to Diaz—he served as the department's interim chief. Seattle City Council confirmed his appointment in early Jan. 2023.
The chief said the number violent crimes across Seattle in 2022 was a challenge for police. However, he also said some new tactics are showing promising results and increasing safety.
"After the last five months, we've actually started to see a decline in some of the violent crime. We're looking at aggravated assaults, we're looking at robberies, we're looking at some of our homicides. August was a very, very busy month for homicides. We've actually revamped a lot of what we're trying to do. Putting our officers in different places and that, maybe, is hopefully seeing some of that decline even into the month of January," said Diaz.
Though homicides and violent crimes are still an issue into the new year, Diaz said he is confident moving forward with the crime reduction plans that have proven to be effective over the past several months.
This includes using emphasis patrols to get more guns out of the hands of violent people, more retail thieves out of stores and more carjackers off the streets.
"We're really committed to that 12th and Jackson location, the 3rd and Pine location," said Diaz, referring to Operation New Day – a high visibility, high intensity crackdown that began in March 2022.
Third Avenue in downtown Seattle was a problem hub for criminal activity. Now, people who live and work in the area said they are starting to see a shift.
"I'm very cautiously optimistic. This is definitely a different view outside than we had a year ago. So, I feel like city is working. I feel like there are results," said Olga Sagan, owner of Piroshky Piroshky.
The business owner just reopened her 3rd Avenue location on December 26, after shutting down for more than 10 months due to the high crime and drug use right in front of her business. During that time, Sagan was publicly vocal about concerns of safety for her employees and business.
"Things are changing. Things are changing slower than I would like. I feel we do need police presence here 24/7 on corners here because it's our downtown corridor, it's our transit corridor," said Sagan.
More officers is one of Diaz's goals. The chief said he is using new tactics this year, hoping to hire 125 officers by the end of 2023.
"We're going to be running seven different testing operations compared to four. We want to process people within the next three months. So, if we have an applicant, in three months we want to be able to process and do a full background to actually be hired. And that is unheard of in the policing profession," said Diaz.
The Downtown Seattle Association said the police chief and Mayor Bruce Harrell are showing they understand how critical a safe downtown is to the city's recovery. In a statement, director James Sido said, "We're seeing consistent improvement in the core of downtown, with visitor numbers, foot traffic, office worker and crime data all trending in the right direction. While more work remains and the coordinated effort along Third Avenue is ongoing, we're confident city leaders are on the right track."
That right track also includes a revitalization plan of downtown Seattle. Mayor Harrell said the city has a budget to fund tools and resources that could bring downtown back to life. When asked about the plan moving forward, he described the next steps in one word: activation.
"We want to see how we can use the built in environment to have people use culture and arts and music. We want to see people having coffee. We want the officers out of the cars walking around. We want to encourage the retail stores to find a use for them. So, we're talking to business owners about what we can do if a building is vacant," said Harrell.
In part of that revitalization plan, Diaz said the department is also working very hard to rebuild trust connections with people throughout downtown and communities across the city. He mentioned the number of complaints against officers has also dropped by more than 50 percent, what he believed was a sign of progress.