GeekWire – Go inside the $2 billion Seattle Convention Center expansion, viewed as a big boost to downtown
Posted on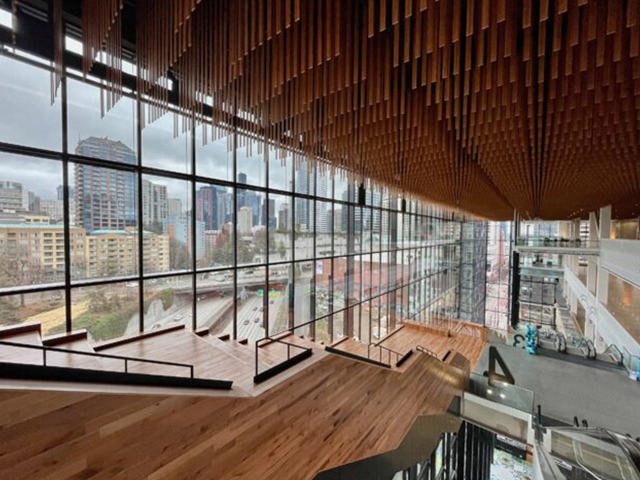 This story was originally published by GeekWire on Jan. 25, 2023
The sparkling new addition to the Seattle Convention Center is a $2 billion statement piece in the downtown Seattle landscape. Now state and local leaders hope the massive new building can help attract more activity to a city core disrupted by the pandemic.
"We're on the rebound. We're coming back from COVID," Washington Gov. Jay Inslee said at a ribbon-cutting ceremony Wednesday. "All we need is people."
Getting people to Seattle and back downtown is a major goal of the new Summit building, which took years of planning and five more years — and the weathering of a major health and economic crisis — to construct.
Seattle Mayor Bruce Harrell met recently with the leaders of other cities in an effort to exchange ideas on re-envisioning downtown business districts that have been impacted by hybrid work policies and safety concerns amid the pandemic.
On Wednesday, Harrell called himself "bullish on downtown." In offering praise for the views of city from all angles of the new facility, he added, "That is what it's going to take to get this city back, looking at it from a new angle."
Summit has grown 14 stories out of a pit below Pine Street that was previously home to the Convention Place bus station. Billed as North America's first high-rise convention center, the addition overlooking Interstate 5 nearly doubles the capacity of the Seattle Convention Center and the original Arch building, a block and half away.
The numbers are enough to set any smartwatch step counter into high gear:
573,770 square feet of event space
62 meeting rooms
58,000-square-foot column-free and divisible ballroom
248,450 square feet of exhibit space
140,700 square feet of naturally lit lobby space
14,000-square-foot outdoor Garden Terrace
But beyond the expansive rooms and meeting spaces, Summit strikes an eye-catching steel, wood and glass pose on the huge block between between Pine Street, Olive Way, Boren and Ninth avenues. The modern building stands in stark contrast to the historic Paramount Theater across Pine. At the top of a wooden staircase called Hillclimb that seems to climb the length and height of the building, there are views of Capitol Hill, First Hill, South Lake Union and all the way down to Pike Place Market and Elliott Bay.
There is reclaimed wood everywhere, thanks to the folks at Seattle's LMN Architects. An extensive plywood chandelier in the main lobby features 45 panels with CNC cutouts of the microscopic cell structures of 12 different species of trees in the region. Way upstairs in the football-field-sized main ballroom, the 65-foot-high ceiling features 3,900 suspended "wormwood" boards cut from decommissioned log booms.
Uniquely Seattle and Pacific Northwest touches include large numeric indicators for the floor levels which pay homage to the region's various industries and culture. The number 2 on the second floor is full of ropes for the maritime industry; there are rivets in another number for the aerospace industry; and on the fourth floor, cassette tapes from the likes of Nirvana, Soundgarden and Sir Mix-a-Lot fill a large number 4.
The Convention Center boasts an array of sustainability features and environmentally friendly design elements. These include plant-based acoustic ceiling tiles; bio-based fabric panels; low-flow plumbing; electric vehicle charging stations; rooftop solar panels; a rainwater harvesting system; radiant flooring; water bottle filling stations; and a variety of kitchen and food-related green efforts.
Downtown Seattle Association President and CEO Jon Scholes called the opening of the building a huge win for downtown.
"Seattle just won the lottery," Scholes said. "But this wasn't luck, this is the result of tremendous work by local companies and workers who've created a building that will bring hundreds of thousands of additional people to the city each year. This will mean millions in new spending and tax revenue, adding fuel to downtown's continued recovery.
According to DSA's latest recovery statistics, nearly 2.2 million visitors came downtown in December, an increase of more than 8% compared to December 2021, but below the 2.7 million visitors in December 2019 before the pandemic.
"A lot of other cities site their convention centers on the edge of town," Scholes said. "In Seattle, we take those big projects to the heart of our city which creates more vibrancy for downtown."
Some in-person large-scale events went all virtual during the pandemic, but many are returning to in person. The goal now is to attract conventions and visitors. The Convention Center says there are currently 58 events booked at Summit with an additional eight using both the Arch and the Summit.
Seattle real estate company Redfin already had about 1,000 people in attendance at an annual company meeting called Redferno on Jan. 13. The company used Summit as a conference/meeting space with main keynote sessions for all attendees in one larger room and a series of breakout meetings and discussions in smaller rooms.
Emerald City Comic Con is celebrating its 20th anniversary with a return to the Convention Center March 2-5 and is excited to be switching to Summit. Kristina Rogers, vice president of show producer ReedPop, calls Seattle her hometown and during a walkthrough last August she was impressed by built-in sensory/quiet rooms and all-gender bathrooms.
"We strive for inclusivity in all areas at ECCC and those little touches are what makes this new building feel like it was truly built with us in mind," she said in an emailed statement. "Our entire team is excited and proud to welcome our fans home in this new space."
The Sakura-Con Northwest Anime Convention is also using Summit, April 7-9.
Microsoft held its annual Ignite conference for developers at the Convention Center's Arch facility in October. The company would not say whether it planned to move Ignite or any other gathering in 2023 to Summit.
Aaron Bludworth is president and CEO of Fern, a company that produces a wide range of trade shows and conventions all over the U.S. In staging around 1,400 shows a year, Bludworth said he's been in every major convention center dozens of times and some of them probably hundreds of times.
Standing outside Summit on Wednesday, he was struck by the unique, multi-level design, the materials and the views.
"The beauty of the facility is pretty unrivaled," said Bludworth, who is based in Cincinnati. He thinks that while every big city has had its challenges, buildings like the Seattle Convention Center help with revitalization and getting past those challenges.
"We will partner with destinations everywhere," Bludworth said. "But there is no doubt when people see this building, they're gonna want to come."