Fleet of New Trikes Powers Metropolitan Improvement District Cleaning in Downtown
Posted on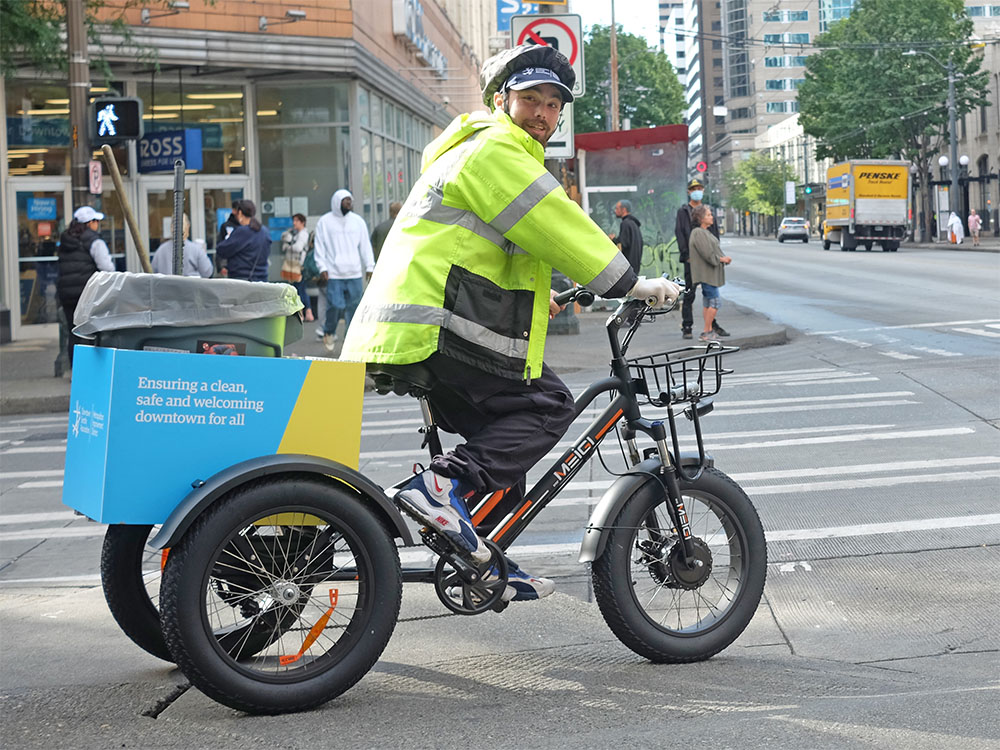 Eighteen new custom-built cleaning trikes will soon patrol the Metropolitan Improvement District's footprint in downtown Seattle. The additional equipment, funded by downtown property owners, will allow ambassadors to respond more quickly to sanitation incidents and provide more rigorous cleaning throughout the MID's 285-block footprint. The added machinery is part of a $15.5 million investment MID ratepayers will make in programs and services this fiscal year.
You can get a sneak peek at the new machinery tomorrow morning, Sept. 1, in McGraw Square, across from the Westin Seattle. From 9-10:15 a.m., the MID Board's Clean & Safe Committee will host an open meeting featuring the new equipment and remarks from DSA and MID leaders.
"Maintaining downtown sidewalks and alleys requires constant, diligent daily effort by nearly 50 workers," said Steve Walls, the DSA/MID director of cleaning services. "Adding to our fleet of trikes — equipped with pressure washers — helps us address highly visible areas of trash and graffiti in addition to biohazard cleanups."
Last year, the team responded to thousands and calls and collected millions of gallons of trash. Key statistics are captured below:
60 miles of sidewalks and alleys washed
1.4 million gallons of trash collected
44,988 trike cleanups
27,039 graffiti tags and stickers removed
"With the support of downtown property owners we're continuing to invest in a clean, safe and welcoming downtown," said Jon Scholes, DSA President & CEO. "With a record-high residential population, visitors at pre-pandemic levels and a steady return of workers to the office, keeping the downtown environment clean and inviting is crucial to our continued recovery.
DSA members and MID ratepayers are welcome to attend the gathering tomorrow. For more information about DSA and MID services, visit downtownseattle.org/mid.