Meet Your New Board Members
Posted on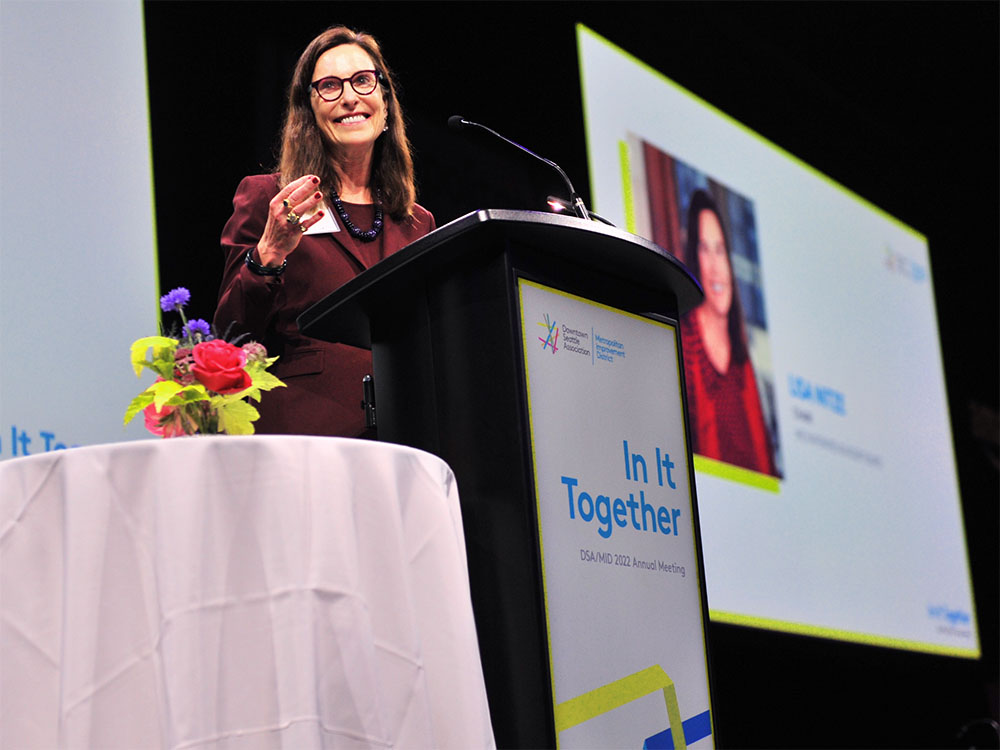 The Downtown Seattle Association and Metropolitan Improvement District welcomed new board members in July. The incoming leaders bring experience from a variety of sectors. Board members serve three-year terms.
"We are excited and honored to be welcoming these new members on both boards," said DSA president and CEO Jon Scholes. They represent the diversity and interests of our membership, ratepayers and community and are joining at a critical time in downtown's evolution. We are fortunate to have such a strong cross-section of corporate and nonprofit leaders supporting our work."
"DSA draws on the rich perspectives and unique voices of our board members to help guide the organization," said DSA Board Chair Kathy O'Kelley, senior vice president of property management at Hines. "I look forward to working with my fellow board members to support downtown's continued recovery and carry out our mission of creating a healthy, vibrant downtown for all.
"I am honored to be working alongside current and incoming members of the MID ratepayer advisory board," said Chair Lisa Nitze, vice president of marketing, investments and community partnerships, with Nitze-Stagen. With downtown's ongoing economic recovery and the MID renewal in 2023, the guidance and leadership of these property owners and managers is critical."
---
New Downtown Seattle Association board members:
Jared Axelrod
Amazon.com
As senior manager of public policy at Amazon, Jared Axelrod leads the company's local public policy and external affairs for its Puget Sound headquarters and across Washington state. He works with policymakers, trade associations and community stakeholders to serve Amazon's customers and advance Amazon's public policy priorities and worldwide operations.
Joël Barraquiel Tan
Wing Luke
Joël Barraquiel Tan is executive director of the Wing Luke Museum. Joël has more than 30 years' experience in public health and the arts, and has created and implemented award-winning civic engagement and DEI initiatives. Having joined the museum earlier this year, he plans to continue its social justice legacy.
Amada Cruz
SAM
Amada Cruz was named the Illsley Ball Nordstrom director and chief executive officer of the Seattle Art Museum in September 2019. Cruz served as The Sybil Harrington director and CEO of the Phoenix Art Museum from February 2015 to July 2019. She has also worked as a grantmaker and was the founding program director for United States Artists in Los Angeles.
Dom Davis
Community Passageways
Dominique Davis is the founder and CEO of Community Passageways, established in 2016 after multiple gun-related deaths and incidents on Rainier Avenue. At Community Passageways, Dominique developed a felony diversion program that provides foundational and life-changing support for the young people with whom he works.
Colleen Echohawk
Eighth Generation
Colleen Echohawk is the CEO of Eighth Generation, a Seattle-based art and lifestyle brand that provides a strong, ethical alternative to "Native-inspired" art and products through its artist-centric approach and 100% Native-designed offerings. Colleen has a long history of uplifting Native people and prosperity in the Seattle community and beyond.
Lori Hill
Unico Properties
Lori Hill is a senior vice president and member of Unico's senior leadership team focused on the formation of equity investment programs, programmatic ventures and management of investor relationships. She oversees Unico's corporate marketing and research initiatives and also serves as the company's chief investor liaison and contact.
Maya Mendoza-Exstrom
Seattle Sounders
Maya Mendoza-Exstrom is the chief operating officer of Seattle Sounders FC. Maya oversees and advises on the legal aspects of club operations and strategic planning. In addition, she leads all external affairs, including government relations, community initiatives, civic and community relations, and philanthropic efforts.
Mai Noonan, incoming Treasurer/Secretary
Deloitte
Mai Noonan is managing director of Deloitte, where she advises public and private clients with a focus on financial services and technology. Mai leads multiple cross-functional engagement teams and enjoys working closely with management to provide solutions.
Dustin O'Quinn, incoming General Counsel
Lane Powell PC
Dustin O'Quinn is chair of the Immigration Practice Group at Lane Powell. He counsels the technology, energy, design and financial sectors on a wide array of U.S. immigration issues. Dustin also develops immigration programs for startup companies in the tech sector, counseling clients on corporate structure, funding and investor relations.
Eduardo Peñalver
Seattle University
Eduardo Peñalver is Seattle University's 22nd president, having assumed the position in July 2021, after serving as the Dean of Cornell Law School. He is a Rhodes Scholar and a professor of law who clerked for former U.S. Supreme Court Justice John Paul Stevens. His legal scholarship focuses on property and land use, law and religion.
Loria Yeadon
YMCA of Greater Seattle
Loria Yeadon is the president and CEO of YMCA of Greater Seattle. She is the first woman as well as the first person of color to serve as CEO in the 145-year history of the organization. Loria is responsible for shaping the organization's long-term strategy, delivering on program commitments, nurturing relationships with key stakeholders and empowering a diverse leadership team to broaden impact in the Seattle region.
---
New Metropolitan Improvement District advisory board members:
Jennie Dorsett
Hudson Pacific Properties
Jennie Dorsett is vice president of operations at Hudson Pacific Properties. With a portfolio of 19 million square feet across the West Coast, Hudson Pacific is a key player in real estate investment trust. Their recent acquisitions in Seattle include the Washington 1000 development site, a state-of-the-art office tower adjacent to the Washington State Convention Center Addition.
Jeff Draeger
SAM
As chief operating officer for the Seattle Art Museum, Jeff Draeger leads the operations division, including facilities, engineering, security, technology, human resources and government affairs across three unique sites. Jeff supports SAM's board of trustees and CEO/director, collaborates with museum senior staff, and works with community partners toward SAM's vision: connecting art to life.
Steve Emery
Madison Marquette
Steve Emery is general manager at real estate and investment services firm Madison Marquette. Steve's company is a full-service commercial real estate company as well as investment manager, operator and developer. Madison Marquette maximizes value while reducing risk for clients and assets, and in 2014 acquired Pacific Place in downtown Seattle.
Reza Marashi
Kilroy
Reza Marashi is director of government affairs at Kilroy Realty Corp. With operations across the U.S. and Seattle, Kilroy is recognized for its leadership in sustainability, building operations, innovation and design. As pioneers of a more sustainable real estate industry, the company's approach to business environments helps drive creativity and productivity for some of the world's leading technology, entertainment, life science and business services companies.
Lars Pedersen
Hotel Ändra
Lars Pedersen is general manager of the independently owned and operated boutique Hotel Ändra. Lars has helped operate Hotel Ändra for the past two decades, where he strives to ensure guests have an exceptional experience every day. He previously worked for the University Tower and Holiday Inn Olympia.
Sabrina Villanueva
Clise Properties
A veteran of the real estate and telecommunications industries, Sabrina Villanueva has built an exceptional record of commercial property management over the past 15 years. As senior director of property management at Clise Properties, Sabrina has continued to hone her skills, expanding to data centers, colocation, retail and office space. In her current role, she manages several commercial properties in downtown Seattle, including in the Denny Regrade area.
Michael Walzl
Hotel 1000
In the heart of downtown, Hotel 1000 sets the standard for luxury. Managing the operations of this great property is Michael Walzl. Michael has over 25 years of experience in leadership and professional development, with a focus on analyzing market trends and creating opportunities for revenue and profit growth.