KOMO 4: Downtown businesses react to SPD hiring plan
Posted on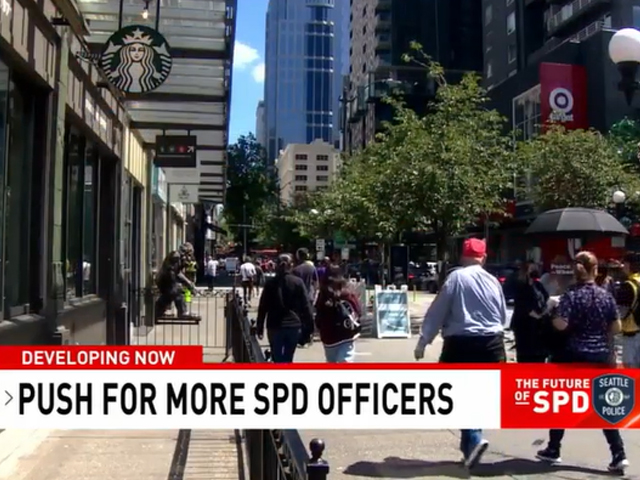 This story was originally published by KOMO 4 on July 13, 2022
SEATTLE — Business owners in the downtown core of Seattle say the push to hire more officers can't come soon enough. They've been dealing with increasing crime and longer response times for years.
Their first reaction was excitement about the potential $2 million investment for more officers, announced by Mayor Bruce Harrell and Interim Chief Adrian Diaz.
The Seattle Shirt Company off First and Pike Street has been taking measures for years to keep customers and employees safe. General Manager Kari Hicks believes the mayor's plan is a strong next step in boosting public safety.
"We have now installed bars on our windows and shatter-proof riot glass and we have a security guard. These are things that we didn't do five years ago," Hicks explained. "We've had three break-ins within a week People have said, 'I've witnessed a shooting or I saw someone with a gun.' We've definitely lost employees because of that."
It's why she wasn't surprised when Starbucks this week announced it's closing multiple locations, including in downtown.
"I don't think they're wrong. We have definitely thought as a store, like, 'Is this the place we want to be?'" she asked.
The Downtown Seattle Association in a statement tells KOMO businesses want faster police response times, more officers, help for people in need and safer work environments.
"If the police can't respond, we kind of have to take care of ourselves," Hicks added.
Harrel and Diaz announced a proposal to recruit and retain officers with competitive incentives.
"SPD needs to keep the officers we have and hire at least 500 more over the next five years," Interim Chief Diaz explained.
"I hope that's enough," Hicks stated.
Hicks, who has three stores in downtown, said the Harrell administration has helped with public safety response this year with the police precinct captain meeting with downtown businesses every other week. But, she says responses and response times could improve.
She says it's about protecting people and businesses — and maintaining the workforce.
DSA provided the following statement in response to the proposal announced Wednesday:
"We applaud Mayor Harrell's commitment to building a Seattle Police Department more commensurate with our city's population and its challenges. This plan is a thoughtful approach aimed at ensuring Seattle has the right officers, and not just a deeper roster. As we see continued growth in downtown, with more residents, events, visitors and the return of workers, a safe environment is critical. This plan will get us closer to faster response times and more help for people who need it. We've seen recent progress on public safety in downtown, and we'll continue to work with city leaders to create a vibrant, welcoming downtown for all. " – Downtown Seattle Association