KOMO 4: Seattle looking for volunteers to help on citywide cleanup day to clear graffiti, trash
Posted on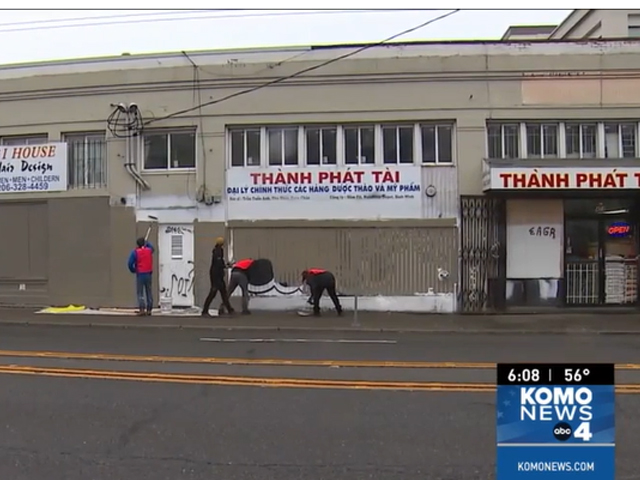 This story was originally published by KOMO 4 on May 13, 2022.
SEATTLE — Seattle is calling for volunteers to lend a hand on May 21 and help rid the city of graffiti and clear trash and litter as municipal officials look for ways to engage the public in tackling nuisance quality of life issues.
The Day of Service effort was announced weeks ago by Seattle Mayor Bruce Harrell, and a mayoral spokesperson said thousands of volunteers have signed up so far.
One of those who plans to answer the call is Chad Zinda, who works with Metropolist, a real estate firm in SoDo.
"We just recently got tagged even this last weekend," he said. "A bunch of businesses all along 1st Avenue."
He plans to use the cleanup day next week to have the graffiti removed from their building and to help this city come back from the COVID-19 pandemic.
"We lost so many businesses and things got abandoned, or at least felt like it was abandoned and things got tagged and we just want to go back out and we have to start somewhere," Zinda said. "We're kind of building back our community because we've been gone for two years. We haven't seen a lot of people. I think this is a chance to not only just go clean up, but it's also a chance to kind of go, 'oh yeah, I forgot that I'm next to so and so'"
"It's really easy to sit at home and complain on your computer, but it's time for everyone to pitch in a little bit and do their part," said Erin Goodman, executive director of the SoDo Business Improvement Area, adding that their cleanup effort will focus next Saturday on 1st Ave. S. and will include plant beautification and graffiti removal.
"In Ballard, we're working in the downtown core of Northwest Market Street and Ballard Avenue. We'll be cleaning Marvin's Garden Park at 22nd and Ballard Avenue. We'll do some broad scale litter and trash pickup throughout the Ballard core," said Mike Stewart, executive director of the Ballard Alliance. "And then in one of our alleyways off of Ballard Avenue, we're going to do a community mural.
"I think this event absolutely should come back in the future," he said. "Nut I also am hopeful that the city is going to put time, effort and resources into doing this kind of work at the city level, all throughout the year."
"We'll of course be in the retail core. We're helping out Belltown, we're helping out Freeway Park, Pioneer Square, The Waterfront, among other neighborhoods" said Jennifer Casillas, vice president of the Public Space Operations and Events for the Downtown Seattle Association.
She said her group will work on doing gardening, tackling litter, removing graffiti, restoring murals, art installations and repairing amenities where possible, "Seattleites are ready, they're willing and they want to be a part of the city's recovery."
"More than 3,700 people have signed up across 125 total events. Over 100 events are community led," a spokesperson for Mayor Bruce Harrell's Office said.
While a decision has not been made to hold the event again, a spokesperson with the Mayor's office said they expect more of these events in the future.
"I'm thrilled by the incredible community response to our One Seattle Day of Service," Harrell said in a statement to KOMO News. "We have an opportunity to both give back to the city we love and set the One Seattle example for what we can accomplish when we unite around our common values and a common purpose. On Saturday, May 21, let's come together and do our part to support one another and help make Seattle a better place."