DSA's Popular Welcome Back Booths Return, Along With Parties in the Parks
Posted on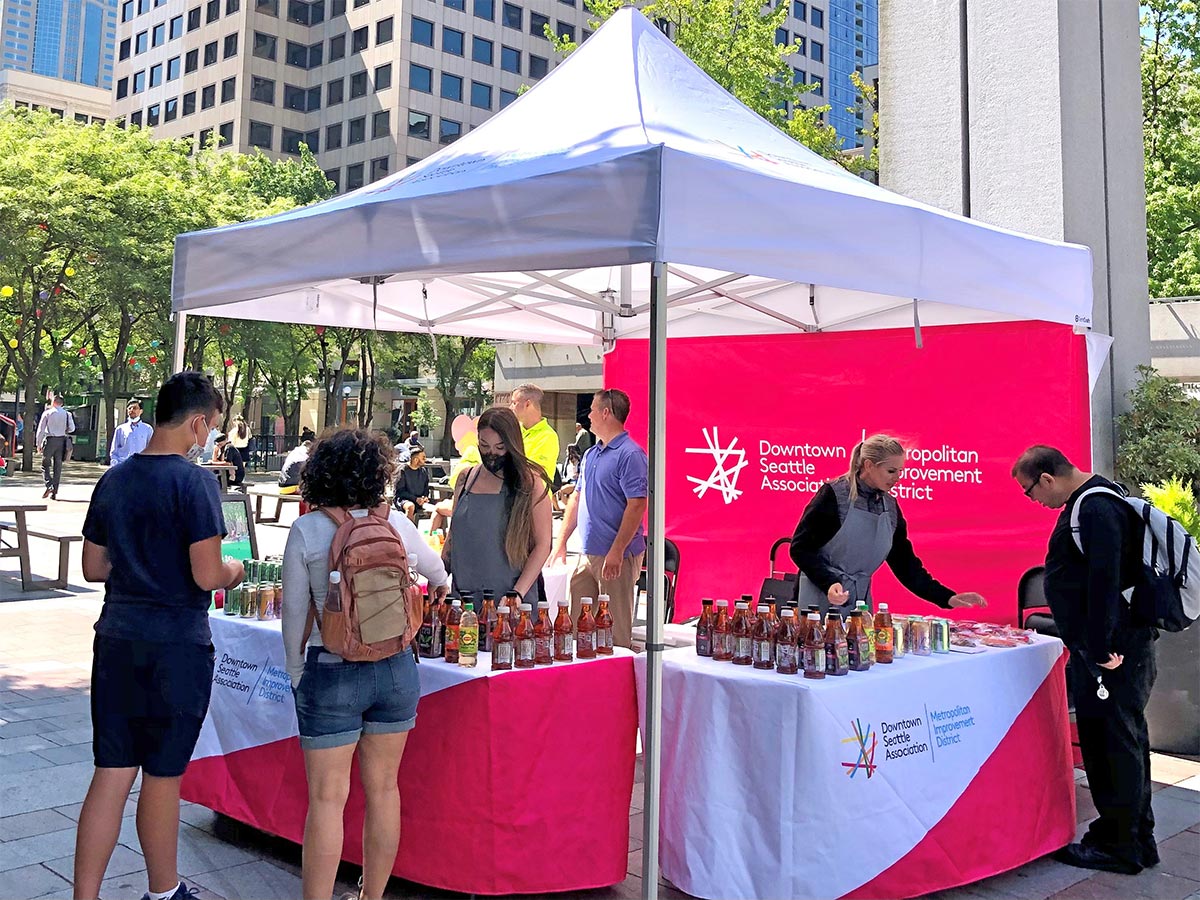 As visitor and office worker numbers climb, the Downtown Seattle Association is back with more activities, music and giveaways in center city parks and public spaces.
Each Wednesday starting May 4 through Aug. 31, DSA will host Welcome Back Booths from 8:30–10:30 a.m. and 11:30 a.m.–1:30 p.m. at high-foot-traffic locations in downtown. Staff will provide information and free refreshments. Booth locations on May 4 include Westlake Park, Harbor Steps, Occidental Square and McGraw Square. On May 11, DSA will set up at the Westlake Light Rail Station (near the Nordstrom entrance), 6th & Pike, McGraw Square and in Belltown.
"Downtown's recovery is picking up speed, and with more people coming back every day, we're working to ensure a welcoming, clean and safe downtown for all," said DSA President & CEO Jon Scholes. "With support from property owners across downtown, we're creating free public programming all summer long, including live outdoor music, and investing in enhanced cleaning efforts and extra private security patrols."
New this summer, DSA is also hosting Parties in the Parks from May 3 through Aug. 30 in DSA-managed downtown parks. Each Tuesday in Occidental Square and every Thursday in Westlake Park from 11 a.m.–3 p.m., guests of all ages are invited to enjoy:
Free mini golf
Free live music
Food trucks from 11 a.m.-2 p.m.
Free games like giant chess, checkers, Jenga and Connect Four, along with corn hole, ping pong, pickleball and cup rocking
Gift cards to local businesses (while supplies last)
A kids' crafting zone (Westlake Park only)
From 4–7 p.m., we'll swing into happy hour with local beer and wine available for purchase from Party on the Rocks, more food trucks and additional fun, including dueling pianos and additional gift-card giveaways. All ages are welcome to stay until 7 p.m., but beer and wine service is limited to those aged 21-plus.
"Downtown is the busiest it's been in two years, and we're celebrating by rolling out the red carpet for everyone who lives, works and visits here," said Jenn Casillas, DSA's vice president of public realm & ambassador operations. "This summer, we're bringing back some popular events and introducing new activities to welcome returning workers, residents and visitors. We look forward to seeing people back in the downtown they love and reminding them that the heart of the city is filled with experiences you can't get anywhere else."