We're Reimagining MID Services to Ensure a Clean, Safe and Welcoming Downtown for All
Posted on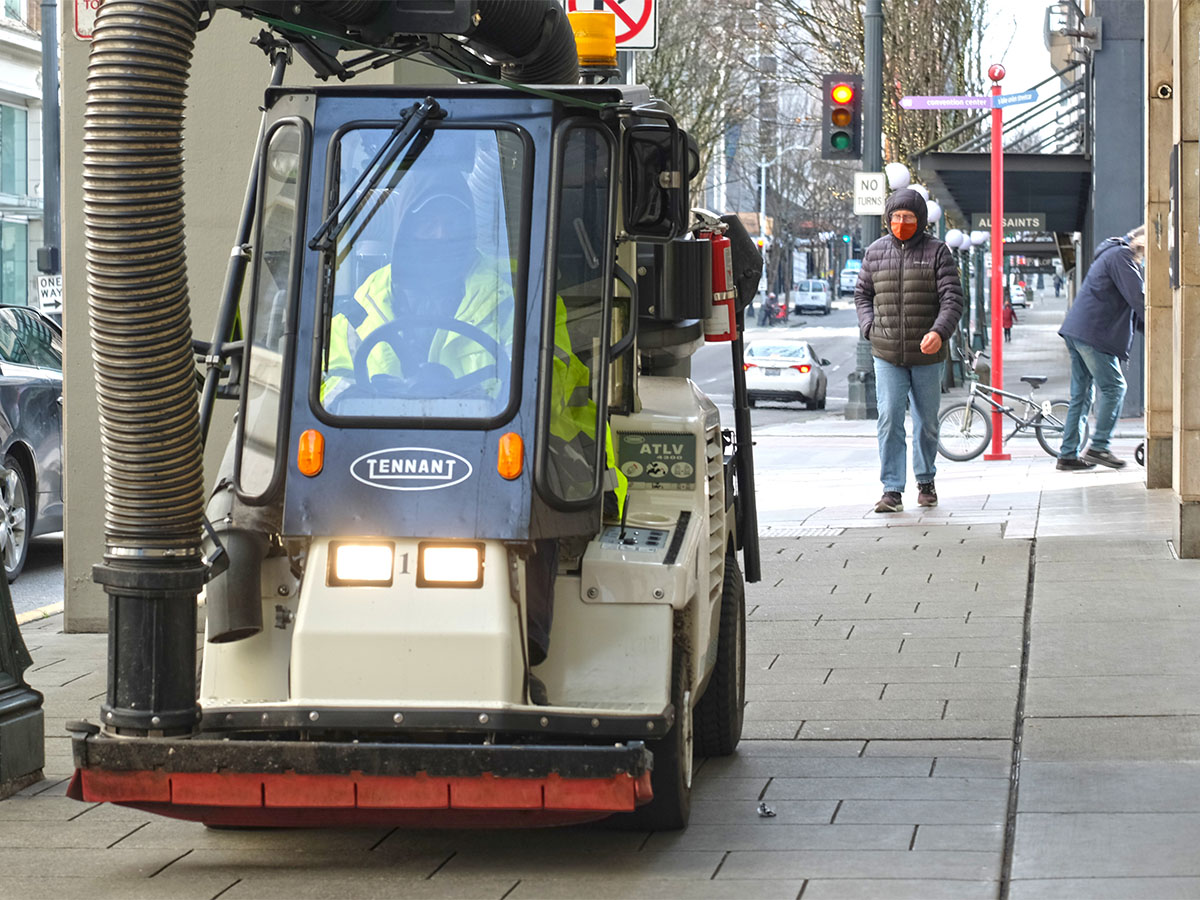 At the start of 2022, DSA launched an evaluation of our Metropolitan Improvement District services in response to downtown's changing street environment, Seattle's labor market and the evolving needs and expectations of customers. The ever-changing nature of downtown requires us to continuously evaluate and adjust our approach.
Over the last three months, we talked to staff, MID ratepayers and leaders of organizations similar to ours across the U.S. Under the direction of a MID Ratepayer Working Group, we recently completed this "MID Reimagining" work and the MID Ratepayer Board approved recommendations at its March meeting. A summary of key changes are outlined below:
Ambassador Wages
We are pleased to announce that effective July 1, 2022, the starting wage for all MID ambassadors will be $20 an hour, in recognition of their hard and critical work and rising wage rates across the city.
Safety and Security Services
Effective April 2022, we will be expanding our contract with Iron and Oak Security to provide services in key pedestrian corridors, public spaces and areas with concentrated illegal activity.
Cleaning Operations
The competitive labor market and the city of Seattle's vaccine requirement (with which we are required to comply) present significant hiring challenges. At the same time, the large unsheltered population downtown and the presence of active drug markets create locations and situations that require intensive and regular cleaning.
To better respond to all of these challenges, we plan to:
Eliminate unfilled positions and maintain a Clean Team of 79 full-time employees
Invest in 18 additional trikes and one additional All Terrain Litter Vacuum (ATLV) to help ambassadors move more quickly between areas of need
Increase the use of contracted services for specialized cleanings, such as alley washing, leaf pick-up and graffiti removal
Expand the duties of trike operators to include addressing highly visible areas of trash and disorder in addition to biohazard cleanups
Hospitality and Parks Services
We are combining our Park Ambassadors and Safety & Hospitality Ambassadors into a single Public Realm Ambassador Team with common training and responsibilities. This combined team will provide greater flexibility across DSA-managed parks and the public right-of-way. We will also create an Asset Management Operations Team that tracks and maintains public realm assets, manages set-up and break-down of public spaces, and offers activation and event production support. Ambassador shift schedules and deployments will be modified to better align with weekday and weekend pedestrian volumes. This combined team will focus on the "three Cs:" keeping public areas Clean, Clear and Cared For.
Downtown Homelessness
The new Regional Homelessness Authority recently announced a strategy to assist individuals living unsheltered in downtown Seattle, encompassing the MID geography. Their plan includes a significant number of peer navigators/street outreach personnel and access to shelter and housing resources. As a result, and in support of this regional approach, we have made the difficult decision to eliminate our dedicated Outreach Team as of early May. We are providing a supported transition for all affected staff and working with partner organizations across downtown to transition clients in need. We will create one staff position to serve as a case manager to support our own staff members experiencing homelessness.
For more information, please contact Jennifer Casillas, DSA VP of Public Realm & Ambassador Operations, at jenniferc@downtownseattle.org.