Partnership, Renewal and Progress at State of Downtown 2022
Posted on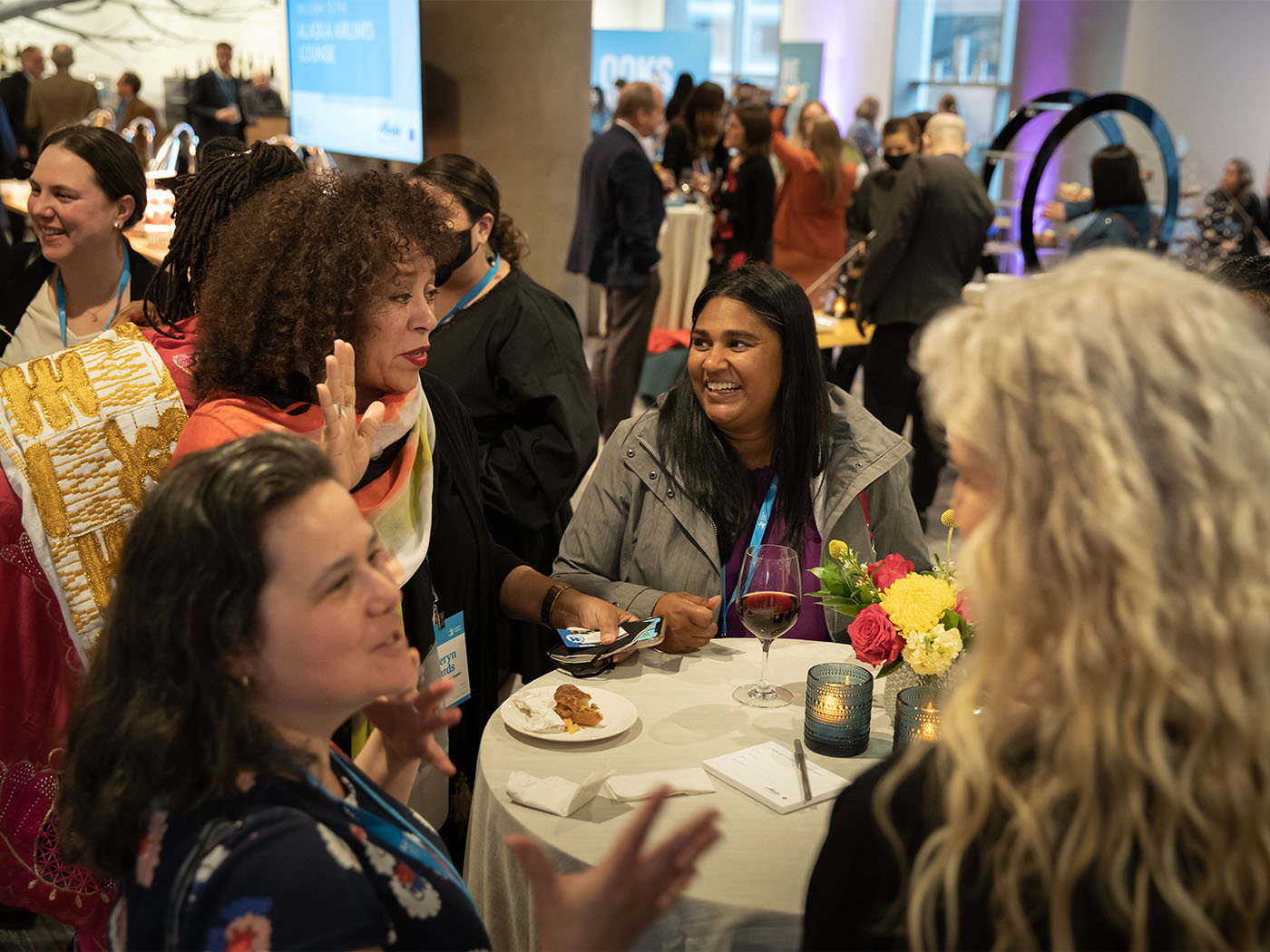 Earlier this month, nearly 1,000 guests came together in person at DSA's signature State of Downtown 2022 event. Special thanks to our presenting sponsor Lane Powell PC for their generous support, along with our other sponsors.
Under the theme, "Reimagining Downtown Together," keynote speaker Dr. Richard Florida, urbanist, author and professor, shared his insights on the future of cities, noting, "Downtowns are not dying. They are being transformed. They're not just a collection of buildings. Downtowns are people."
Mayor Bruce Harrell reinforced his commitment to partnering with the business community and restoring the safety and vitality of our urban core. Local leaders City Attorney Ann Davison, Seattle City Councilmember Sara Nelson and Marc Dones, CEO of the Regional Homlessness Authority, participated in a panel discussion about solutions to address chronic homelessness, public safety and economic recovery.
In his annual address, DSA's President & CEO Jon Scholes shared an update on the progress we've made over the past year and thoughts on the role all of us must play in restoring and renewing our downtown.
You can watch all of the presentations here.
In conjunction with this event, we released our latest State of Downtown Economic Report. This report explores downtown's 2021 economic metrics and the past year's big storylines, including a growing residential population, the return of locals and visitors and the ongoing investment being made in our center city.
Highlights from the report:
A record high 98,000 residents now call downtown home
Nearly 170 new street-level businesses opened downtown in the past 12 months, including nearly 70 restaurants and 30 new retail shops
More than 323,000 jobs are located downtown – 51% of Seattle's total jobs
1,169 units of affordable housing are under construction downtown
Downtown added 4,000 households last year, and had 52,976 occupied apartments in 2021
Pike Place Market received more than 2.2 million visits in summer 2021, four times as many as in 2020
After the cruise season was nearly canceled in 2020, the Port of Seattle is anticipating 296 sailings carrying 1.26 million passengers to Alaska in 2022
Several public officials joined State of Downtown 2022, and we're grateful for their time and support: Seattle City Councilmembers Andrew Lewis and Sara Nelson; Port Commissioners Ryan Calkins, Sam Cho and Hamdi Mohamed; City Attorney Ann Davison; and King County Assessor John Arthur Wilson. With more employers planning to return to their downtown-based offices in April, DSA appreciates the partnership and action of elected leaders and the support of our members and ratepayers.
While we face some significant challenges, it's clear Seattle's innovative and compassionate spirit will guide us to a thriving post-pandemic downtown. The dynamic center city of the last two decades is once again possible, and we have an opportunity to renew in ways that ensure downtown is more equitable and vibrant.
Thank you to all who attended, and we look forward to more in-person events to spark connections, conversations and support our city's continued recovery.