KUOW: Seattle business leader: The city should 'treat this emergency on our streets' like the pandemic
Posted on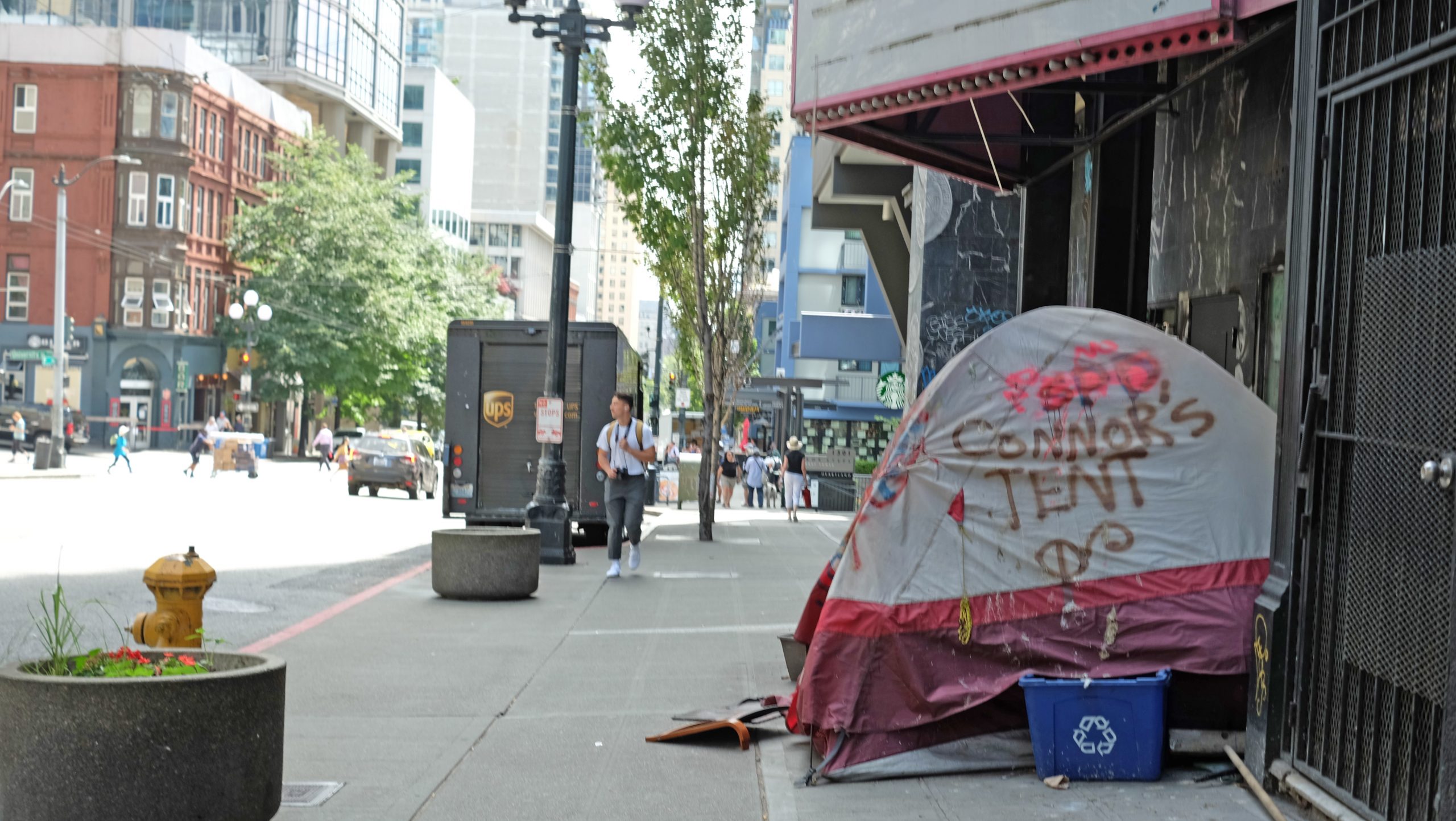 This story was originally published by KUOW on Sept. 21, 2021.
BY: Katie Campbell and Angela King
Businesses across King County will soon have to verify their customers are either vaccinated against Covid-19 or tested negative for the virus within 72 hours.
But some business leaders say their ability to recover from the pandemic, especially in downtown Seattle, depends on how whether the city will put the same effort into treating the "emergency on our streets" — chronic homelessness and diminishing affordable housing.
Those are things a vaccine cannot fix.
Seattle Mayor Jenny Durkan says the new rule, which will take effect on October 25, will be especially important in the winter months as people are driven inside by the cold.
Downtown Seattle Association President and CEO Jon Scholes says the long-term solution is jobs — jobs that pay a livable wage in a city where the cost of living has been steadily rising.
"What's not working is people living in parks and public spaces, in doorways of businesses and music venues," he says.
That's bad for business and for "the lives of individuals that are suffering outside today."
Unless the city approaches the homeless crisis like it has the pandemic — from all fronts and with urgency — Scholes says economic recovery won't last.
Durkan acknowledged as much when she decided to extended the city's eviction moratorium through January 15, 2022. This is the sixth time the moratorium has been extended since March 2020. Durkan says whether it will be the last extension depends.
"Do we get that money into the hands that need it? Have we restarted our economy, so those tenants are able to earn an income to pay their rent?" Durkan told KUOW.
At least 60,000 Seattle-area renters say they're behind on rent, according to the U.S. Census Bureau's most recent Household Pulse Survey; as The Seattle Times reports, that's likely an undercount.
The majority of respondents reported they owe multiple months' worth of back rent, and many don't expect to be able to pay next month's rent either.
"The last thing we can afford is a flood-gates of people losing their housing stability, at a time when we already have a homeless crisis," Durkan told KUOW. "We need to keep people stable as we continue through this really difficult situation."
Scholes says vaccination or negative test requirement for customers will help in its own way.
"We don't want to be bringing in lots of people who are unvaccinated to indoor spaces because we know that … results in lots of people going to the hospital," Scholes says, adding Seattle's high rate of vaccination may be attractive to tourists as travel picks back up.
"So, you can come to Seattle and look around the room you're in — whether it's a restaurant or a venue — and really know that most of the folks there are vaccinated," he says. "And now, with the mandates in place, everybody's vaccinated."
Scholes and city officials hope that will mean businesses will be able to avoid any further shutdowns or interruptions in business-as-usual, which is keeping people steadily employed and able to pay their bills.