New Board Chair, Ambassador of the Year and More: 2021 DSA/MID Annual Meeting Recap
Posted on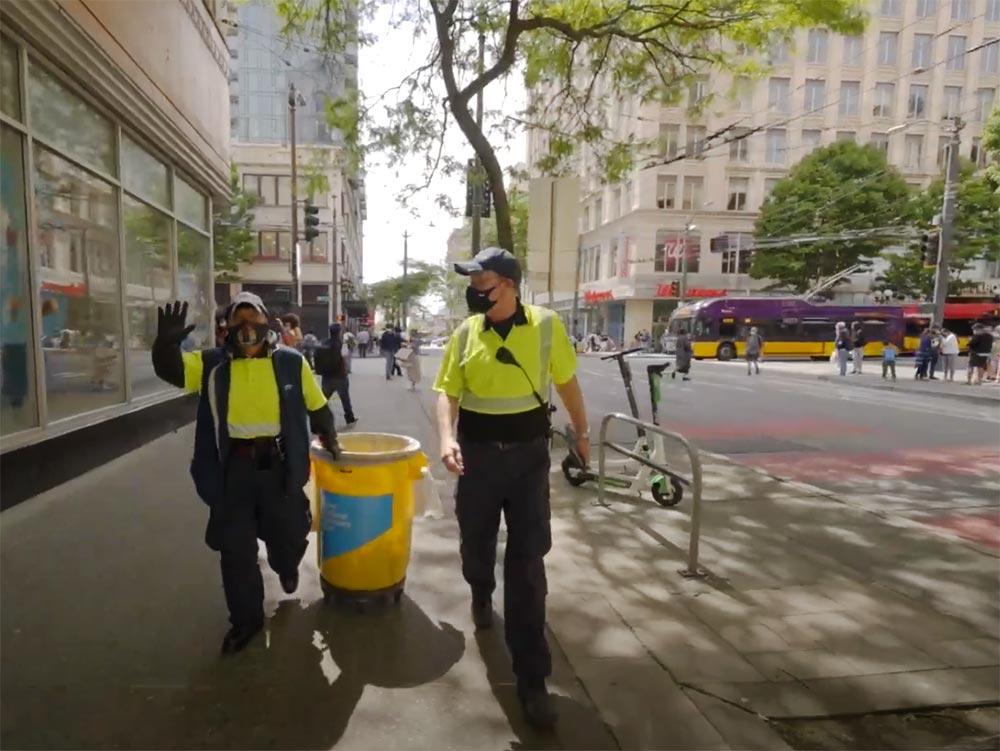 Earlier this month, we hosted more than 500 DSA members and MID ratepayers at our 63rd Annual Meeting, presented by Alaska Airlines, newest member of the One World Alliance. Under the theme Advancing Recovery, DSA President & CEO Jon Scholes shared plans to drive recovery and welcome back workers and visitors. Our strategy for advancing recovery, focused on cleaning, safety, events and promotion, is available on our website.
Marilyn Boss, outgoing DSA board chair, and Kathy O'Kelley, incoming board chair, encouraged members to stay active and engaged as we move forward with recovery, noting that while momentum is building, there's much work ahead to reimagine a stronger, healthier and more inclusive center city.
Mary Bingham, outgoing chair of the Metropolitan Improvement District Advisory Board, shared an update on the work of downtown ambassadors during what has been a particularly challenging program year. Metrics detailing the impact of ambassadors on the downtown experience and other organizational updates are detailed in our 2020-21 Annual Report. As we do each year at this event, we were delighted to recognize our MID Ambassador of the Year. This year's honoree, selected by his peers and supervisors, is Stephen Stone, Clean Team assistant supervisor. You can learn more about Stephen in this short video tribute.
Finally, as we embark on a new fiscal/program year July 1, we recognized outgoing and incoming DSA Board members. Rolling off the board at the end of this month are:
Colleen Echohawk
James Hendricks, Ph.D.
Guy Hudson, M.D., Swedish
Beth Takekawa, Wing Luke Museum
Todd Timberlake, University of Washington
Rico Quirindongo, City of Seattle
Becky Witmer, ACT Theatre
Joining the Board as of July 1: are:
Mary Bacarella, Pike Place Market
Sally Clark, University of Washington
Michael Greer, ArtsFund
Gina Hall, Uplift Northwest
Kristin Jensen, Gensler
Scott Redman, Sellen Construction
Marques Warren, Downtown Spirits
Tom Wolf, Seattle Hyatt Collection
Thanks to everyone who joined us for this online event and to all our generous sponsors. If you were unable to join, you can watch the event online, including videos and CEO remarks.