Business and community leaders urge City Council to prioritize new resources on homelessness
Posted on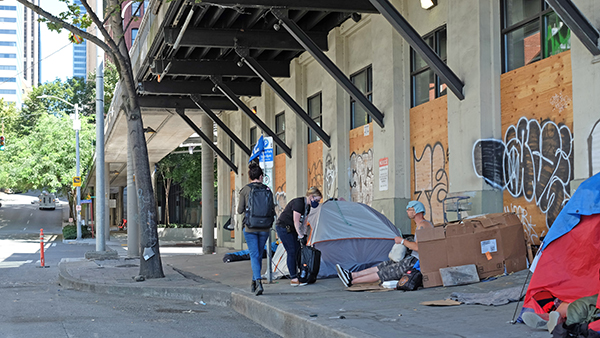 Influx of federal funds provides rare opportunity for City of Seattle
SEATTLE (May 17, 2021) – As the Seattle City Council's Finance and Housing Committee deliberates on a spending plan for Seattle's American Recovery Plan Act (ARPA) funds, community and business leaders are urging city leaders to direct this revenue toward solving chronic homelessness. The Downtown Seattle Association, Seattle Metropolitan Chamber of Commerce, the Downtown Emergency Service Center, Plymouth Housing and other groups sent a letter to committee chair Teresa Mosqueda, imploring the city to focus on its most pressing need.
"Our city and county declared a state of emergency on homelessness nearly six years ago and we're still waiting for the bold action that declaration demands," said DSA President & CEO Jon Scholes. "Our elected leaders have an obligation to apply these historic federal funds to the crisis and suffering on our streets. Let's act with urgency to get people inside and get them the help they need. Prioritizing homelessness in this spending plan is a key to our community's recovery."
"The $239 million in ARPA resources that Seattle is receiving provides an unprecedented opportunity to fundamentally change the trajectory of our most vulnerable community members: the thousands living unsheltered," said Seattle Metropolitan Chamber of Commerce President & CEO Rachel Smith. "The city will understandably be presented with a number of priorities that will hasten recovery, but immediate action and resources to provide outreach, services and shelter for people experiencing homelessness must be at the top of the list. This is especially important given homelessness disproportionately affects people of color in Seattle and King County."
In the coming weeks, council will take community input on spending priorities and ultimately vote on its ARPA spending plan in early June. A poll of likely Seattle voters in early 2021 found nearly 60% of Seattle voters mention homelessness as the issue they are "most frustrated or concerned about." The U.S. Department of Housing and Urban Development's 2020 Annual Homeless Assessment report shows Seattle/King County with the third-highest homeless population in the nation for major city areas, trailing only New York City and Los Angeles.
###
About the Downtown Seattle Association
Established in 1958, the Downtown Seattle Association (DSA) is a nonprofit membership organization whose mission is to create a healthy, vibrant downtown. By advocating on issues including transportation, economic development and the urban experience, DSA works to ensure that downtown remains a great place to live, work, shop and play. DSA also manages the Metropolitan Improvement District, a business-improvement area spanning 285 square blocks downtown.
About the Seattle Metropolitan Chamber of Commerce
The Seattle Metropolitan (Seattle Metro) Chamber of Commerce is the regional business advocacy organization that engages the innovation and entrepreneurship of its 2,600 members to promote inclusive economic prosperity. Founded in 1882 by local business leaders, the Chamber today is an independent organization representing a regional workforce of approximately 750,000. For more information, visit www.seattlechamber.com.