Storefront Art Exhibitions Light Up Fifth Avenue Downtown
Posted on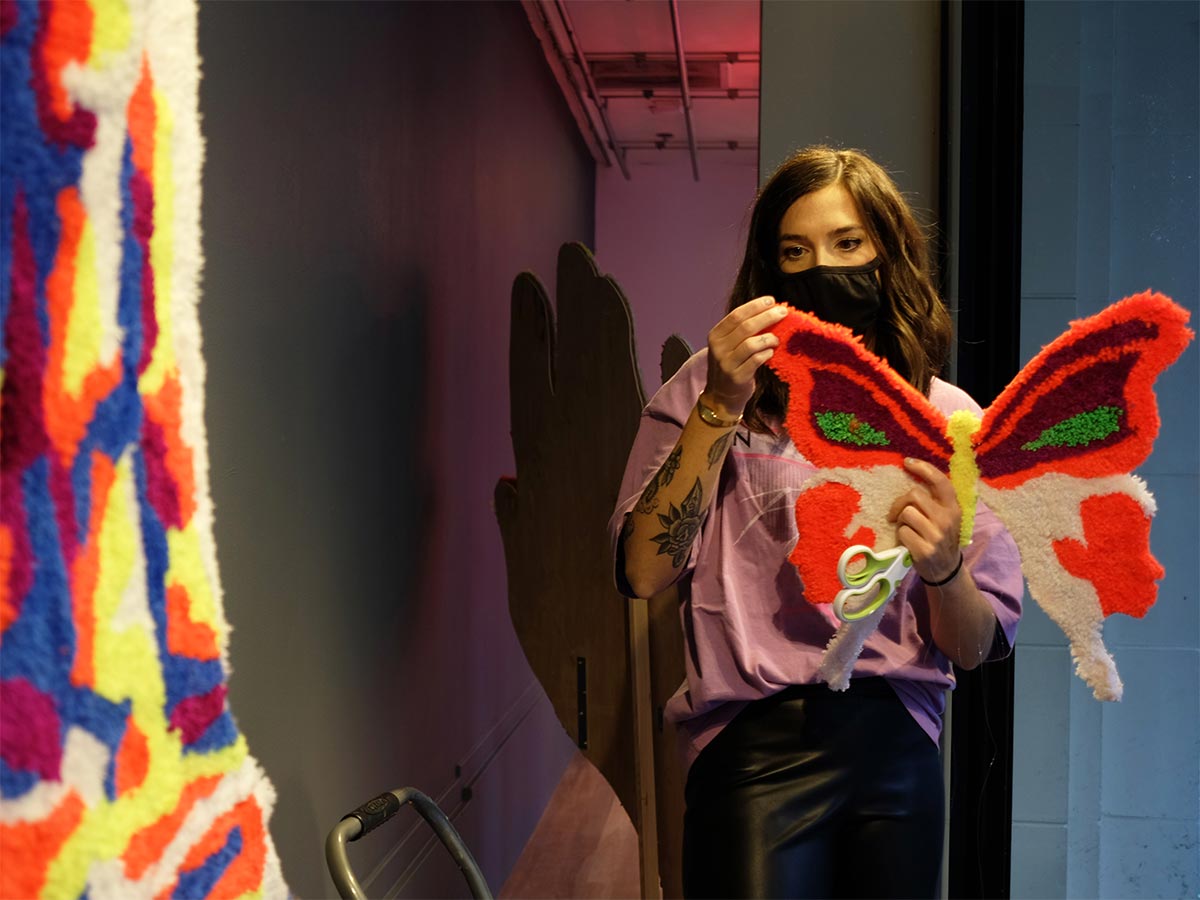 Six local artists are transforming empty window displays in downtown's retail core into multimedia galleries through our new partnership with Seattle's Office of the Waterfront and downtown property owners.
The series, themed "Shine a Light," is currently on display in storefronts between Pike and Pine streets on Fifth Avenue and around the corner at the northeast side of Pike and Fifth. The pieces are inspired by each artist's personal interpretation of the theme. Collectively, the activation helps fill blank spaces in the public realm while elevating Seattle's creative talent. Artists incorporated an array of materials to form their visions, including neon tubes, vinyl, plexiglass, wax and even playful inflatable figures.
"We went through a massive boarding-up of downtown," said Seth Geiser, DSA manager of Urban Planning & Design. "Now the city is opening, and we're shining a light on the hope, creativity and excitement here in our urban core. Protected storefronts are an opportunity to showcase a variety of artists and art forms to create an interesting, fun streetscape and pedestrian experience."
The project was made possible with funding from the city's Office of the Waterfront and window venues provided by downtown property owners.
"Converting unused ground-floor spaces into eye-catching art is a way to give back to the community while improving our sidewalk storefronts," said Kyle Howell, assistant manager of the O'Shea and Coliseum Buildings.
Through a "call for artists" effort earlier this year, DSA engaged creative talent from a range of backgrounds and experiences to create varied visual interests and celebrate a diversity of expression. The six artists were selected from a pool of nearly 90 applicants.
"I'm intrigued by art that interacts with the public," said Cady Bogart, whose textile-based French Exit fills her space with two enormous and colorful yarn-covered hands. "I like the idea of people unintentionally discovering art, and hope my showcase serves as a catalyst for them to consider their own creativity."
Artist Kelsey Fernkopf spoke to her connection with the city and HYDRA installation. "I'm excited to bring the glow of neon to downtown Seattle — a place I love, and hope my art brightens the day of people passing by."
"I wanted to participate in Shine a Light because I've seen how public art can bring people together, even when we are alone," said Jen Vickers, creator of Un-Anaglyph's red and blue Seattle landscape. "It connects us to the place and subject matter, as well as the other people who have experienced it."
Shine a Light installations will be on display for the next three to six months.
Shine a Light artists and installations:
Cady Bogart
French Exit
Hailey Tayathy
Free the Light
Irene June
Untitled
Jen Vickers
Un-Anaglyph
Kelsey Fernkopf
Hydra
Scott Méxcal
¿A Qué Le Vas A Dar Luz? / What Will You Give Light?
We also invite you to check out the new Pine Street Plaza Gallery on the corner of Pine Street and Third Avenue. This fully outdoor gallery is part of our effort to bring local, vibrant art into public spaces, and will assist in revitalizing a damaged arts sector. The curated collection will remain on display through spring, featuring a rotating selection of artists.
Pine Street Plaza Gallery artists and installations:
Alexis Hilliard
Great Seattle Fire of 1889 / Handmade paper collage on panel
Cannupa Hanska Luger
The One Who Checks & The One Who Balances / Beadwork, surplus industrial felt, ceramic, riot gear, afghan
Eric Fisher
A Feeling / Digital Illustration
Tariqua Waters
NO / Self-portrait, mixed media
Jenny Zwick
Speaking Loudly With Gentle Materials (YES) / Archival pigment print
Monyee Chau
Just Adequate / Digital painting
Lauren Max
Nadia & Abigail / Photograph