DSA Endorses Charter Amendment for Homelessness Solutions
Posted on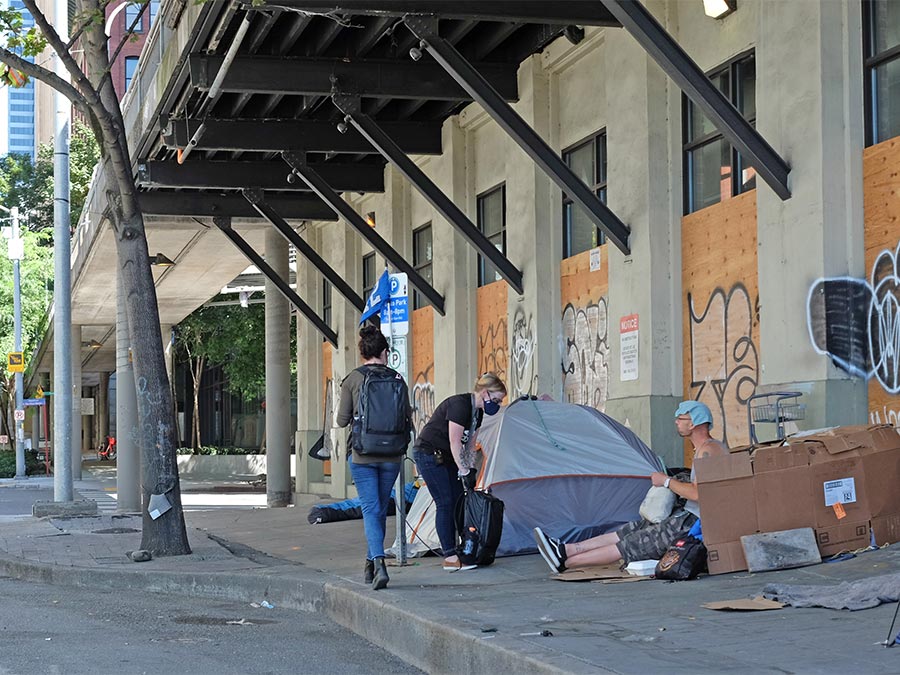 The last official count of people living unsheltered in Seattle, completed in January 2020, estimated 3,738 individuals are surviving outdoors in parks, playgrounds, sports fields, sidewalks, streets and vehicles. Seattle's homelessness crisis — declared a state of emergency six years ago — has only worsened during the pandemic.
To meet the historic challenge of bringing thousands of people inside, a new coalition called Compassion Seattle has launched a campaign to make unprecedented investments in housing, health treatment and homeless services through an amendment to the city of Seattle's charter — essentially the city's constitution.
The amendment, which requires signatures of 33,060 Seattle voters to be placed on the November ballot, would require the city to provide 2,000 units of emergency and permanent housing within one year of its passage. It also calls for mental health and substance use disorder services. Critically, the amendment would prioritize support for people of color who are more likely to experience homelessness as well as those with high barriers to services and those who are chronically homeless. As services and housing are made available, the city would be required to keep open parks and public spaces.
DSA is a member of the campaign coalition and the DSA Board of Directors has endorsed the charter amendment. The campaign also includes other neighborhood associations, nonprofit organizations, community and business leaders. DSA's involvement builds on our history of advocacy for those most in need.
"This is the type of approach our members have long advocated for to solve critical issues in our community," said DSA President & CEO Jon Scholes. We helped shape this amendment to urgently address the humanitarian crisis on our streets."
The amendment was originally filed with the city in early April, and refiled on April 15 with some additional language offered by nonprofit health and human service providers. One new clause calls for sunsetting the measure six years after passage. Covid-friendly signature gathering will begin soon. Look for downloadable petitions and instruction on the Compassion Seattle website in early May.
You can read more about the campaign at compassionseattle.org. To join the social discussion, visit LinkedIn, Twitter and Facebook.