DSA expects full economic recovery will take at least 2 years
Posted on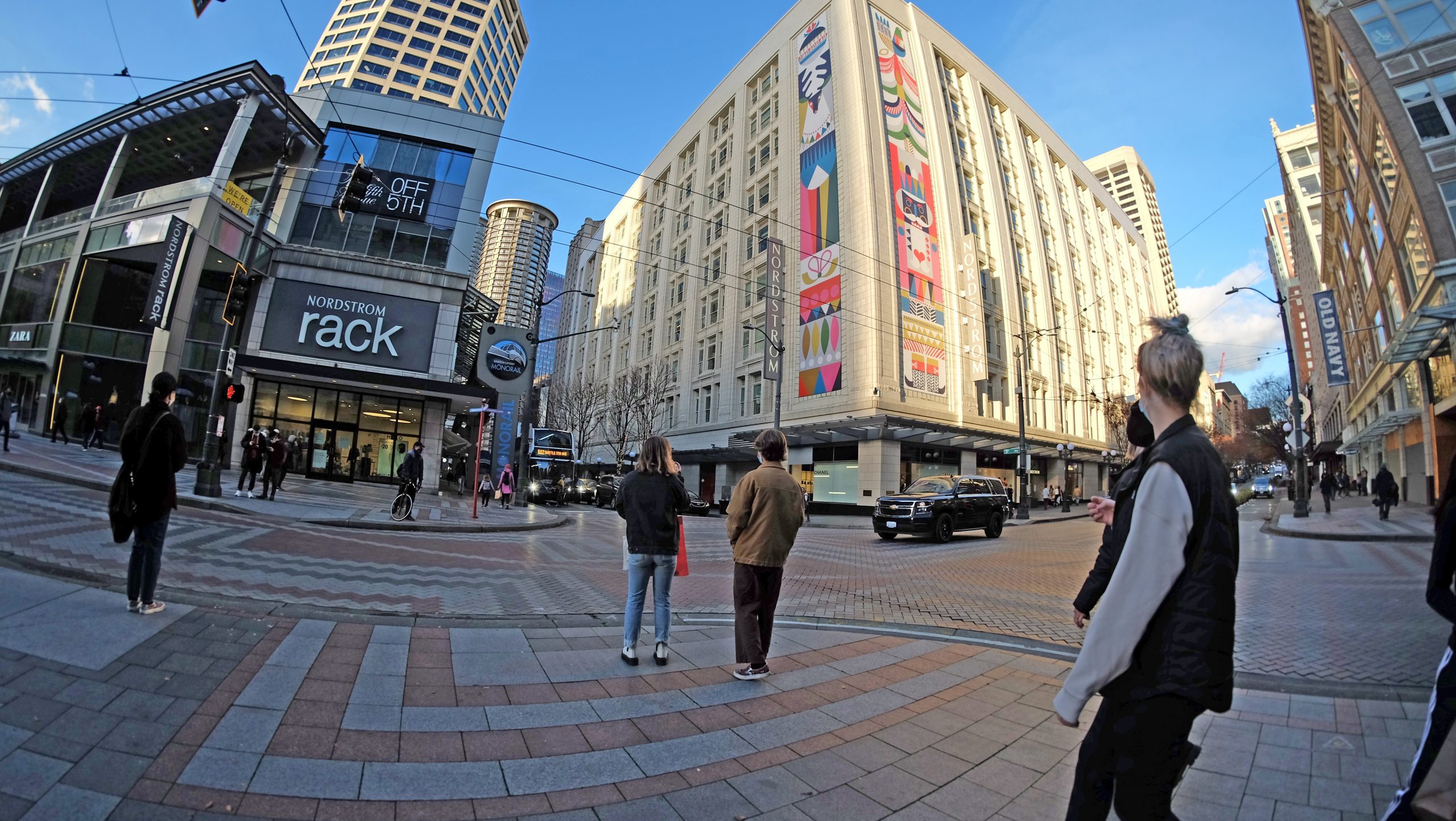 This article was originally published by the Puget Sound Business Journal on Tuesday, Feb. 16.
By Marc Stiles – Senior Staff Writer, Puget Sound Business Journal
A year ago, the cavernous meeting room of the new Hyatt Regency was packed for the Downtown Seattle Association's annual State of Downtown event. Attendees celebrated a record number of jobs and private and public investment.
It came to a screeching halt weeks later due to Covid-19. Office buildings emptied out and restaurants, shops and hotels closed. Mass layoffs and the departure of residents followed. More than 160 businesses closed permanently in the DSA area, which encompasses the South Lake Union and Uptown neighborhoods through Sodo and from the water to Broadway.
The area lost 45,000 jobs in the second quarter. This compares with 28,000 jobs lost during the Great Recession. All told, downtown lost nearly 6% of its residents and almost 12% of all jobs last year. The retail sector and the combined hospitality and arts sector were hit especially hard, with the former seeing jobs decline by 42% and the latter losing a whopping 61%.
"It was tragic and it was immediate," said Tom Norwalk, president and CEO of Visit Seattle, one of the speakers at DSA's Thursday's virtual State of Downtown. DSA said it does not expect a full recovery for two or more years.
Hanging over it all is the nation's institutional racism, the depth of which was exposed by the May 25 killing of George Floyd and other Black Americans by police across the country. This has prompted a national reckoning, including at DSA. Association Board Chair Marilyn Boss said the group has committed to diversifying its staff, board leadership, member programming, and to "rooting our internal systems practices and processes in equity."
Last year was terrible, but especially harsh for the city whose reputation was bruised by months of demonstrations and a homeless crisis that seems to have gotten even worse."We've got some serious concerns … about the perception of the city. Perceived or real, perception is really everything," said Norwalk, who thinks that by 2022 larger conventions will resume, with domestic and international travel returning to pre-pandemic levels the following two years. "We have every belief that the city is resilient as we are and always have been, and the city is going to be back."
The steepness of the road back is underscored by other data in DSA's annual report. Last year, Seattle office rents fell by 6% and vacancy increased 330 basis points to 8.7%, according to CoStar, which forecasts vacancy will top out at 11.5% in the third quarter but remain over 10% until 2024. Much of the increase in vacancy is due to new construction.
It remains to be seen how the office market will rebound with remote work still a wildcard, as shown by Nordstrom's recent confirmation that it is vacating most of one central business district tower because "remote work can and should continue to play a part in how we operate." With nearly 350,000 workers in and around downtown, a lot rides on how other companies respond.
Speakers pointed to big projects that still are moving forward — construction of the new waterfront park, the nation's largest expansion of a rapid mass transit system and Climate Pledge Arena, which will be home to the Kraken professional hockey franchise.
"Hope is on the horizon. Our best days should be in front of us if we can unite around common ideas that bond us," Kraken CEO Tod Leiweke said.
And Seattle still has one of the nation's most robust technology sectors, led by Amazon.
"I'd rather be in Seattle with our assets rebuilding after this pandemic than just about any other downtown," said DSA President and CEO Jon Scholes, who talked about the city's chronic homelessness and public health crisis. Last year, he said, Seattle had nearly as many people die from drug overdoses as from Covid-19.
None of this will go away with a vaccine, he said, adding the city needs to take the challenges on with "a great sense of urgency." The city can do that as a community with private and public sectors collaborating on an action plan.
"I'm optimistic about our ability as a city to really lead the way nationally in recovery, just as we led the way in fighting the pandemic," he said.