Moriguchi Family Named 2018 City Maker of the Year
Posted on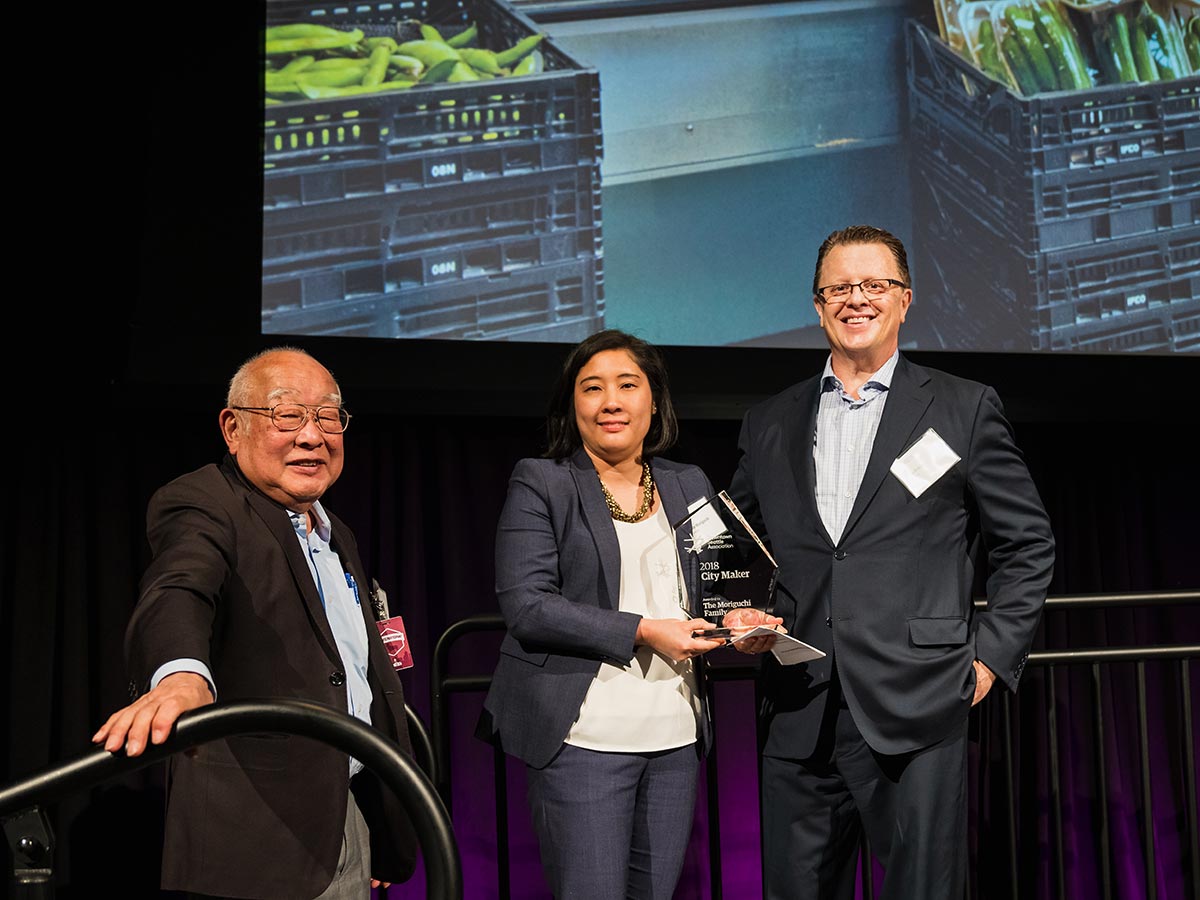 In honor of their lasting community contributions and deep roots in downtown, DSA has named the Moriguchi family, founders and owners of Uwajimaya, as our 2018 City Maker. This award is presented annually at the DSA/MID Annual Meeting, which took place this year on June 21 at Amazon. It is given to a DSA member who is going above and beyond to help shape a healthy, vibrant downtown.
The award recognizes the Moriguchi family's multi-generational commitment to downtown, catalytic developments in the Chinatown-International District and cultural significance to Seattle and our region.
"Ninety years ago Fujimatsu Moriguchi started selling food out of his truck to local farmers, loggers and fishermen," said DSA President & CEO Jon Scholes. "He called his company Uwajimaya, and his legacy is one of our city's most vibrant centers of community and commerce. We are proud to present the Moriguchis with our 2018 City Maker of the Year award."
"My grandfather cared deeply for his employees, customers and partnerships," said Uwajimaya CEO Denise Moriguchi. "He believed we are successful when our community is healthy and welcoming. His philosophy still drives everything we do."
Fujimatsu Moriguchi immigrated to the U.S. in 1928, founding Uwajimaya and operating in Tacoma until the family was relocated to the Tule Lake Internment Camp during World War II. After the war, the Moriguchis reopened Uwajimaya on Main Street in Seattle's Chinatown-International District. As the business grew, the family reinvested in their neighborhood and eventually the region, adding stores in Washington and Oregon and expanding their vision for an inclusive, welcoming downtown by investing in affordable housing.
Uwajimaya Village, completed in in 2000, doubled the main market's size and incorporated affordable and market-rate housing in the 176-unit Uwajimaya Village Apartments. The recent renovation of the Publix Hotel offers additional apartments, and across from the Chinatown-International District light rail station, the Moriguchis are constructing a hotel, retail and apartment complex at Fifth and Jackson.
Said former Chairman Tomio Moriguchi, "We're inviting more residents to the neighborhood and supporting a thriving retail market. It's natural as we grow with the city. These developments are an exciting opportunity to create a space that's historically rich as well as accessible."
Hard work helped the Moriguchis turn their small market into a landmark and retail hub. Dedication to their neighbors and continuing investments in the heart of downtown elevate them to true City Maker.
"The values my grandfather imparted on my father and my aunts and uncles still guide our business," said Denise Moriguchi. "As third generation leaders of Uwajimaya, we are just as committed to an inclusive, successful downtown Seattle."