Positivity, Caffeine Fuel 2018 Safety Ambassador of the Year: Dan Phillips
Posted on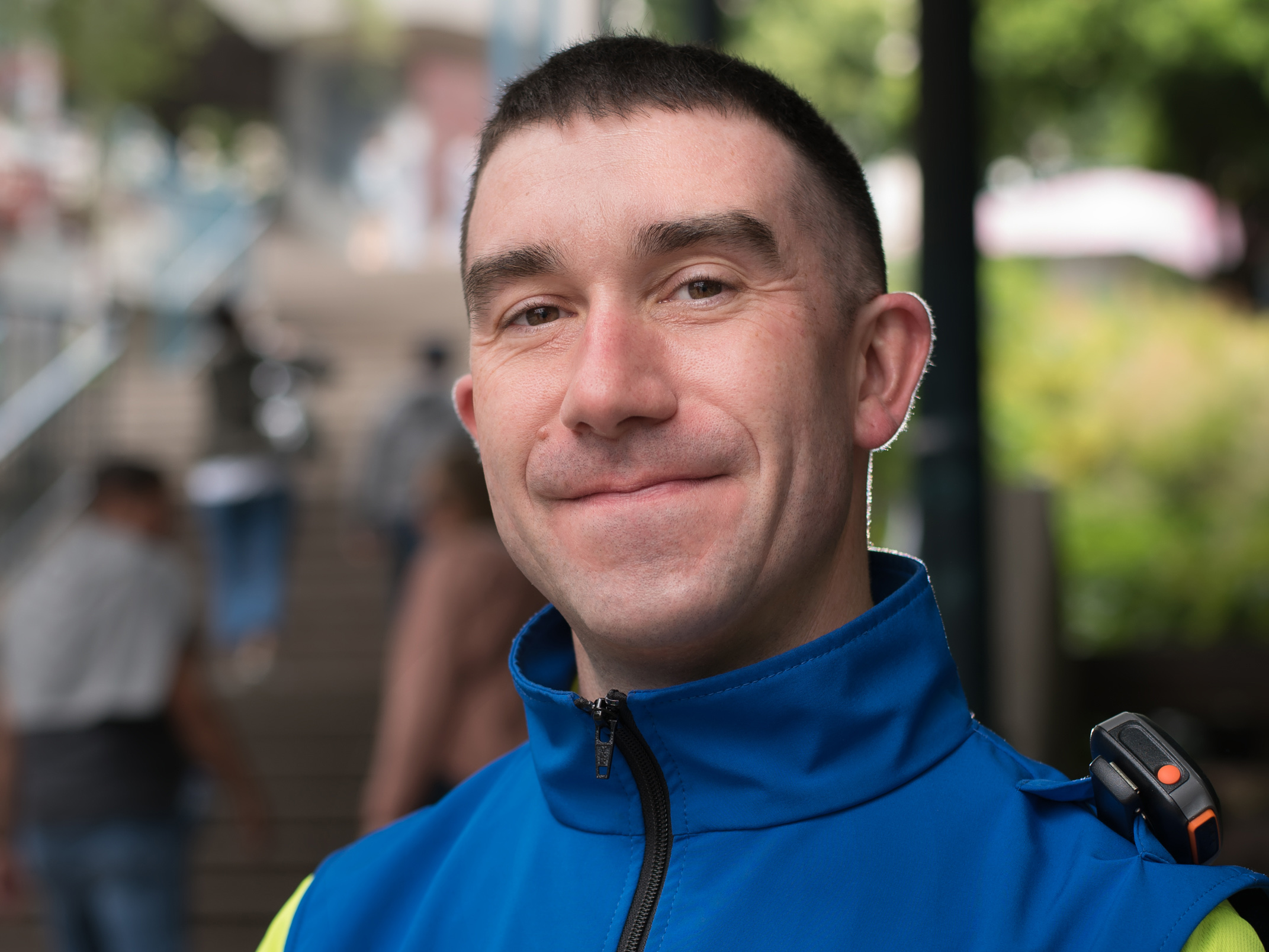 DSA/MID Safety Employee of the Year Dan Phillips takes Seattle's notoriously damp weather in stride. In fact, enduring the drizzle is a point of pride.
"I don't mind being outside," says Phillips. "I think of it as a bit of a challenge. You know, 'I'm a Seattlite. I can do that."
Phillips' embrace of the rain mirrors the positive attitude that earns him regular praise from coworkers and customers. That, and his genuine desire to create a friendly, welcoming downtown.
"I want to help people," Phillips says. "It's a way of making the entire city better."
Phillips joined the Safety Team nine months ago (and two days before his birthday). He initially applied for the Clean Team, but the Safety Team contacted him first. Today, he's an ambassador as well as a trainer showing new hires the ropes.
Phillips believes great service reverberates beyond the particular person he helps.
"Being nice to people or giving directions in a kind way brightens someone's day, and it gets passed on," Phillips says.
Whether his customer is catching a local bus home or heading across the ocean, Phillips wants good impressions to stick.
"We want to show Seattle is an outgoing, caring city. We really do care about people's experiences and time here."
The parade of locals and visitors who fill downtown sidewalks each day ensure no two shifts are the same. It keeps the job interesting, but means occasional challenges are unavoidable.
If there's a tricky part to his role, Phillips says, it's de-escalating emotional situations and letting negativity slide off.
"When you talk to 50 different people during a shift, inevitably someone might be having a bad day or dealing with hardship. You just say 'sorry to bother you.'"
Luckily, positive exchanges fill most of his day.
Says Phillips, "A lot of times people say 'wow, we don't have this where we are from.' Tourists from other countries are surprised. It's cool to meet people from far away. The other day I ran into a couple from the small German farming town where my grandmother was born."
When he's done building international friendships, Phillips recharges at a local café. He typically enjoys two shots of espresso followed by a cup of black coffee. The lively combination offers an insight, perhaps, into Phillips' ability to put a smile on the face of nearly everyone he meets.
Learn More About Downtown Ambassadors