PCC plants its flag in downtown Seattle's 58-story Rainier Square tower
Posted on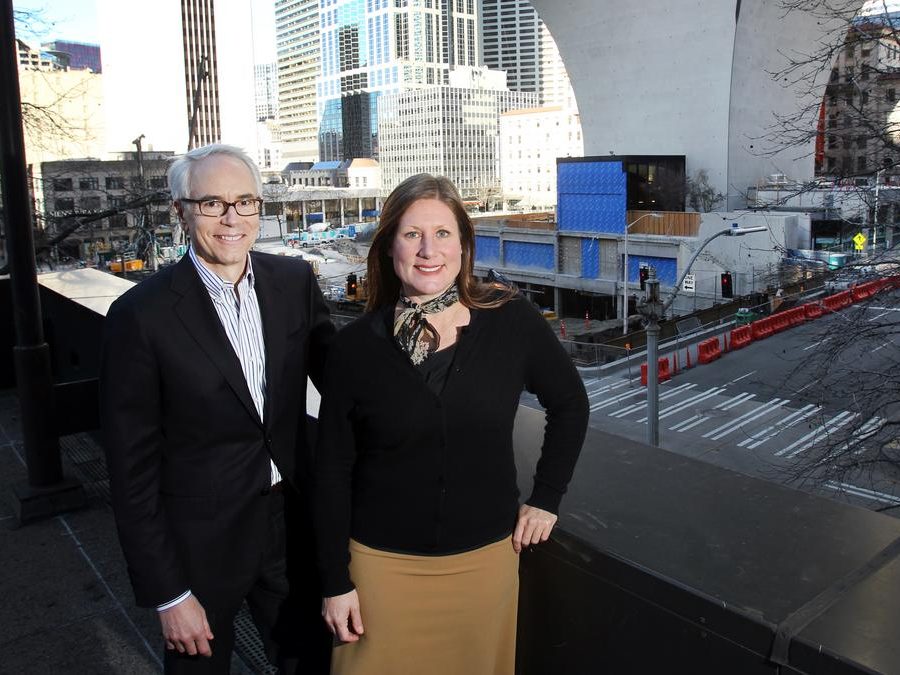 This article originally appeared in Puget Sound Business Journal.
PCC Community Markets will open a flagship store in the 58-story Rainier Square tower, which will be Seattle's second-tallest building when it opens in 2020.
PCC and Rainier Square developer Wright Runstad & Co. on Friday announced the Seattle-based grocery cooperative has leased 20,000 square feet on Fourth Avenue between Union and University streets.
It's the exclamation point on the 65-year-old grocery chain's latest expansion led by CEO Cate Hardy, who inked one of the most interesting and unexpected deals in Seattle retail history. The store's upstairs neighbor is its biggest competitor.
Amazon.com has leased all of Rainier Square's 722,000 square feet of office space.
It's a bold bet by PCC, which has nearly 60,000 members. It's a pioneering moment for the co-op, which has urban stores but not in the central business district and certainly not in any building leased to Amazon, which owns Whole Foods.
"Downtown is the epicenter of our city," Hardy said. "You have a huge permanent population of people who live downtown. … Those folks, just like any other neighborhood, deserve to have a really great Seattle-based, community-owned grocery store."
Seattle's booming economy has set off a feeding frenzy among natural and organic grocers.
In Ballard, for example, a New Seasons Market is going in two blocks from Trader Joe's and within two miles of Ballard Market, Whole Foods, AmazonFresh Pickup, and PCC's Fremont location. Safeway, Fred Meyer and QFC all have stores within blocks of there. And now PCC is building another store right in the middle of all that.
But it's a different story in and near downtown Seattle. The population increased from almost 60,000 in 2010 to nearly 73,000 in 2017, according to the Downtown Seattle Association.
More are coming. There are 15,325 residential units opening or under construction from Lower Queen Anne to Sodo.
Yet grocery shopping has been limited to the Whole Foods in the Denny Triangle, Pike Place Market (which starts closing around 6 p.m.), the Kress IGA Supermarket tucked in a basement on Third Avenue near Pike Street and small grocers sprinkled across downtown. The most recent grocery store has been the 96,000-square-foot Target, and only a small portion is dedicated to food.
"Downtown is the city's fastest-growing neighborhood and as more people move downtown the retail mix will need to adapt to meet the needs of residents," said DSA Senior Economic Development Manager Jacqueline Gruber.
Take Belltown, for example.
"That neighborhood is scheduled to be home to more than 20 additional residential buildings in the next three years," she said, "and those residents will need everyday amenities like grocery stores."
Hardy's intent for the Rainier Square PCC is to not only serve the downtown core but also Belltown, Pioneer Square and First Hill.
Hardy has opened two stores since becoming CEO in 2015, and four more are planned: Burien in 2018, Ballard in 2019, and Madison Valley and Rainier Square in 2020. West Seattle is being redeveloped and will open next year.
The Rainier Square store will be the co-op's 15th location.
Behind the deal
Wright Runstad President Greg Johnson aspires to make Rainier Square the center of downtown. In addition to the Amazon-leased space, the 1.2 million-square-foot development includes 188 luxury apartments, a 12-story high-end hotel and underground parking. It's essentially a self-contained community.
With more people moving in, Johnson said downtown needs more food options. He called PCC "a really welcoming food emporium" with "a personality that matches Seattle."
He's been working on the project for about four years. PCC was on his mind from the start.
Hardy and Johnson met at the Greenlake Village PCC two summers ago so she could show him what the co-op was all about. Johnson's team wanted to better understand how PCC and its competitors operated.
Hardy showed off PCC's local sourcing, organic foods and the bakers and cooks who make fresh foods each day.
Johnson said he still remembers the kitchen team cooking down chicken bones to make stock for chicken noodle soup and risotto.
"We were putting on the full dog-and-pony show," Hardy said.
Negotiations started more than a year ago. Putting a grocer in the center of an urban core is not easy. Johnson said they had to plan for complications, such as heavy use of the loading dock in a highly populated area, and where customers could collect and return grocery carts.
"That's why nobody else has done it, I think," Hardy said.
PCC and Wright Runstad would not say more about the terms of the deal except that it is a long-term lease with "a significant commitment made by both sides," Johnson said.
CBRE brokers Dani Kirkland and Connie Wilde negotiated the deal for PCC.
Susan Zimmerman, a senior vice president at Kidder Mathews, said the annual asking rate for some downtown Seattle retail spaces is up to $90 a square foot. Prices for retail space in downtown Seattle and Bellevue Square are the highest in the region, she said, though stores that take large blocks like PCC is leasing typically get a discount.
Hardy said the rent they got is roughly the same as PCC locations, such as Ballard, which is also a thriving, dense area.
"We are not chasing low rents," she said. "That is not our strategy."
The competitor upstairs
Amazon is working on its cashierless Amazon Go stores and integrating Amazon Prime and Whole Foods. While many analysts who follow the grocery industry are nervous about Amazon's coming disruption, Hardy says she's not worried.
"We know that what we are doing is special and unique and we have confidence that we are going to do really well in this location," she said.
She said PCC's customer service and knowledegable employees set it apart from the competition, which she welcomes.
"We open stores near great competitors all the time," Hardy said.
ohnson wouldn't say if PCC came up in negotiations with Amazon for the office space, or which other grocers were interested in the retail space.
It's a high-profile win for PCC in Seattle's accelerating grocery war and one the co-op plans to build on. Hardy said Rainier Square's iconic architecture and crossroads location will help the co-op win Seattle-area transplants who are more familiar with national brands like Whole Foods and Trader Joe's.
"Having a flagship location in an iconic building in the middle of downtown Seattle," Hardy said, "can only help."
---
Rainier Square: How it all fits together
Eighty-one percent of the approximately 80,000 square feet of retail space in the Rainier Square tower has been leased.
Luxury fitness brand Equinox will open its first club in Seattle in 37,900 square feet on the fourth floor, with the entrance on Fourth Avenue next to the PCC Community Markets entrance.
Five of the available spaces on Fifth Avenue will be for signature and specialty retail shops. Two more on Union Street and Fourth Avenue are for a coffee shop and cafe, while a space on the second level will be a café/wine bar.
Maria Royer and Janel Jensen of Seattle-based Real Retail are marketing the remaining 15,000 square feet of space for lease.