What Amazon's growth has meant for Seattle
Posted on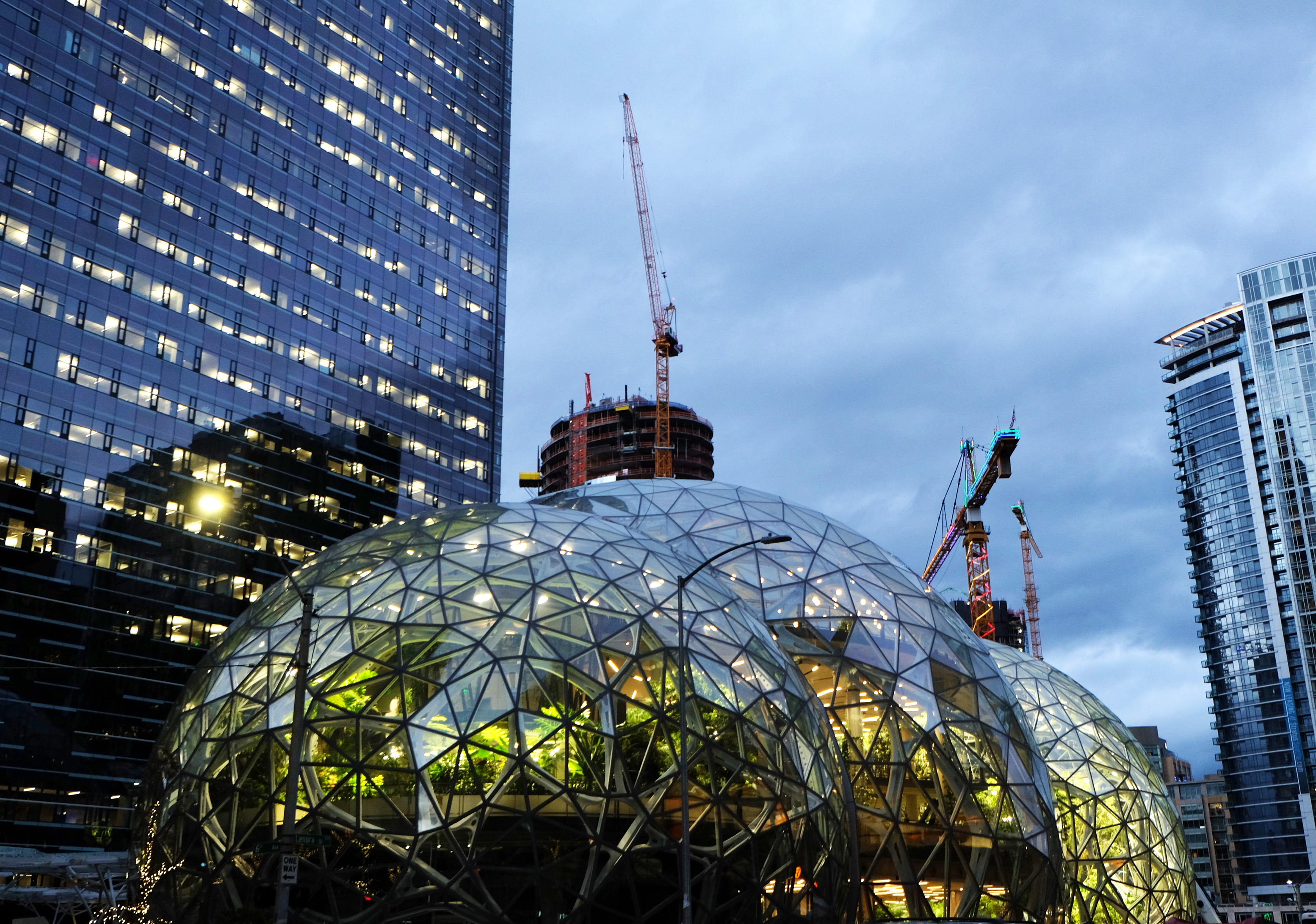 This piece was originally published by Zillow on Jan. 12, 2018.
Editor's note: To offer context around Amazon's upcoming HQ2 decision, we interviewed people in Seattle about what its presence here (where Zillow also is located) has meant to the area. The views expressed in this piece do not necessarily reflect the views of Zillow.
Angela Stowell remembers when Seattle was a town of Subaru drivers.
"Now it's a Tesla city," quips the co-owner and CEO of the popular Ethan Stowell Restaurants group.
While plenty of Subarus still climb Seattle's hills, the visibility of $100,000-plus Teslas is a reminder of how much the city has changed in recent years. Tech behemoth Amazon.com symbolizes that change, exploding from 5,000 workers in 2010 to about 40,000 now – helping make Seattle the fastest-growing big city in the country. Corporate growth led by Amazon has tugged at Seattle's culture and at a housing market already hemmed in by restrictive building codes that make rapid expansion tricky.
Amazonians, as they're known locally, occupy more office space than the next 40 largest Seattle employers combined. The areas in metro Seattle with the biggest influx of these workers have seen rent increases rise 65 percent faster over the past five years than areas with the smallest influx. Still, the jobs boom in and around Amazon's campus explains less than a one-fifth of the Seattle's recent rent increases.
"They've shown how a tech company can locate well in an urban setting," said Jon Scholes, president and CEO of the Downtown Seattle Association.
"Amazon doesn't have to create all the bells and whistles inside its buildings – the cafeterias and gyms and dry cleaners – like you would in the suburbs. It can think of the neighborhood and downtown as an amenity, which hopefully will encourage other companies to think about the urban model," Scholes said.
Rapid growth has brought challenges, he said, but millions in tax revenues from Amazon – and other tech companies that have come to Seattle in recent years – are helping address issues with transit, parks and public spaces.
'A Place Where Ideas Are Formed'
Changes in and around the South Lake Union neighborhood, home to Amazon' headquarters campus, are the most obvious on-the-ground gauge of the company's growth. Formerly an industrial area at the south end of the urban lake where Tom Hanks' "Sleepless in Seattle" home floats, South Lake Union is now packed with offices, condos, coffee shops, restaurants and gyms – and cranes building more of the same.
The Amazon campus has spilled into downtown with more office space and three giant glass "biospheres" that are part artwork and part park.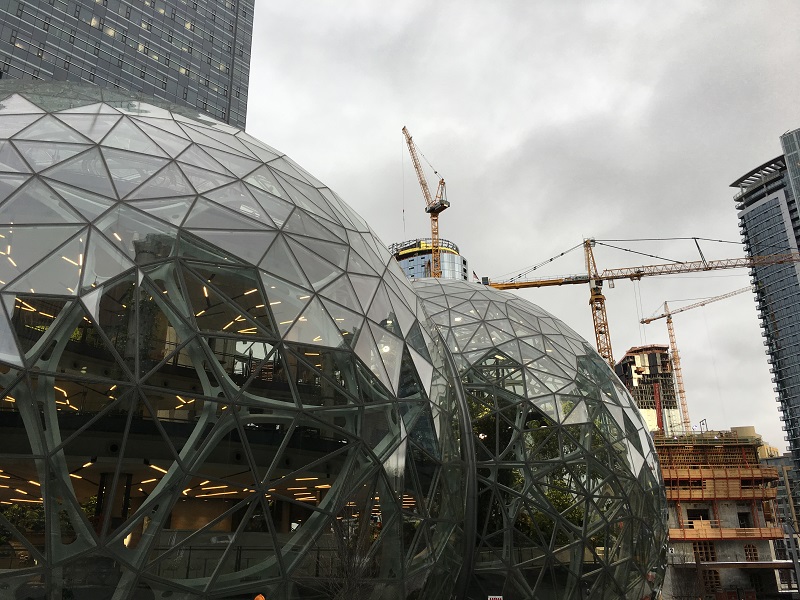 "It will be a place where new possibilities are explored and ideas are formed," Amazon's CEO of worldwide consumer business, Jeff Wilke, said when he unveiled plans for the spheres.
One big idea unveiled by Amazon last year was its search for a second headquarters city, where it projects hiring as many as 50,000 people, many of them computer programmers and other high-paid professionals.
Seattle knows first-hand how that kind of growth can change a city's culture.
Changing Tastes
Despite incubating major corporate players from Boeing to Microsoft to Starbucks, Seattle stayed true to its humble image – a place for hiking, lattes and grunge – until its most recent wave of transplants. Many come from hot spots including San Francisco and New York, where city life means something different from what Seattle grew up on, and it shows tastes for fancy cars and fine dining.
"They're more ingrained in a culture of going out on any given Tuesday night and not waiting for a special occasion" like Seattleites used to, Stowell said. They also spread the spending around, booking corporate dinners downtown and eating out in the neighborhoods where they live.
Real estate tastes have changed, too, with more floorplans built for roommates and a contemporary aesthetic, Keller Williams Realty agent Vija Williams said.
Parking spaces are now a luxury. "We sold a townhome… to an Amazon employee for almost $900,000, and there was no garage. Ride sharing is part of the new reality," Williams said.
People without cars living in dense neighborhoods want to have amenities close by, which has sparked a surge of beauty salons, retail boutiques, fitness centers and more.
"One day you realize there's a whole neighborhood of bars and restaurants that you don't know about – and you're a person who gets out," Williams said of South Lake Union in particular.
The changes have come with growing pains, including in Seattle's character – which can appear to be a split personality.
"We see ourselves as wearing Birkenstocks and flannels, laid-back looking at the mountains and water, and it's really not who we all are anymore," said Louise Chernin, president and CEO of the Greater Seattle Business Association.
"The good paying jobs that Amazon has brought are excellent, and its commitment to work with Mary's Place on homeless issues has been amazing. [Amazon founder and CEO] Jeff Bezos donating to support marriage equality was significant in helping us pass that referendum," Chernin said.
Mercer Mess
Take Seattle's glaring traffic and transit issues, as an example.
Mercer Street, which connects Amazon's campus to Interstate 5, is better known as "the Mercer mess" for how backed up it gets, even after a years-long upgrade. The No. 8 bus, which runs along the other side of South Lake Union, is dubbed the "Late" (instead of "Eight") and has its own unflattering Yelp and Twitter accounts and inspired a profane song on YouTube.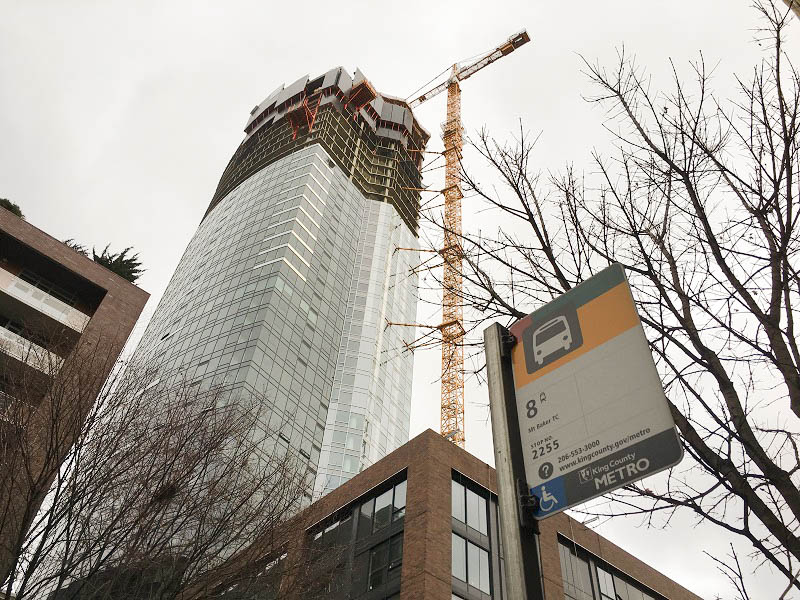 "People have voted to spend tens of millions of dollars to build a mass transit system, but it's moving way too slowly," said former Mayor Greg Nickels, who led efforts when he was mayor in the early 2000s to launch economic incentives and infrastructure investments that helped attract Amazon to South Lake Union.
According to Nickels, Amazon's expansion bolstered a downtown core that was already vibrant with condos, shopping and dining – a contrast, he said, to some cities that have been hollowed out in favor of suburban sprawl.
Although Amazon's location adjacent to downtown means its employees benefit from the core's Amtrak station and bus hubs, they typically have to make a connection to reach South Lake Union, said Martin Duke, the longtime volunteer editor of the Seattle Transit Blog.
He blames Denny Way, where I-5 traffic is funneled to downtown, for issues with the No. 8 bus. "When I-5 fails, there's a big backup onto Denny," Duke said. "F5 is over a mile from Amazon, but we're not far enough away and pick up a lot of the traffic associated with Amazon."
Duke commutes across South Lake Union to his job at F5 Networks and says the area's infrastructure has adapted well.
"It's way better than it used to be, with multiple bus lines, a bus lane coming from downtown and a streetcar," he said. The sordid history of the streetcar's name – it was formerly the South Lake Union Trolley – has been commemorated on T-shirts.
Indeed, Amazon has been a tremendous boon to Seattle, said Norm Rice, who was Seattle's mayor in the 1990s.
"I would think anyone running a city would be proud to have Amazon in their city because of the types of jobs they produce, the technology they bring and the investments and philanthropic projects they get involved with," Rice said. "It makes them an excellent partner and friend, and all of us should be thinking of ways to accommodate Amazon, its growth and opportunities."