Amazon: Blessing or poisoned gift?
Posted on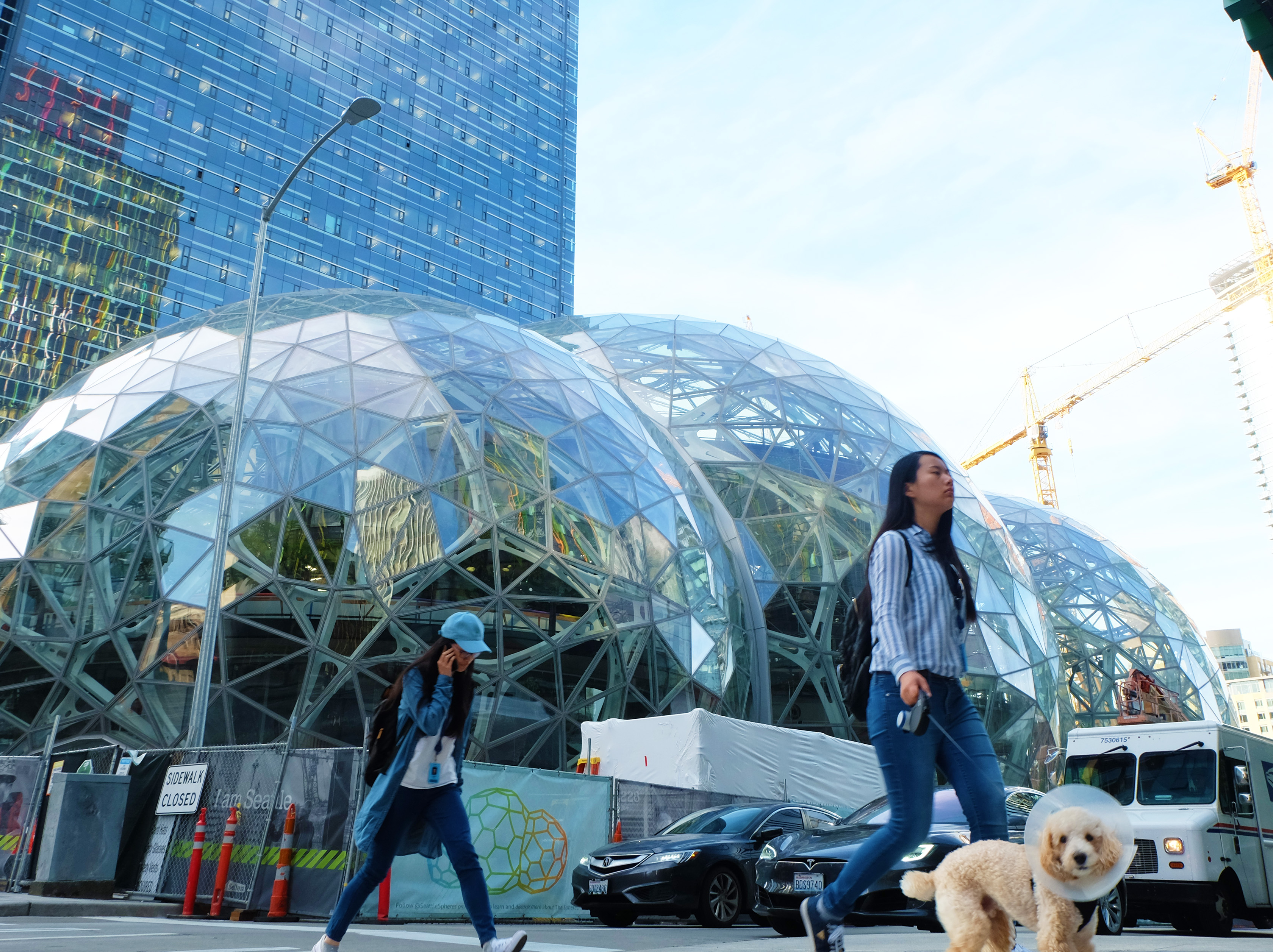 This article was originally published in La Presse on Oct. 19, 2017.
MARIE-CLAUDE LORTIE : THE PRESS
Amazon wants to open a second headquarters in North America and create 50,000 jobs there. Cities have until today to submit their candidacy, as Montreal has done. But having Amazon in his city, is it a blessing or a monumental challenge? OUR COLUMNIST, MARIE-CLAUDE LORTIE, RETURNS FROM SEATTLE, WHERE SHE ASKED THE QUESTION.
DOUBLE-EDGED GROWTH
SEATTLE – It's lunchtime at Whole Foods, and the coffee section is filled with workers eating their lunch while watching their cell phone. A lady asks me if she can sit in front of me.
" Can I ask you a question ? Do you know where I could interview Amazon employees? "
Laugh burst.
"But we are not all bad employees of Amazon," she adds, looking around. Look. They all have their cards hanging around their necks. "
Indeed, everywhere the same light blue ribbon.
"Can I interview you?
– It's better not. I can not talk about my job. I signed an agreement. In addition, I'm in finance, it's delicate. "
At Whole Foods – which is now owned by Amazon -, in a café a little further away, at the sports center down the street, in another cafe, at the necks of passing cyclists, pedestrians, between cranes and more cranes, everywhere we see the same Amazon cards. With 40,000 employees in the same city, normal that the company is ubiquitous. But never as much as in the entire downtown area called South Lake Union, where are concentrated the 33 buildings of the giant online sales. A huge campus that blends into the downtown core, but that brings together millions of square feet of office space from the same employer.
Here are the famous geodesic domes that will be filled with greenery so that employees can work, think, metal and glass creatures to become new emblems of the city, in addition to the famous Space Needle.
This is Amazon Go, the famous grocery store of the future without cash, which has not yet been opened to the general public.
It is in this corner that Amazon is still building to grow bigger. Everywhere, there is construction and buildings called Day One – "Every day is the first day of the rest of our life" is the motto of founder Jeff Bezos – or Rufus, the name of a partner's dog first days. From the crossroads Blanchard and Westlake, it seems that Seattle has become Amazon.
Is this a good thing? And do we want to have Amazon in his city?
"But of course, it's a great thing to have the headquarters of Amazon, it's one of the most significant business success stories in North America in decades," says Michael McQuaid, a former employee of 'Amazon now a member of the South Lake Union Community Council, which looks after much of the Amazonian Seattle …' Seattle was very provincial, not so long ago. Everything was based on Boeing, a little fishing, a little paper. And then there was Microsoft and now Amazon. We now have an economic engine that is second to none. "
"It's not a good thing, it's a great thing," says Jon Scholes, president of the Seattle Downtown Association. "They settled in an area where there were parking lots, vacant lots, wide streets that were just passing through this area. "
Now, there are offices, apartments, cafes, local shops. Yes, house prices have gone up, he notes. But the income too. "And now, we can live there without a car. Two-thirds of the growth in downtown, currently, is residential. "
"There are growth difficulties, that's for sure," says Dan Bertolet, senior researcher at the Sightline Institute, a think tank on sustainable development. He mentioned in particular the increase in car traffic and the rise in housing prices. "But bringing thousands of jobs to the heart of a city is exactly what we need to do in sustainable urban development," he adds. The increase in density makes it possible to better develop the public transport network, allows more active travel, and in fact reduces all the disadvantages of urban sprawl. "This is the first piece of the puzzle. "
The next thing, he adds, depends a lot on the ability of municipal authorities to manage this private growth. According to him, the nerve of war, he is there.
ELECTORAL ISSUE
And these questions are indeed part of the topics debated by the two candidates for mayor for the elections of November 7.
Cary Moon, an independent urban development specialist, believes the arrival of Amazon workers in a city is a great thing, as they are young, hard-working and creative. But the challenges posed by mega-enterprise are huge. " Pay attention. Make sure you are very well prepared, "she replies when I ask her if Montreal should dream of second headquarters. "Look at how many jobs could be created and the impact of all this. She mentions housing, transport, schools, all infrastructures and services. "And then, you have to see and negotiate with Amazon how the company intends to help the City put all this in place. "
"They are very good at asking others to pay for the effects of their growth. "
– Cary Moon, Independent Candidate for Seattle City Hall
His political opponent, Jenny Durkan, believes that it is important to focus on the fact that Amazon represents the future. "And if your city does not grow up, it's because she's dying," she adds. So both welcome growth and change, and meet challenges one by one.
But everyone is not of the same opinion.
"No city is ready for the kind of growth that Amazon brings," says entrepreneur Jeff Reifman, formerly of Microsoft, who has written extensively in the local media about what he believes is the dreadfully negative effect of 'Amazon on Seattle.
"People are losing their homes because prices are rising, the number of homeless people has increased, traffic jams are huge and longer and longer, because people live more and more far from the city center because rents are become too expensive … "
The list of problems is long, according to him.
"I just want to warn the cities," he said. After Amazon, everything changes. "
Erin Sperger, a lawyer specializing in tenant rights, recently piloted a case in which a downtown tenant was charged a 121% increase in rent. "Even though Amazon is not responsible for that directly, it's the effect of its presence. "
"But growth is never easy," commented Dan Bertolet. If we begin to imagine that everything must happen easily, without problems, change will never happen. Sometimes you just have to dive. "
AMAZON IN NUMBERS
Campus Seattle 33 buildings for 8.1 million ft 2
Capital investment: US $ 3.7 billion
Number of employees: more than 40,000
Number of hotel nights spent by Amazon employees or visitors: 233,000
Housing price growth: twice as fast as in the rest of the country
Number of homeless people in downtown Seattle: 3000
Average annual number of hours spent in traffic congestion (in excess of normal travel time): 152
Sources: Amazon, Tom Tom, Downtown Seattle Association
BENEFITS AND CHALLENGES
Having a company as big as Amazon, which employs over 40,000 people and supports about 53,000 indirect jobs in one city, is the perfect recipe for growth and prosperity? Answer in six themes.
GOOD
FALLING UNEMPLOYMENT RATE
The presence of a huge growing company in the heart of a single city has obvious economic benefits. But none is so much as the increase in the employment rate. According to the US Bureau that collects employment and income statistics, the Bureau of Labor Statistics, the unemployment rate in King County – where Seattle is located – was 7.2% in 2011, while last August it was down to 3.8%. In short, the city is now in a situation of more than full employment.
INCREASING INCOMES AND REDUCING POVERTY
Here again, the statistics are clear. Amazon claims to have paid US $ 25.7 billion for five years to its Seattle employees. It looks. The poverty rate in the Seattle area is steadily declining and is currently at 9.6%, while the median annual income has exceeded US $ 80,000. In addition, in 2016, 7.6% of the city's population worked in computers – a significant portion of the jobs generated by Amazon – and the hourly rate was $ 53.26, 26% higher than the national average. So not only are there more jobs in this sector, but they are better paid. Imagine the tax revenue increases for the city and region.
MULTIPLIER EFFECT
Since Amazon attracts employees who specialize in computers, online sales, technology development, artificial intelligence, etc., all sorts of other companies have an interest in moving to Seattle too, so that they can tap into the same bank. talents. Microsoft was already in the region, but now Google and Facebook have settled there as well as HBO Interactive, Apple, Airbnb, Twitter, Snapchat … Boeing remains the main employer in King County, where is located Seattle, with its 80 000 employees. But in 2010, when Amazon arrived, only 7 of the 500 largest US companies, the Fortune 500, were there. Now it's 31.
THE WORST
RISING HOUSING PRICES
When there is a strong demand to live in the heart of a city, of course, the real estate sector is looking to take advantage of it and house prices are rising. Seattle records an average increase of 13.3% just in the last year, far ahead of the national average of 5.5%. According to a study by the Trulia brokerage, quoted by the  Seattle Times , an average family five years ago spent a third of their annual income on the purchase of a first home. Today is half. According to the specialized Rent Jungle website, the average price of renting a one-bedroom apartment is now $ 2,048. It was $ 925 in 2011.
TRAFFIC CAPS
Since Amazon's jobs are concentrated in the city center, the overhead for public transportation and driveways is huge. Amazon says it is doing everything it can to encourage the use of active or collective transportation, including paying $ 43 million to its employees to subsidize bus and subway tickets. It also promotes cycling by building dedicated campus tracks, providing showers and lockers, etc. But the whole city is talking about it: public transport does not provide the job and road closures are worse than ever. The company Tom Tom, which manufactures notably navigators,
ALL EGGS IN THE SAME BASKET
Many interviewees stress that they fear the homogenization of the city, culturally and economically. Is it not worrying, they ask, to have a city that depends almost entirely on a business and, by extension, a sector? For the moment, Boeing remains the main employer in the region, but Amazon is a good second and has created a sort of computer macropole where all the other American actors, from Apple to Facebook, have been agglutinated. If Amazon falls, nearly 100,000 jobs are at stake and a whole network is jeopardized. Is it healthy, for the balance of the city, for its ability to cash the setbacks, to let such a giant take up so much space?
SEATTLE STILL WANTS TO STAY WEIRD
"Montreal, you should not do that …"
Eric Logan, owner of Raygun, an almost vintage arcade of Capitol Hill, a traditionally cool neighborhood, where artists and gay bars have always met, is adamant. Having Amazon in your own city is not a sinecure.
"Yes, there are a lot of business opportunities," he says. But those who come here are workers from all over the United States who want to find the same things as in their malls. "
Channels are popular, he says, not different, unique, local businesses.
Wazhma Samizay, owner of the Retail Therapy souvenir and craft store, agrees. "Yes, as a city, we benefit from the increase in the level of employment and income. But they do not leave their offices! "
After all, Amazon, is it not an online sales business, that does not exactly encourage the small storefront store?
In Seattle, opinions are sometimes mixed, sometimes decided, rarely non-existent about Amazon's presence.
Many find her arrogant, irresponsible. Others find that they are the luckiest in the world to have this giant in the heart of the city, with all its resources.
Amazon, she never hesitates to remember that she supports all kinds of community organizations. Like Mary's Place, which has always been in the neighborhood of Amazon, using old motels to accommodate homeless people. "They are the best neighbors in the world," says coordinator Marty Hartman. They give us six floors in one of their new buildings. We will be able to house 200 people. Currently, the organization houses dozens of people in an old hotel waiting to be demolished by Amazon, however, it has retouched. The organization really has nothing to reproach the company.
FareStart, a group that helps people who are struggling to get back into the workforce through the restaurant business, is also benefiting from Amazon's help. One of the buildings houses one of their restaurant-schools.
***
"They like the idea of ​​being urban, they like to look urban, but they do not like the urban reality," says Logan about the people who work at Amazon and who are now everywhere in the city. "And the reality is that they push small traders like me to close. "
So their work makes life difficult for little ones, and when they come out of their office, they will not necessarily encourage them, the merchant believes.
Will Seattle have to launch, like Portland, a campaign to protect all its little stalls, its independent bars, its urban life, its identity? "Keep Seattle Weird". Let's keep Seattle weird?
In fact, many of the people interviewed during this report told me of their concern about the culture, the identity of the city of Seattle changing with the arrival of so many people from other parts of the United States and elsewhere.
Because the city is proud of its difference, of this creative human soil that gave birth to grunge fashion, Nirvana, Starbucks and the American obsession with good coffee.
Seattle is one of the epicentres, with San Francisco, Portland and Venice, a very "west coast" counter-culture where small creative techno companies and independent businesses, musical groups and a passion for the outdoors, the ocean, Aboriginal roots. All on a green background. It is a resolutely left town where two women are fighting for the town hall. The favorite candidate of the establishment? Jenny Durkan, a gay Democrat lawyer. It sets the tone.
"It's sure the center of the city is changing," says Erin Frost, who works in a thrift shop on Capitol Hill. In the old days, trade made the happiness of the travesties who came to get their costumes for their shows in the neighborhood's boxes. Now, she says, clients are mostly young professionals looking for claws. "Before, we had a blog in common with all the shops in the area. Now it's over. Too many shops have closed or moved. "
Instead, magnificent exorbitant addresses appear and sell foreign claws as up-to-date and elegant as they are expensive. Jacquemus, Robert Clergerie, Dries Van Noten … Here, there is a shop Aesop, there is Le Labo …
In fact, the M shop me  Frost is sandwiched between two challenges: competition in online commerce embodied by Amazon and gentrification caused by the presence of giant steps.
Neighborhood artists?
"They moved to New York and Los Angeles. As long as paying exorbitant rents, they said to themselves: as much be in the real heart of the action. "