McGraw and Westlake Squares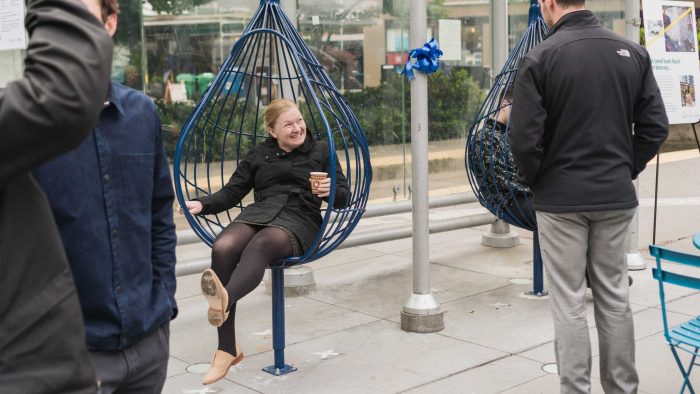 Looking for something new to do on your lunch break? A place to hang out while taking in the sights and sounds of downtown? Come down to McGraw and Westlake squares!
In spring of 2018, DSA, in partnership with the Seattle Department of Transportation, and design firms DCI and Framework, brought a number of enhancements to these centrally located public spaces.
Inspired by our legendary weather, we installed unique raindrop-styled seating, along with wave benches and rain gardens. We've brought in food trucks during lunch, and games, including foosball and chess. The spaces are staffed daily by DSA's friendly and knowledgeable ambassadors.
These beautification efforts follow the installation of ground lighting, tables, greenery and flowers by SDOT. It all adds up to refreshed and inviting spaces in the heart of downtown. Next time you're looking for a respite in the middle of the city, stop by McGraw and Westlake squares.
Park Rules
The Seattle Municipal Code prohibits:
Placing any structure or obstruction in the park without a permit
Dogs or other pets that are not leashed; person with dog must carry and use equipment for removing feces.
Sale of merchandise without a permit
Amplified sound without a permit.
Camping
Liquor (open or closed container)
Littering
Skateboarding, roller-skating
Illegal gambling
Urinating or defecating
Parks Code of Conduct (enforceable under SMC 18.12.040) prohibits:
Depriving others of their use or enjoyment of the park
No smoking
Unattended items
Creating a risk of harm to any person or property
Obstructing pedestrian traffic; interfering with the provision of services or the use of park property
Disrupting Parks and Recreation activities.
Abusive or harassing behavior