More Ways to Get Downtown
Link Light Rail Increases Access to Downtown
Seattle voters regularly support more transit options at the ballot box. As part of the Sound Transit 2 measure approved in 2008, multiple new light rail stations and lines will be completed in the next few years. Seattle transit investment reached a major milestone in 2021 with the opening of the Northgate Link Extension, connecting Seattle's University District, Roosevelt and Northgate neighborhoods to downtown. With a 14-minute trip from Northgate to downtown's Westlake station, and trains coming every eight minutes, this line is projected to carry as many as 49,000 passengers daily in 2022. Now, more people than ever have access to downtown via reliable and efficient light rail.
By 2024, the system will expand to include stations east to Bellevue, north to Lynnwood and south to Federal Way. These lines will add capacity to carry as many as 143,000 passengers daily. Beyond 2024, Sound Transit will continue to deliver additional service to downtown and the region, including a new tunnel downtown with several new stations and connections to Ballard and West Seattle. This expansion was approved by voters in 2016 with the passage of the Sound Transit 3 measure.
Light Rail Extension to Northgate Completed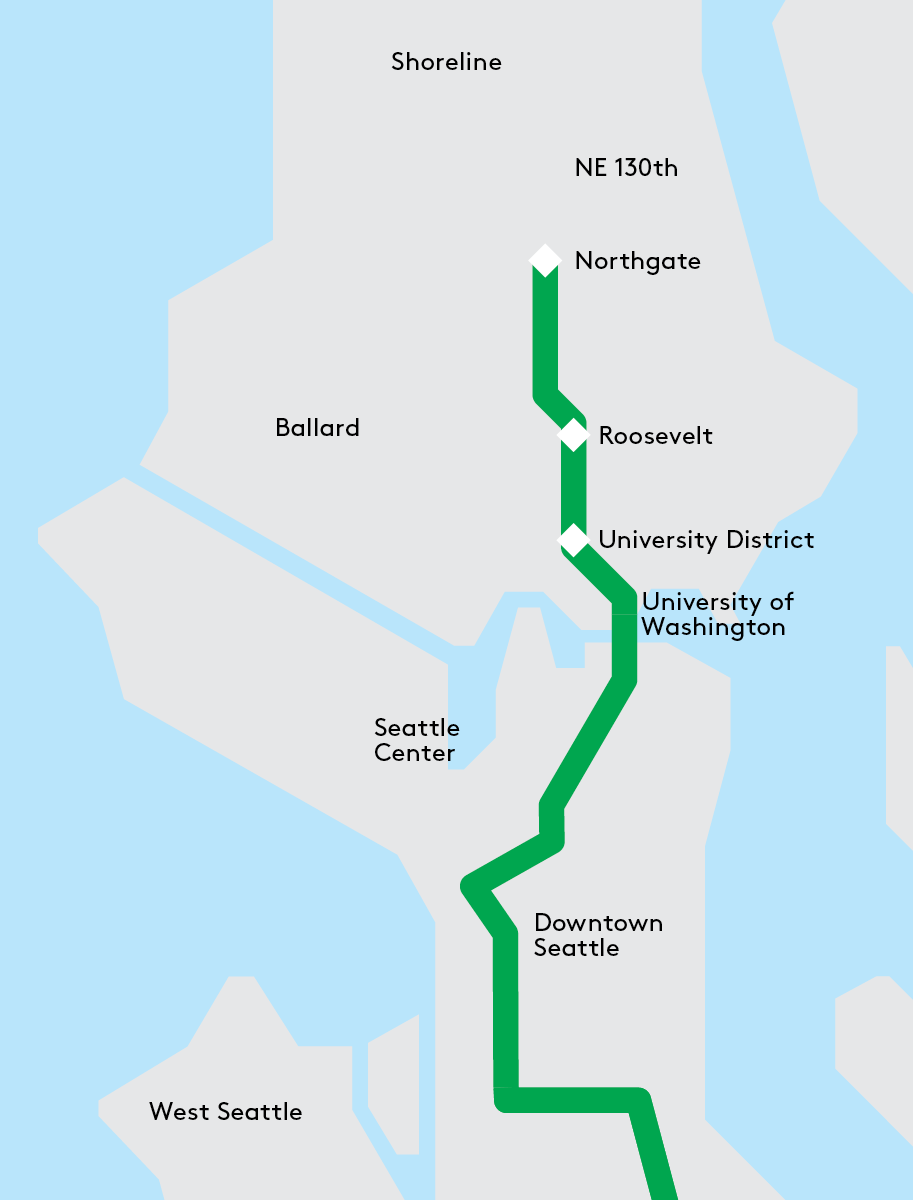 In 2021, one quarter of typical downtown workers were working exclusively remotely.
Weekday Peak Mode Share
2019–2021 Trend
Commuting Changes During the Pandemic
The COVID-19 pandemic upended many aspects of our daily lives. According to an October 2021 survey by DSA affiliate Commute Seattle and EMC Research, more than two in five downtown-based employees have switched to remote work since 2019. Interestingly, despite the pandemic, the share of single-occupancy vehicle commutes barely changed, staying around 25% of all commutes. Public transit experienced the largest decline in usage, dropping 26 points from being 45% of all commute modes in 2019 to 19% in 2021.
Survey findings also indicate that the majority of workers still plan to use public transit once the pandemic is no longer a serious threat. A different DSA survey conducted in December 2021 found a similar sentiment. However, the need for improved transit safety and reliability is a major concern for employers and workers in determining when people return to their workplaces.
The ability to shift to remote work was a powerful tool for some sectors during the pandemic, allowing for continued economic activity while supporting public health goals. However, there has been a cost to small businesses, the service industry and the downtown community as a whole. As pandemic outcomes improve, commuters' use of public transit will be key to downtown's long-term economic vitality, equity and sustainability.
Surveying Commuters During the Pandemic
Every two years, DSA-affiliate Commute Seattle conducts a survey of workers' modes of commuting. Despite the pandemic, Commute Seattle and EMC Research were able to field the survey in 2021 and provide insight into how the pandemic disrupted commute patterns and plans going forward. The survey found that more than 40% of downtown-based employees were working remotely in 2021 — a 36-point increase from 2019. Of those who did commute into downtown, one quarter of trips were drive-alone, while nearly one in five were on public transit.
A Growing Variety of Transportation Options
Having a variety of safe, reliable ways to travel to and throughout downtown is key to Seattle's and the region's success. Despite the pandemic's impact, long-term trends favor high transit usage. However, we must also allow for safe walking and biking for those closer to the urban core. Since the start of 2020, downtown Seattle's biking network has added nearly seven miles of protected bike lanes, including paths along Fourth Avenue, Bell Street and 12th Avenue South.
For those connecting to downtown by ferry, the past year also brought improvements, including a third fast-ferry route from Kitsap Transit. This 26-minute trip between Southworth and downtown will save hundreds of people two hours round trip. Now passengers from Kitsap County can walk onto a boat in Kingston, Winslow, Bremerton or Southworth and walk off in downtown Seattle. Additionally, the King County water taxi and new bike and bus amenities on and near the waterfront have been key in helping to mitigate the closure of the West Seattle Bridge.
New Protected Bike Lanes
Added 2020–2022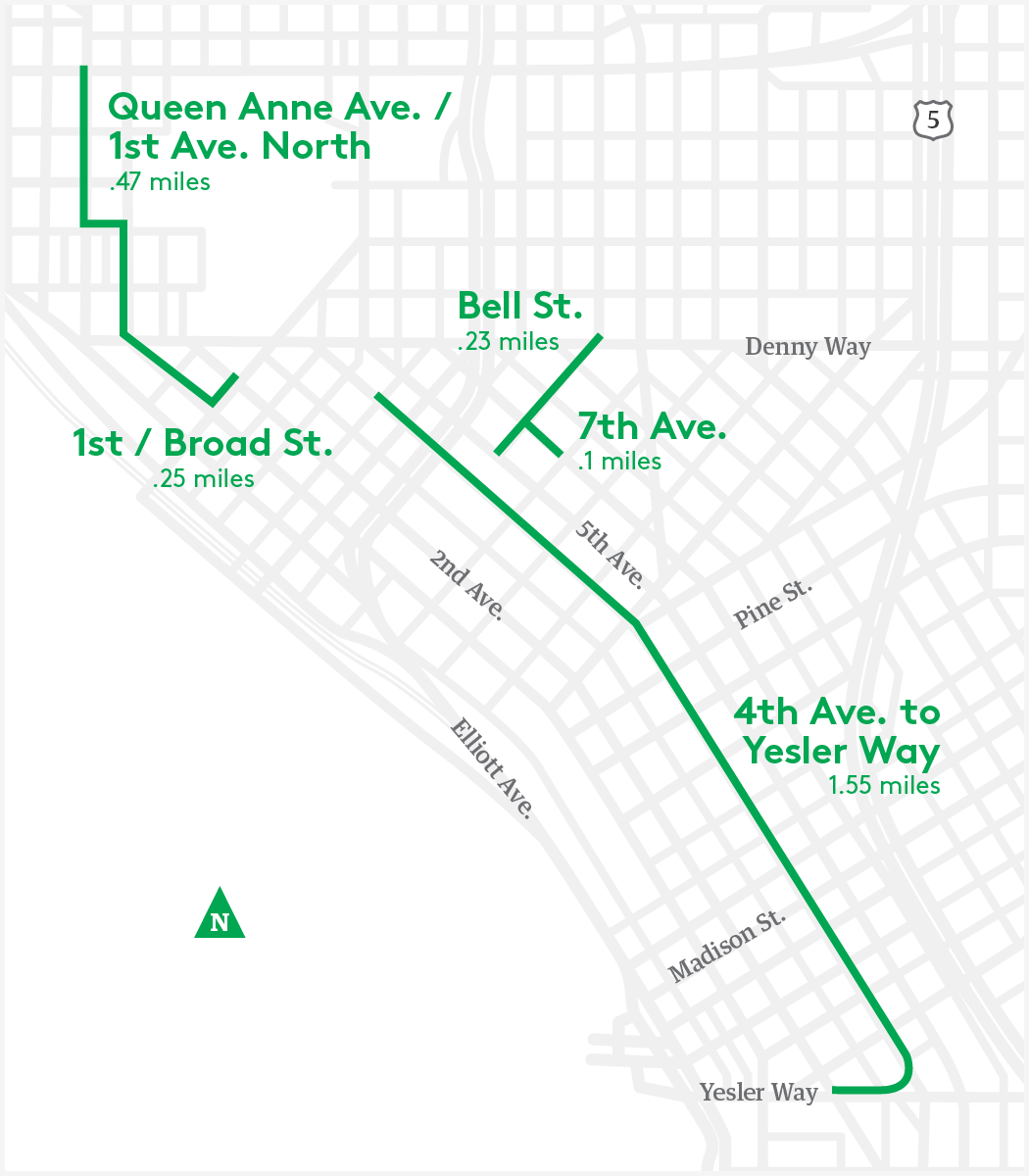 To facilitate walking and biking options, downtown now has: 5
miles of shared-use paths and greenways 20
miles of separated bike lanes Help your business get ready for the future of commuting. DSA partner Commute Seattle provides free consultations and resources to businesses on topics including transportation benefits, telework policies, carpool and vanpool programs and supporting active commutes. Visit commuteseattle.com to learn more and connect with a transportation specialist to learn how you can help your employees come downtown.