Come out to PLAY in Westlake Park and Occidental Square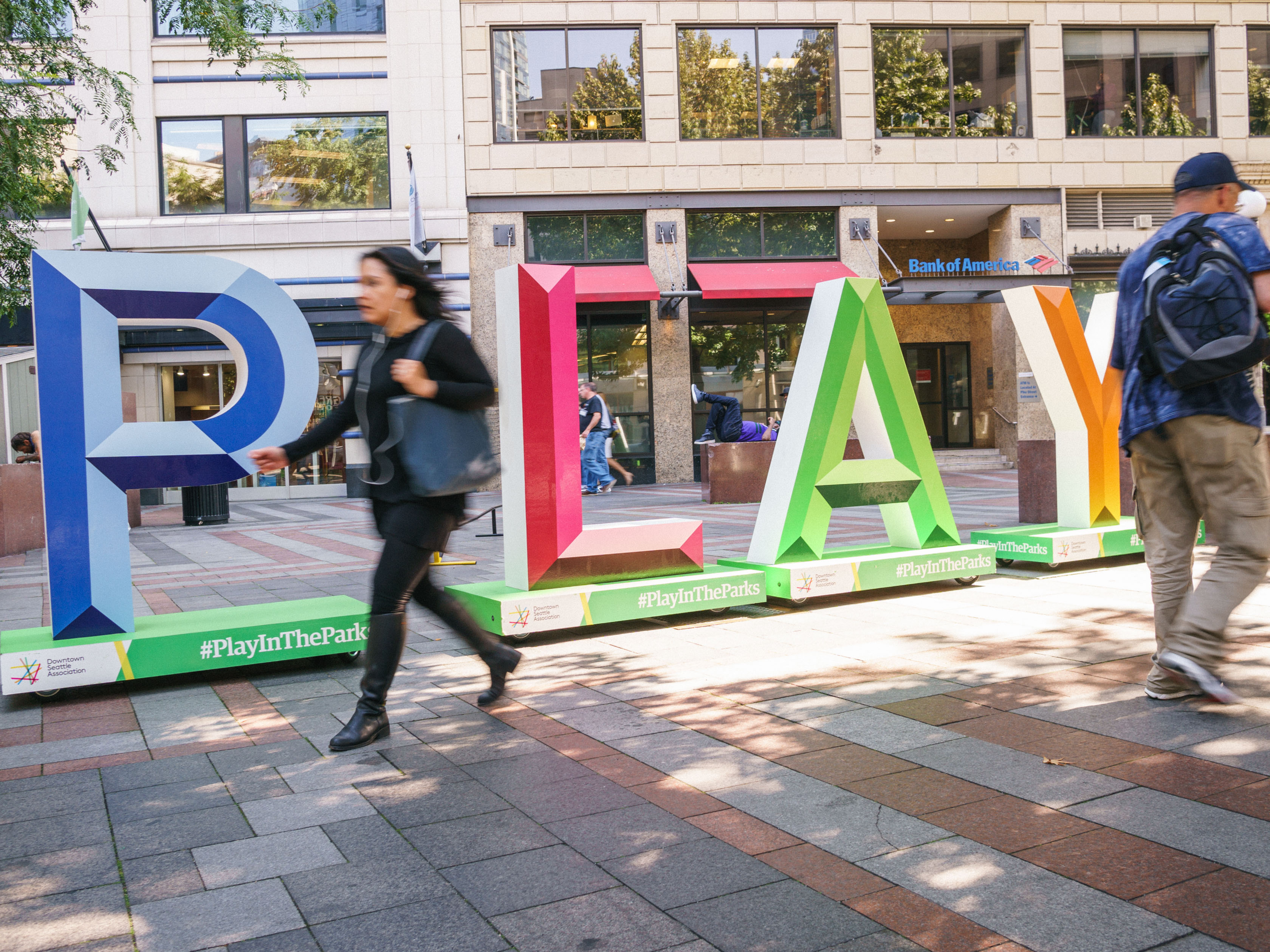 If you're not sure what to do in our great downtown parks, DSA's latest art installation, PLAY, spells it out for you – literally. Each letter of the word PLAY stands five feet tall, and together they form a 20-foot-long reminder to take a break from the daily bustle and enjoy yourself.
Conveniently, there are plenty of opportunities to do just that only steps away. Both Westlake Park, in downtown's retail core, and Occidental Square, in historic Pioneer Square, offer a variety of daily games and activations – from ping pong to foosball.
These new PLAY art installations, curated by DSA staff, are constructed from Italian bending poplar wrapped around wooden frames by Rainier Industries. Art on the words depicts a playful Puget Sound landscape with wildlife and colorful, faux-3D letters.
You can see and enjoy PLAY in both parks through July 2019.
Park Rules
The Seattle Municipal Code prohibits:
Placing any structure or obstruction in the park without a permit
Dogs or other pets that are not leashed; person with dog must carry and use equipment for removing feces.
Sale of merchandise without a permit
Amplified sound without a permit.
Camping
Liquor (open or closed container)
Littering
Skateboarding, roller-skating
Illegal gambling
Urinating or defecating
Parks Code of Conduct (enforceable under SMC 18.12.040) prohibits:
Depriving others of their use or enjoyment of the park
No smoking
Unattended items
Creating a risk of harm to any person or property
Obstructing pedestrian traffic; interfering with the provision of services or the use of park property
Disrupting Parks and Recreation activities.
Abusive or harassing behavior