San Francisco Chronicle: S.F. exodus: What we can learn from the U.S.'s fastest-growing big city
Posted on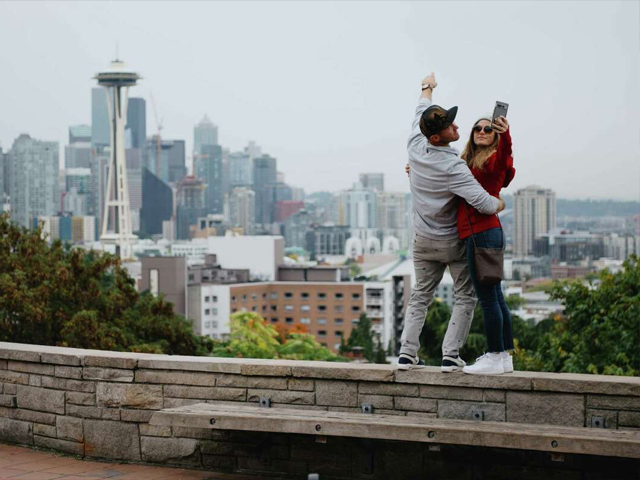 This story was originally published by the San Francisco Chronicle on Oct. 20, 2023.
SEATTLE — Bay Area native Robert Gilham still appreciates his home region's cultural events, climate and food. But the drawbacks became unbearable: a 90-minute commute from Pleasanton to an office in Silicon Valley, expensive everything, annual wildfire smoke, widespread potholes.
"We got used to everything being a grind, logistically," he said.
In March 2022, Gilham and his family had enough and moved to Mercer Island, east of Seattle, where his sister-in-law already lived. He said his stress level immediately dropped.
"Everything is 10 minutes away. It's just much easier to get around town. … Things are a little bit cheaper," he said. "We've really been refreshed."
Seattle and the Bay Area share many similarities — powerhouse tech economies that have embraced remote work, the twin crises of homelessness and fentanyl, water shaping the coastline and landscape. But the two West Coast regions had sharply divergent pandemic recoveries in the key metric of population growth.
Seattle reported the first U.S. COVID case in 2020 and lost around 9,000 residents in the first year of the pandemic, the city's first population drop in decades, according to census data. But from July 2021 to July 2022, the Emerald City's population grew by 2.4% to nearly 750,000, a net gain of 17,750 people, making it the fastest-growing big city in the country.
Many of those new Seattle residents are Bay Area transplants, as Gilham is often reminded when he tells locals where he's from.
In contrast, San Francisco had a net loss of 2,800 people, or about a 0.4% decrease, from July 2021 to July 2022, on top of an exodus of 55,000 people in the first year of the pandemic. Even before 2020, population growth was fading.
What's different in Seattle? Locals credit a pro-growth housing policy with less red tape compared with California, more downtown housing compared with San Francisco's office-heavy district, and a more relaxed lifestyle that still has proximity to good jobs. There's also easy access to the Puget Sound waterfront, the Cascade Mountains and miles of forests, providing transplants leaving the natural glory of Northern California less of a culture shock.
Seattle's downtown core, including trendy neighborhoods such as Capitol Hill and South Lake Union, is home to a record 104,000 residents, up 70% compared with 2010, according to the Downtown Seattle Association.
"We're certainly seeing a ton of progress," said Jon Scholes, CEO of the Downtown Seattle Association, which advocates for and promotes the area. "We're feeling pretty bullish."
The downtown area makes up only 4% of the city's land mass but is home to more than 14% of the population. Nearly 4,000 apartments were built from 2019 to 2022. There are theaters, music venues, bars and restaurants aplenty.
Amazon transformed the South Lake Union district and its low-slung industrial buildings with a forest of new high-rises. In May, the tech giant required workers to return to the office three days a week, and over the summer, local cafes, shops and sandwich spots were filling up with young, badge-wearing workers.
The dense, modern streetscape "feels like you're walking into another town," said Steve Schwartz, a senior vice president at real estate brokerage CBRE. "It's clean. It's new. It's vibrant."
Despite remote work leaving the downtown quieter, Seattle still feels like a boomtown. There were 51 cranes active in the city at the start of 2023, the most in the U.S, according to a survey by construction consultant Rider Levett Bucknall. The area near the city's famous Space Needle is filled with half-finished apartment buildings and newly opened homes.
City officials anticipate Seattle will grow to 1 million people in the next few decades — potentially eclipsing San Francisco.
"People want to be here," said Michael Hubner, the city's long range planning manager. Seattle is updating its Comprehensive Plan to guide growth through 2035, focusing on "housing opportunities for people and communities who have been left out of the boom," he said.
In contrast, San Francisco's north Financial District has seen virtually no new development for decades, and nearby residential neighborhoods such as Chinatown and North Beach had largely been frozen with development restrictions long before the pandemic. Citywide housing construction has plunged during the pandemic.
South of Market's Transbay area, punctuated by Salesforce Tower, is the closest analog to Seattle's South Lake Union. The area has 4,500 housing units planned, but only 2,666 units had been built as of 2021. Much of the office space in the area is now underutilized amid remote and hybrid work, and streets remain only sporadically busy almost four years after the pandemic started.
Downtown Seattle isn't back to its 2019 boom times either, but tourists and residents are bringing energy again. It isn't just a place for work. Seattle's Climate Pledge Arena expanded and has reopened to host more than 80 events a year, from professional hockey to concerts to a $3 million video game tournament this month.
The Seattle Convention Center finished a $2 billion expansion that almost doubled its size. There were more Seattle hotel rooms booked in September than 2019 levels, according to data from STR. Meanwhile, San Francisco's tourism recovery to pre-pandemic levels is expected to take a few more years.
Seattle is playing offense, too: BART stations in downtown San Francisco have been plastered with Visit Seattle tourism ads in recent months.
"We've had such strong population and job growth for a while now. That has dramatically reshaped the city and the region. In some ways our infrastructure is catching up to that," said Markham McIntyre, director of the Seattle government's Office of Economic Development. "We think we're on the right trajectory. We certainly share some challenges with San Francisco."
One of those challenges is income inequality. Gilham, the Bay Area transplant, can see billionaires' mansions overlooking Lake Washington, and homeless people congregating in downtown's Pioneer Square as well as on Third Avenue, where the city just approved taller building heights in a bid to attract investment.
But in San Francisco, from political battles to visible homelessness, "everything seems more intensified," he said.
Gilham, 46, grew up in Marin County and lived in San Francisco for more than a decade. In the early 2010s, he and his wife bought a 4,000-square-foot, four-bedroom home in a gated community in Pleasanton for $1.6 million. In early 2022, they sold it for $4.3 million after receiving nine all-cash offers, just before interest rates soared.
After the pandemic, Gilham founded his own intellectual property licensing startup called Campfyre, and he is able to work remotely, giving him flexibility on location. Last year, his family bought a 6,000-square-foot, six-bedroom home on Mercer Island for $3.5 million.
Though Pleasanton has strong schools, Gilham said he was "blown away" by the Mercer Island education system. Gilham enrolled his younger son, who has ADHD, in a local school and was on conference calls with seven specialists to assist with his son's learning.
"You would never get that many resources applied in California," he said.
Still, Gilham doesn't love everything about Seattle. Rain is a nearly permanent presence. There aren't as many concerts or stand-up comedy options compared with the Bay Area, he said. And he hasn't found good Mexican food.
But he sees more civic pride. "I think Seattle rallies around itself more," he said. "In the Bay Area, everybody's from someplace else."
Seattle still has plenty of serious challenges, and they overlap with San Francisco's woes.
Seattle's budget deficit is projected to rise to $221 million by 2025, and a working group identified potential tax increases in August.
Scholes, of the Downtown Seattle Association, sees the fentanyl crisis and related crime as the area's biggest challenge, though Bay Area transplants say tents and drugs are less visible than in the Tenderloin.
"It does feel safer, I hate to say it," said Melissa Hartman, a Bay Area native who moved to Seattle a year ago. "It's been a stronger revitalization than San Francisco."
While walking around San Francisco and riding public transit, she would get catcalled and see drug use, though she says she didn't feel endangered and still loves the Bay Area. "I wasn't ever harassed. It's just what you find in your periphery," said Hartman, who worked in the Bay Area as a journalist before switching to communications for a public health district in the Seattle area.
Hartman and her partner now pay $2,692 for a two-bedroom apartment in Seattle's Belltown, less than the $3,195 they were paying for a one-bedroom in San Francisco's South of Market. The streets are cleaned more often in Seattle, she said, and, as a sports enthusiast, Hartman finds tickets to games to be noticeably cheaper.
Though crime stats compiled by the FBI show Seattle had a slightly higher reported rate of violent crime than San Francisco in 2020, the Seattle mayor's office said major reported crime incidents dropped 17% in the first seven months of the year, compared with a year ago, including a 13% drop in violent crime incidents. But, from January to September, Seattle saw 57 homicides, the highest annual count in nearly three decades, with months remaining in the year.
From January to Oct. 1, San Francisco police reported a 4.6% drop in crime, and homicides were flat at 40 compared with the previous year.
Crime is one of the challenges facing Seattle retailers, and after a plunge in foot traffic during the pandemic, there are dozens of empty storefronts downtown, including locations shuttered by Nike, Forever 21 and Banana Republic.
"We just had this giant exodus," said Jennifer Severson, a vice president at CBRE who focuses on retail brokerage.
But she's seeing a recovery. Seattle-headquartered Nordstrom, which just closed its 35-year-old store in San Francisco, has committed to investing in its hometown and donated $1 million toward a waterfront park. Uniqlo, which closed its Union Square store in San Francisco, opened a store in downtown Seattle and is doing well, Severson said. She also credits the opening of two new police substations downtown.
"Our retail core is rebounding," Severson said. "All of a sudden there's just been more life on the street."
There's also a stark difference between Seattle and San Francisco's housing records.
Adjusted for population, Seattle approved more than three times as much housing as San Francisco from 2015 to 2021, according to census data. Seattle allows most housing projects to be built without extensive review periods, and the City Council only rarely votes on projects, a sharp contrast to the Bay Area's appeals, lawsuits and ballot measure fights, said Dan Bertolet, director of Seattle think tank Sightline Institute's housing and urbanism programs.
Bertolet, who moved to Seattle from Massachusetts 30 years ago, remembers neighborhoods such as Pike/Pine that were dotted with empty warehouses and dive bars. Today there are dozens of apartment buildings, though bars are still readily available.
Still, downtown Seattle is grappling with remote work and a new reality, just like other cities, though it may have an upside.
"I think there's actually really cool potential that work from home can make downtown Seattle better — prices will drop. It could bring in more housing," Bertolet said. "It's a city. Cities don't stay empty."
Seattle's office vacancy rate rose to 21.8% in the third quarter, high but far below San Francisco's record-high 34% rate, according to CBRE. As in San Francisco, Seattle's real estate experts expect office vacancy to peak next year.
Tenant interest is starting to pick up again, said Schwartz, the CBRE office broker, who believes the office comeback has started.
"Long haul, I feel very strongly about the region for a multitude of reasons: climate, workforce, education," he said.
Seattle's economy is attracting people such as Chris Walter, an engineer at cryptocurrency exchange Poloniex who moved in from Boston in 2020.
He's planning to quit his tech job and make his side hustle of building accessory dwelling units into a career. "There's this cultural thing — orientation towards growth and progress," he said of Seattle.
Though the city hasn't fully recovered from the pandemic and there are enduring challenges like homelessness and what Walter sees as inadequate public transit and density, he's hopeful for a bright future.
"Seattle could be a world class city. We need to take the training wheels off and really go full bore," Walter said. "We could be the No. 2 city in the U.S. We could be the New York of the West Coast."
Reach Roland Li: roland.li@sfchronicle.com; Twitter: @rolandlisf