PSBJ: Downtown Seattle crime is down as drug use law goes into effect
Posted on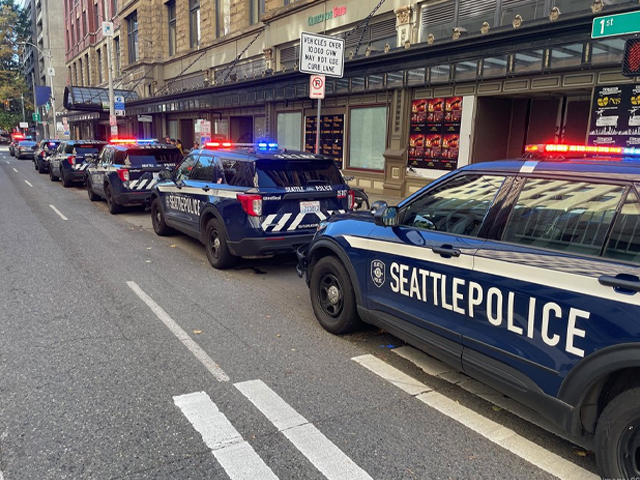 This article was originally published in the Puget Sound Business Journal on Oct. 19, 2023.
Crime reports in downtown Seattle have dwindled over the last year, but some pockets still feel unsafe.
It affects everyone in those areas, including business owners, according to Jon Scholes, president and CEO of the Downtown Seattle Association.
"Having a fentanyl marketplace on your front doorstep creates significant challenges to hiring and retaining employees," he said.
There are added costs for security, plus "shrinkage" due to shoplifting, he added, and "the messes that MID (Metropolitan Improvement District) ambassadors have to clean up or you clean up each and every morning."
While he appreciates the work of police, Scholes is frustrated by what he perceives as a lack of officers walking the beat.
From Belltown through Pioneer Square and the Chinatown International District, violent crime is down 14% year over year, homicides have decreased 40% and property crimes are off by nearly 26%, according to police.
Yet in the Seattle Metropolitan Chamber of Commerce's latest survey of registered city voters, 48% of respondents named crime, drugs and public safety a top concern, up 10 points from last spring.
Police will have a new tool to address drug use on Friday, when Seattle's public consumption law takes effect. Passed this summer, it makes public use of illegal drugs a gross misdemeanor.
A 2021 state Supreme Court ruling struck down the state's felony drug possession law.
That decision limited enforcement efforts, interim Assistant Police Chief Dan Nelson said at a recent Business Journal event. He added that police were identifying new strategies specifically around the new law, but did not elaborate.
Nearly three-quarters of voters told the chamber's pollster, EMC Research, that the city needs to make hiring more police officers an immediate priority.
Some City Council members have criticized Mayor Bruce Harrell for a slow rollout of recruitment efforts.
Of the $1.5 million earmarked for advertising and marketing the police department only about $9,750 had been spent this spring.
At the time, the mayor's office said the spending delay was caused by a desire to update the marketing plan to get better results.
This week, a spokesperson for the mayor said this is paying off, with police application rates now at the highest rate in two years. The department is averaging nearly 200 applicants per month. A streamlined process has cut in half the wait time to be hired after testing to three months.
New hires for 2023 are at 52, with additional candidates waiting for orientation and more undergoing background checks.
The department also seen "a significant decrease in the rate of officer separations this year," the spokesperson added.
Through September, the city has seen a 43% decrease in officer resignations compared with the same period last year.
Today, the department has 1,069 sworn officers, with 937 of them deployable — the lowest in over 30 years, according to Harrell's office, amid a nationwide staffing shortage. The number of sworn officers is up by 24 from the end of last year, but the number in active rotations has decreased by eight.
At the start of 2020, Seattle had 1,339 fully trained police and 1,290 active officers.
The city is offering hiring bonuses of $7,500 for new hires and $30,000 for already accredited officers.
Spending on marketing to recruit candidates is increasing but lots of money remains.
Through August, nearly $129,000 of the $1.5 million appropriation had been spent, according to Harrell's office.
Spending will continue "to dramatically increase" in the coming months, the spokesperson said, adding the mayor's office expects to use all of the allocated funds.
The 2023 adopted police budget is $374.3 million, and Harrell has proposed a $391.5 million budget for next year.