GeekWire: 'Huge news for downtown': Cinerama reopening in Seattle follows Amazon's office return
Posted on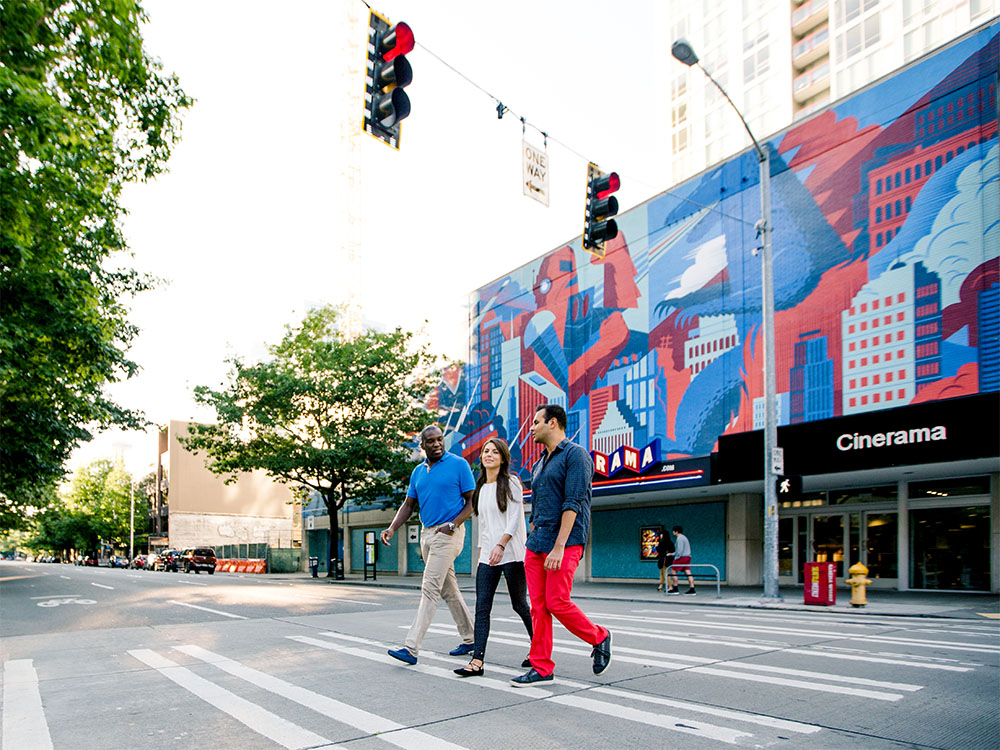 This story was originally published by GeekWire on May 11, 2023
Seattle civic leaders described the return of beloved movie theater Cinerama as another boost to downtown revitalization efforts.
Nonprofit film organization SIFF announced Thursday that it acquired the Cinerama from the estate of Microsoft co-founder Paul Allen, three years after the historic downtown Seattle movie theater closed.
The reopening should draw more people to downtown Seattle, which is struggling to regain its pre-pandemic footing.
Fewer than half of downtown Seattle workers have returned to the office, one of the slowest rates of return in the U.S. That's driven in part by Seattle's strength as a technology hub, where many companies — like F5, Zillow, DocuSign, Qualtrics and others — can more easily rely on remote work.
But more companies are starting to bring workers back. Amazon, the city's largest employer, recently started requiring employees in the office three days per week.
City leaders praised Amazon for its decision to bring workers back, and they struck a similar chord following SIFF's acquisition of the Cinerama.
"Huge news for downtown," said James Sido, director of media relations for the Downtown Seattle Association, in an email to GeekWire on Thursday.
Seattle councilmember Andrew Lewis said SIFF's acquisition "represents a huge step forward in bringing back downtown."
SIFF Executive Director Tom Mara told GeekWire that the film industry is key to the creative economy and SIFF's acquisition will be good for the city.
"I think it sends a signal that our downtown is becoming reawakened," Mara said. "Cinerama reflects a greater vibrancy downtown. When people think about coming to the cinema, it has an amplifier effect. It's not just coming to see a film, it's also going to dinner beforehand, it's getting a drink or two afterwards."
Arts and culture are priorities for Mayor Bruce Harrell in regard to what it will take to revive downtown.
The Cinerama closed in February 2020 for repairs on what was called "normal wear and tear" at the time, with plans to reopen later in the year. But in May of that year, Allen's Vulcan Inc. shuttered its Arts & Entertainment division, and the future of Cinerama and other properties looked bleak.
Amazon and Jeff Bezos were touted as potential Cinerama saviors, but the billionaire founder of the e-commerce giant never stepped up to grab the property a couple blocks from his headquarters campus.
By November of 2021, as more businesses reopened and more people were getting vaccinated, movie theaters were starting to see a box office rebound. And public interest in preserving the Cinerama was heating up in Seattle.
A petition to save the theater gained thousands of signatures, and SIFF expressed an interest, saying it would be "well-positioned to maximize the facility's potential" but would need help funding such an investment.
SIFF announced the acquisition Thursday evening at the opening of the 49th Seattle International Film Festival. The crowd roared and gave a standing ovation as Mara revealed the news on stage.
Mara said SIFF is "profoundly honored to carry on Paul Allen's legacy."
Terms of the sale were not disclosed. SIFF said it plans to reopen the theater, which has been closed since February 2020, under a new name later this year.