Food trucks, furry friends, games and live music welcome workers back to downtown Seattle
Posted on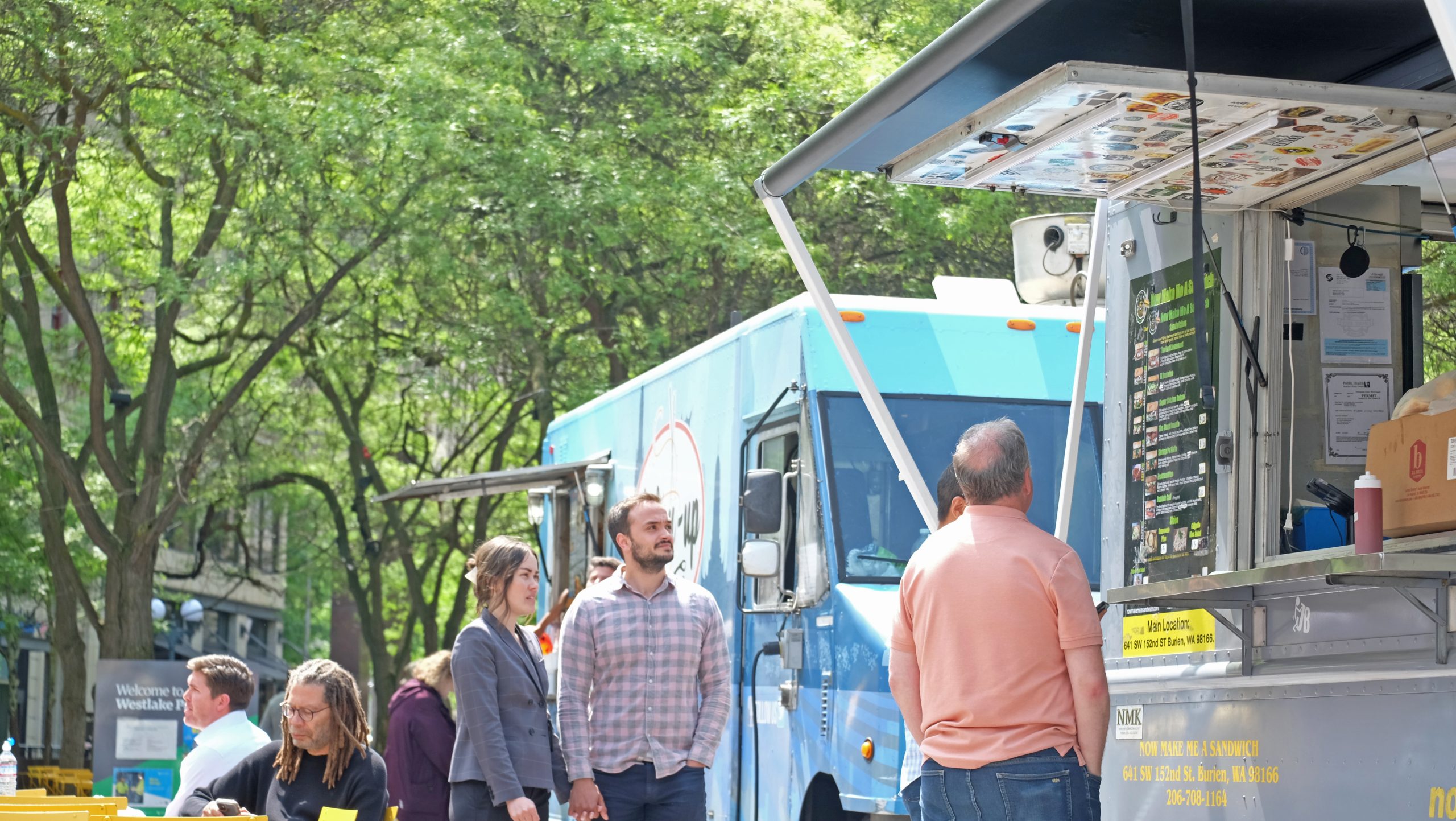 (SEATTLE, May 23, 2023) – As workers continue to return to the heart of the city, the Downtown Seattle Association is welcoming them back with a rundown of activities and amenities in downtown parks. Last week downtown averaged 78,430 daily worker visits – the highest figure since the start of the pandemic.
Providing these workers with a midday meal menagerie, DSA is bringing a monthly Food Truck Fest to Westlake Park, with the next event scheduled for Wednesday, May 24. Last month's kickoff event drew hundreds of people to the park. Food Truck Fest features five vendors serving food from 11 a.m. to 2 p.m. and will take over the park at the end of each month through September, with an extra date scheduled for the MLB All-Star week on Saturday, July 8.
Live music will provide a lunchtime soundtrack in Westlake during Food Truck Fest. Buskers will also perform happy hour shows in Occidental Square starting at 4 p.m. every Wednesday through September. Both Westlake and Occidental offer free games throughout the day, including ping pong, cornhole, chess and Connect Four.
If you're looking for additional free activities in downtown for kids, DSA is bringing SilverKite Community Arts from 1 – 4 p.m. the next two Saturdays in Westlake Park for crafting classes. The Saturday afternoon craft sessions head to Occidental Square in June.
And because 31% of downtown residents (as well as many downtown workers) own dogs, DSA is hosting Downtown Dog Days in Westlake Park, Occidental Square and Bell Street Park through September.
A complete rundown of DSA's programming in the parks can be found at downtownseattle.org/events.
About the Downtown Seattle Association (DSA) and Metropolitan Improvement District
Established in 1958, the Downtown Seattle Association (DSA) is a nonprofit membership organization whose mission is to create a healthy, vibrant downtown for all. By advocating on issues including transportation, economic development and the urban experience, DSA works to ensure that downtown remains a great place to live, work, shop and play. DSA also founded and manages the Metropolitan Improvement District, a business-improvement area spanning 285 square blocks downtown.
The MID funds a broad range of services in downtown that supplement those provided by the city. MID services include sidewalk and alleyway cleaning, public safety, on-street hospitality, activation of downtown parks and public spaces and mor. The MID's work is designed to keep downtown's participating neighborhoods inviting, clean and safe for all.
###