State of Downtown 2023 Celebrates Optimism & Opportunity
Posted on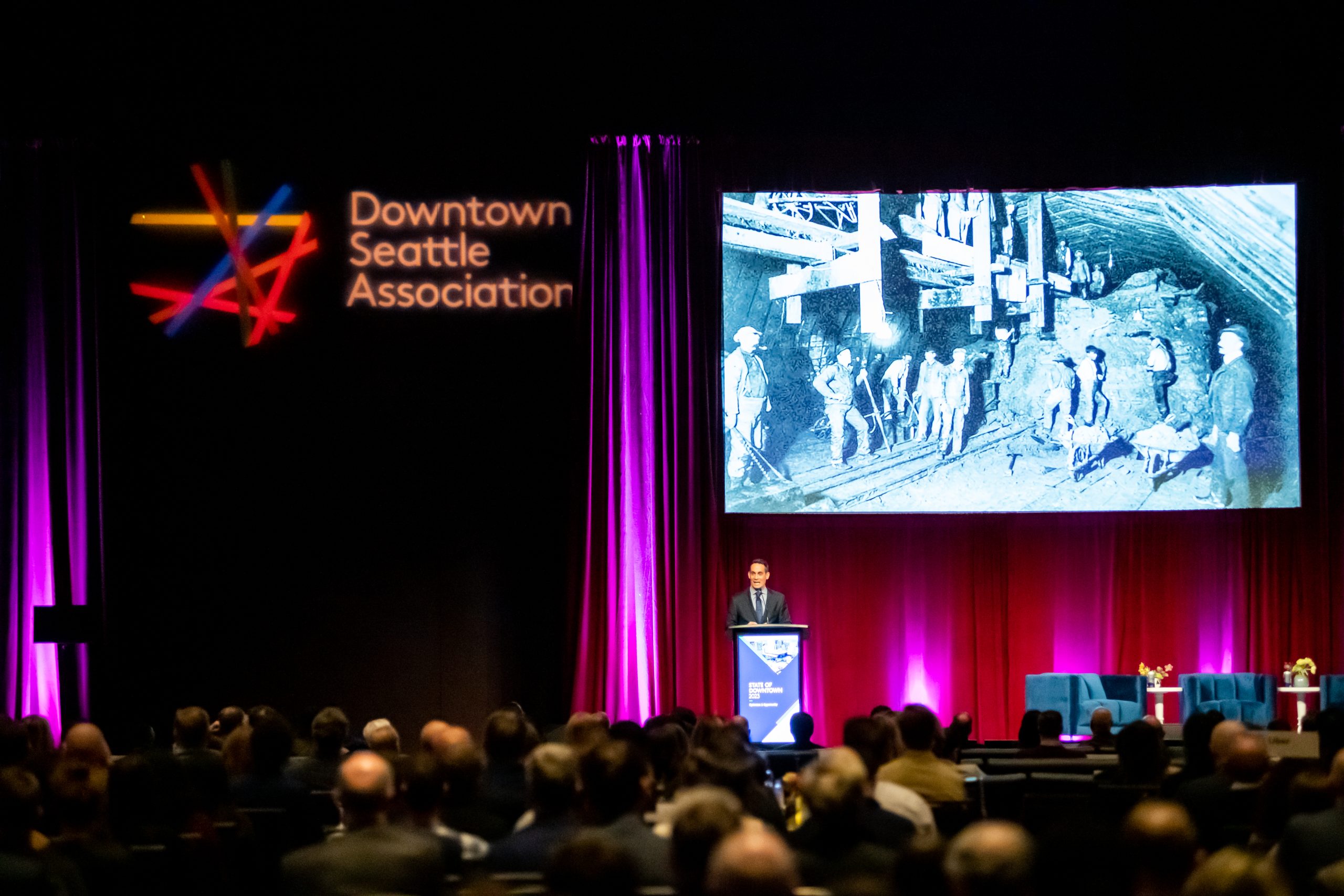 Annual event explores downtown's opportunities, challenges and the economic trends shaping Seattle's urban core
(SEATTLE, March 14, 2023) More than 1,200 business and community leaders came together today for the Downtown Seattle Association's 18th annual State of Downtown, presented by Lane Powell. Held for the first time at the brand-new Seattle Convention Center Summit building, the theme of this year's event was: Optimism & Opportunity.
In his address, DSA President & CEO Jon Scholes provided insights into downtown's value to the Seattle-area economy, highlighted challenges that must be addressed for downtown to thrive and called upon attendees to do their part to support the heart of the city.
"Downtown's momentum was on display this past year as we set a residential population record, welcomed new retail outlets and restaurants and saw major developments come online, including the new Convention Center addition. Visitors are back, experiencing our unique cultural and entertainment offerings, and workers are steadily returning to the office. But there is no single switch we can turn to get downtown firing on all cylinders again. We need everyone who cares about downtown to do their part – come see a show, visit a restaurant or get back to the office one more day a week.
Keynote speaker Ed Glaeser, chairman of the department of economics at Harvard University and author of Survival of the City and Triumph of the City, described how urban centers fuel economic and social benefits.
"Cities are still the place we go to reach our highest potential and make valuable human connections," said Glaeser. "I've said cities make us richer, smarter, greener, healthier and happier. That's true for downtown Seattle as much as anywhere in our country. I expect downtown Seattle to be a place people gather to enjoy life, collaborate and produce great things far into the future."
Mayor Bruce Harrell noted downtown's key role in Seattle's ongoing progress and success. Mayor Harrell also touched upon elements of his administration's Downtown Activation Plan, aimed at enhancing vibrancy and activity in the heart of the city.
"The heartbeat of Seattle is in our downtown core, which is why supporting downtown's vitality and solving persistent challenges are among my administration's top priorities. Downtown is making incredible strides forward, and we will continue to collaborate with DSA as we build a bright future here in the economic engine and cultural hub of our region."
In conjunction with this event, DSA publishes an annual State of Downtown Economic Report, which is available online. The newly released report explores the health of downtown using 2022 economic metrics. The report provides a clear picture of downtown's assets and vitality, the impacts of the pandemic and historical context for the information presented. Highlights from the report:
A record high 104,000 residents now call downtown home.
Nearly 130 new street-level businesses opened downtown in the past 12 months. About 40% were dining establishments.
More than 340,000 jobs are located downtown – 55% of Seattle's total jobs.
The first month of 2023 marked the largest construction delivery in downtown's history with the opening of the $2 billion Seattle Convention Center Summit building, adding 1.5 million square feet of space to the heart of downtown.
As of December 2022, 44 downtown construction projects were in final planning or underway
More than 6,000 residential units are under construction or in final planning in downtown, and more than 11,000 additional units are proposed.
Downtown had a record 55,639 occupied apartments in 2022.
Office worker foot traffic reached 44%, up from 15% at the height of the pandemic.
During the 2022 cruise season, a record 1.28 million revenue passengers, or 640,000 individual travelers, came through the Port of Seattle on an Alaskan cruise.
In 2022, downtown had 9.3 million unique visitors — a strong improvement over 2020 and approaching 91% of 2019's visitor total.
The complete economic report and additional research on downtown's economy are available on the Downtown Seattle Association website.
Post-event interviews with DSA President Jon Scholes regarding downtown Seattle's economic health are available upon request. Please contact James Sido at 206-484-9921 or JamesS@downtownseattle.org.
About the Downtown Seattle Association (DSA)
Established in 1958, the Downtown Seattle Association (DSA) is a nonprofit membership organization whose mission is to create a healthy, vibrant downtown for all. By advocating on issues including economic development and the urban experience, DSA works to ensure that downtown is a great place to live, work, shop and play. DSA also manages the Metropolitan Improvement District, a business-improvement area spanning 285 square blocks downtown.