KOMO 4: Belltown groups battle graffiti thanks to $25K grant, pilot program to clean up area
Posted on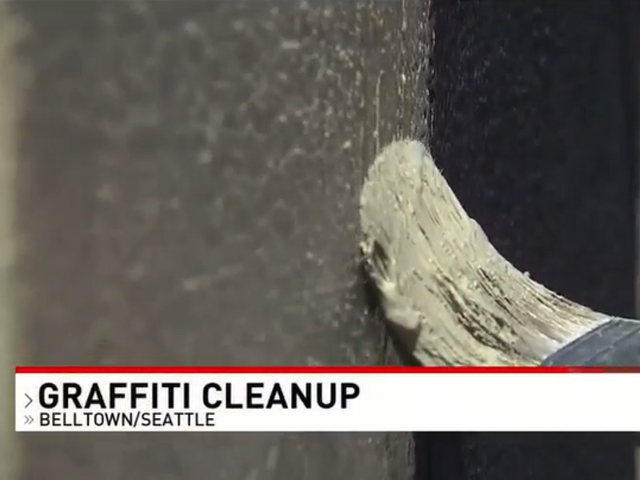 This story was originally published by KOMO 4 on July 14, 2022
SEATTLE — The Metropolitan Improvement District has awarded a $25,000 grant to fund a pilot program by City University of Seattle that aims to eradicate nuisance graffiti from building fronts, an ongoing concern from businesses in the area and residents who live in Seattle's central district.
City staff and volunteers will remove graffiti after it appears only for it return days later.
But residents are hoping the new pilot program will help make a difference.
In Belltown, some people are tackling tagging with the help of a new pilot program.
"We're kind of making an impact out here to tell you the truth," said Mark, one of three formerly homeless people who was hired to help cover up graffiti in the Belltown area.
"We wanted to clean the graffiti and make the city look better than it was," said Harry Jinwala, a City University student. "We made a business plan and we started a pilot project."
The workers from Uplift Northwest are deployed to paint over graffiti on 20 of the biggest problem spots in Seattle's Belltown neighborhood.
"Every day, they go to our problem 20 buildings and paint out that graffiti for those 20 buildings," said Tom Graff, a local realtor for the area.
The people doing the work say they are making a difference.
"I like the paycheck for one thing," Mark said. "We're making a difference out here."
"It's an excellent opportunity to clean the city and train these people who are trying to get back to work," said Gina Hall, executive director of Uplift Northwest.
Bergman Luggage on 3rd Street and Stewart Avenue is one of the top 20 graffiti problem spots in Belltown.
The alley behind Moore Theatre on Virginia and 3rd is another hotspot.
"This alley notoriously get hits a lot because these building are unoccupied," Graff said. "The owners are not aggressive about removing the graffiti."
In May, during the Seattle One Day of Service, volunteers helped repaint the alleyway.
The graffiti returned to that spot and others shortly after it was cleaned up.
Graff, chairperson of Belltown United, said some places like 2nd Street and Bell Avenue are a magnet for graffiti.
"Some get hit and hit and hit and hit," Graff said. "Particularly ones that are vacant."
He's counting on the community, volunteers, and uplift workers to help banish graffiti from Belltown.
"I manage property in Belltown and none of our property have graffiti on it," Graff said. "And the reason is because we do paint it out every 24-48 hours. I know this works. And we're going to prove it in our most difficult unoccupied building in Belltown."
Downtown Seattle Association says in the past year, crews removed more than 27,000 graffiti tags.
Seattle Public Utilities has a Graffiti Rangers team with a goal to remove the offensive scrawling within 10 business days. If it's hate graffiti, they try to remove it within 24 hours.
"SPU Graffiti Rangers also proactively abate graffiti on public spaces in downtown Seattle every Tuesday, including Belltown and Pioneer Square, and when requested, assist the Metropolitan Improvement District (MID) on their abatement efforts downtown. Over the last 12 months, the SPU Rangers removed 100 percent of reported graffiti within 10 business days and more than 98% of the graffiti was removed within 2 business days."
If you have a graffiti concern, report it to the SPU Graffiti hotline at: 206-684-7587 or file a report through the Find It, Fix It mobile app or online report form.