GeekWire: With remote work here to stay and more apartments occupied, can downtown Seattle reinvent itself?
Posted on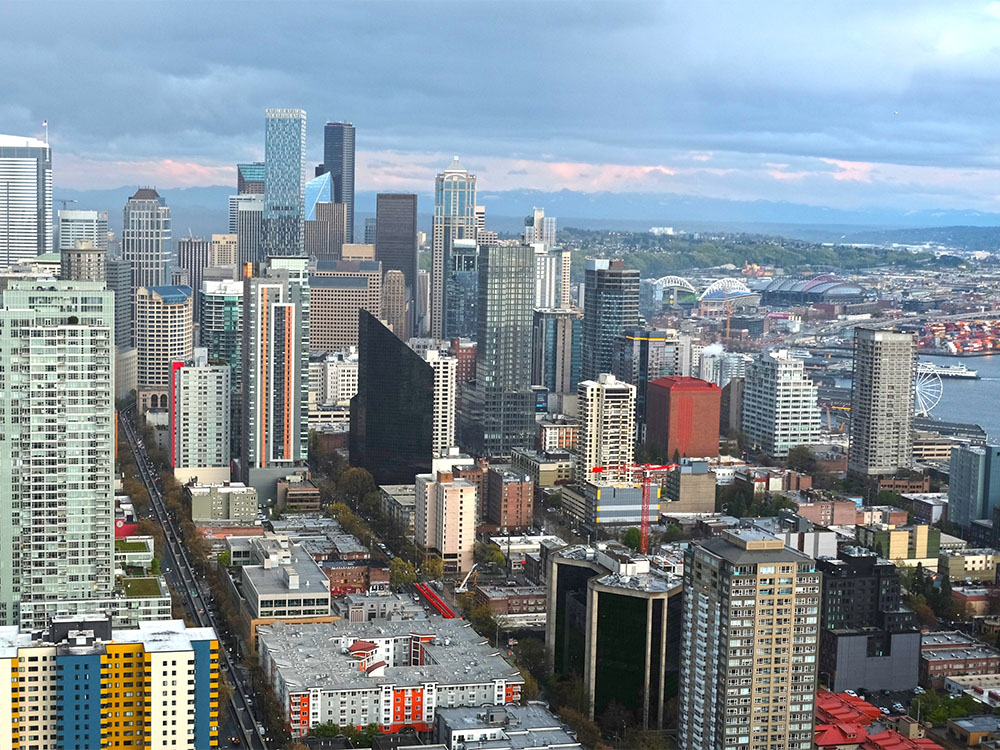 This story was originally published by GeekWire on April 7, 2022.
By: Amy Rolph
Seattle's downtown has changed a lot since its early days, with sawmills making way for skyscrapers. But one thing hasn't changed much. Even though people have always lived downtown, the city's core has long been perceived primarily as a hub for business.
But now, downtown is reevaluating the way business is done. Office occupancies remain sluggish, and flexible work seems here to stay for many, at least in some capacity.
So, what will the future of downtown look like if it's not a bastion of 9-to-5 office workers?
Urbanist author Richard Florida had some ideas about that when giving a keynote address to mark the release of the Downtown Seattle Association's annual report in March.
"How do we begin to adjust this downtown for the realities of remote work?" Florida said. "How do you build an ecosystem that is capable of dealing with this remote work?"
Florida said people, himself included, have long thought of downtowns as places to work, live and play — but the pandemic made him consider how downtowns also help people connect. He challenged civic leaders to think about third places, like coffee shops or coworking spaces, that allow workers flexibility and opportunities for connection while they work.
"And because you're so techy and so innovative, you have an advantage," Florida said to the room full of Seattleites.
Jon Scholes, president and CEO of the Downtown Seattle Association, is onboard with that message. He says many tech powerhouses, including Amazon, set up shop in Seattle's downtown corridor because they knew that's where employees wanted to spend time — and he said the pandemic hasn't changed that.
"The tech industry decided to plant their flag in downtown because it's largely where employees wanted to be," Scholes said. "Young people want to be in a great urban environment with lots of amenities and fun things to do with their friends. We don't think that's fundamentally changed."
Seattle won't be facing these growing pains alone. Urban data scientist Tracy Hadden Loh, writing for the Atlantic recently, described ghost-downtowns across the country, and advocated for changing how people view the functions of downtown spaces.
"Both businesses and employees, service and essential workers and white-collar ones, and suburbs and cities can benefit from reconnecting downtown," Hadden Loh wrote. "Being present, face-to-face, has value. And downtowns are still the most highly accessible locations in their regions, even after decades of suburbanization."
Moving downtown
The Downtown Seattle Association's annual report, released in March, showed one way Seattle's downtown neighborhoods are growing. The report documented a sudden surge of interest in downtown living spaces in 2021 — even as office-building occupancy continued to slide due to more people working from home during the pandemic.
"We've got more people living downtown than ever before," said Scholes. "There's a premium on proximity."
And that doesn't necessarily mean proximity to Amazon headquarters anymore. It could be proximity to sporting events, concerts, the new Seattle waterfront park, transit options or myriad other amenities.
"That's not an experience you're going to have working out of your kitchen or your spare bedroom," Scholes said.
At the same time, downtown Seattle faces significant challenges, including increases in violent crimes, an affordable housing crunch, and a homelessness crisis — all compounded by the pandemic. Crime on Third Ave. downtown has been especially troubling, despite recent efforts by Seattle Mayor Bruce Harrell.
GeekWire previously reported in February on rising crime rates downtown and the impact on tech companies as they return employees to the office. Bloomberg this week highlighted the same topic in a piece titled, Seattle's New Mayor Tries to Win Back Workers in Crime-Ridden Downtown.
Last month, Amazon told some of its downtown staff to work at other locations due to recent crime around its downtown Seattle office at 300 Pine St. At its downtown offices, Amazon's security team is offering a "Secure Transit Escort Partner" for employees who want someone to walk with them.
Scholes said he thinks people moving downtown are choosing to overlook these challenges, looking forward to better days ahead.
"The things you like and love to do are back, and people know there's more coming," he said.
The downtown housing market didn't entirely sail through the last few years unscathed. When the pandemic first hit in 2020, both residential and commercial occupancy rates dropped dramatically in the downtown corridor.
"We saw thousands of households leave in 2020," Scholes said. "That really wasn't surprising, but it was something we hadn't seen in more than a decade."
Downtown apartment occupancy alone dropped by nearly 1,500 households in 2020, according to CoStar data. Overall, downtown neighborhoods made up more than 80% of the city's overall decline in apartment occupancy for that year.
Then, in 2021, it rebounded, surpassing the number of occupied apartments from pre-pandemic times — and downtown made up almost half of Seattle's overall apartment-occupancy increase for 2021.
The trend isn't isolated to Seattle; cities across the country saw similar spikes.
"Most of our peer downtowns saw double-digit increases and a higher rate of growth in occupied apartment units than their greater metropolitan areas," the Downtown Seattle Association report states. "Downtown Seattle currently ranks second in occupied apartment growth among peer downtowns."
Among the cities surveyed, only Chicago saw a greater rise in occupied downtown units.
Optimists only?
The perception that downtown is synonymous with old-fashioned office work doesn't sit well with those who call the area home — people like Heather Redman, co-founder of the venture capital firm Flying Fish Partners, who has lived in her condo near Pike Place Market for more than ten years.
"We have to treat it — and this is hard for Seattleites to grasp for some reason — we have to treat it as a residential neighborhood," Redman said.
Lockdown shifted Redman's thoughts on life downtown. She said the pandemic made it abundantly clear how few public greenspaces the area has now, and soaring crime rates made it unnerving to spend much time outside. Even now, as Seattle officials move to curb crime and construction continues on a new waterfront park, Redman isn't entirely sure if she'd recommend downtown living to a friend at the moment.
"I would say, move downtown if you're an optimist and you want to work with me on making it better," she said. "If not, you should go somewhere else for now."
For now. Because change of some kind is inevitable.
Ultimately, downtowns across the country were changing even before the pandemic. All COVID-19 has done is accelerated changes that were going to happen anyway, according to researchers at the Kinder Institute for Urban Research.
"Before the pandemic, we did see a long-term trend of downtown living, as people who wanted to live the urban lifestyle flocked to cities," according to a 2021 report from the Kinder Institute. "The decline in office demand is likely to accelerate the trend of converting older office buildings to residential use — and with increasing demand, we are likely to see more downtown residents …"
Redman agrees that flexible work in the tech industry is here to stay, even if workers are making regular appearances in offices more.
"It gives people that life balance that they want, and the talent wars are such that if your talent wants it, you're going to provide it if you possibly can," she said.
And ultimately, talent wants to live in a place where they can connect with other people.
"I think they like an urban environment, they just want it to have some nature and some safety," Redman said.