KOMO 4: Group's effort to get campers off 4th Ave. appears successful, drawing praise from some
Posted on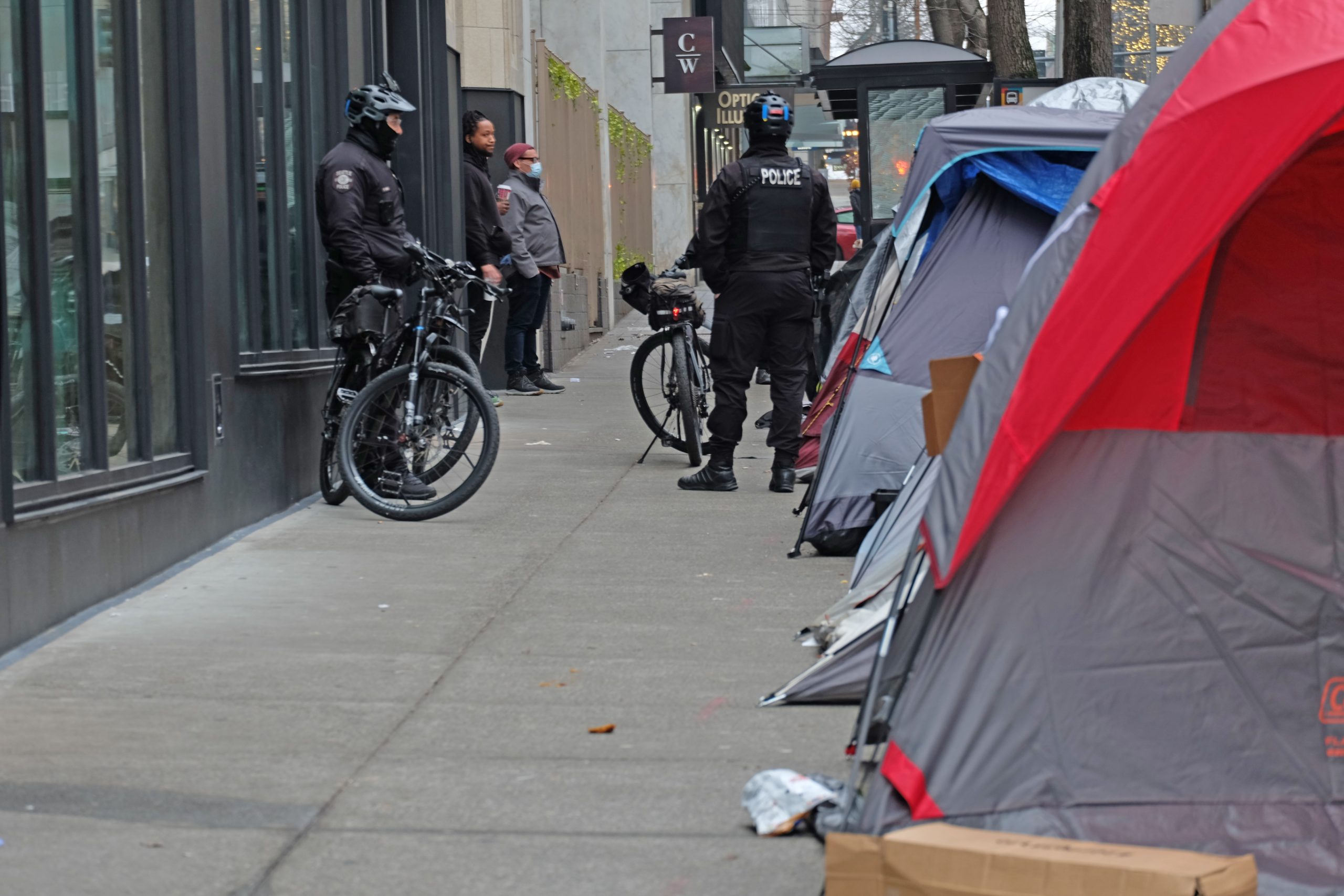 This story was originally published by KOMO on Feb. 16, 2022.
by Michelle Esteban, KOMO News reporter/anchor
SEATTLE — In a move that surprised some downtown businesses, a homeless encampment that had taken over a downtown sidewalk four weeks ago is now gone and 18 people who had been living in tents have now been moved into shelters.
The camp removal resulted from a new outreach program known as JustCARE in which workers from the program create relationships with the homeless before helping them move inside.
The JustCARE program is part of the Public Defenders Association and funded in part by Seattle and King County.
It's the same group has helped campers in other illegal encampments, including City Hall Park, the Pergola and an encampment along 3rd Ave. and the encampment at 4th Ave. and Pike Street that surfaced about a month ago.
The Downtown Seattle Association's outreach team played a big role in the removal of the camp by working with campers and connecting them with JustCARE members. Their clean-up Team hauled away about 1,000 pounds of debris today.
Seattle City Councilman Andrew Lewis praised the team and insisted their efforts are making a difference.
"The JustCARE program continues to effectively respond to two of our biggest challenges, getting people inside and making public spaces clear of encampments," he said. "By centering both of these critical goals, and working closely with Mayor Harrell and the Regional Homelessness Authority, we can make progress on homelessness."
Images captured Tuesday and earlier this month show a line of tents and campers wrapped around the corner. One store manager said a tent was erected right outside the door of her business and that most mornings she watched as campers urinated on the tree out front.
Two security guards who work in the area, a building manager, a store manager and a restaurant supervisor all said the sidewalk encampment brought around-the-clock drug activity, violence, break-ins and mounting frustration.
"This place reeked of urine," said one worker, speaking on condition of anonymity. "And I've seen guns, knives and hammers brandished."
Wednesday marked what some said was a new day for the stretch of the downtown corridor and its businesses, residents and visitors since the encampment is gone and the sidewalk has been clean swept.
"We feel safer," one area worker said. "I'm glad they did it."
Jerick Enriquez, supervisor at the 3rd Ave. location of Piroshky Piroshky Bakery, a favorite Seattle eatery with another location in Pike Place Market, said his location has lost customers who were too afraid to navigate the tents.
He said some of their regulars, tourists and people getting off at a nearby bus stopped coming because of an encampment on 3rd Ave. But those campers were relocated by JustCARE workers last June.
But Enriquez said once the 4th Ave. encampment showed up the bakery's business slowed again.
"When we are trying to attract new customers and there are drugs around and they have small children they are afraid for their children," he said. "It's just different, we have a lot of people dealing with mental illness and if you're not used it, it can be scary."
He said employees feel most unsafe at closing, particularly after someone tried to stab his co-worker through their walkup order window although he does not know if the assailant lived in one of the tents.
After the camp was removed, some businesses that had been unable to access parts of their property over the last month were quick to reclaim their space. The merchants said they hope the relocation is permanent, a sentiment affirmed by the JustCARE workers.
"Our folks do not move down the street," said Nichole Alexander, who works with the group. "Our folks moved inside (so) that's the big difference between us and a sweep. We are not a sweep."
JustCARE partners with Reach, whose field teams have worked every day for the last three weeks to get to know the campers to earn their trust.
It often begins with helping them to get identification, documentation and a Social Security number, and from there they determine how they're functioning daily and what specific help they need to help get them off the streets and put them in touch with support services.
"Today was a huge day for us," Alexander said, adding that 18 campers volunteered to move inside and get help. Two campers had moved out before the JustCARE worker arrived. "Our whole team is ecstatic."
Enriquez said he was pleased with how things turned out.
"I'm glad they were willing to move people," he said. "And people were willing to move."