PSBJ: Business-backed group unveils $10M-plus effort to 'dramatically reduce' homelessness in downtown Seattle
Posted on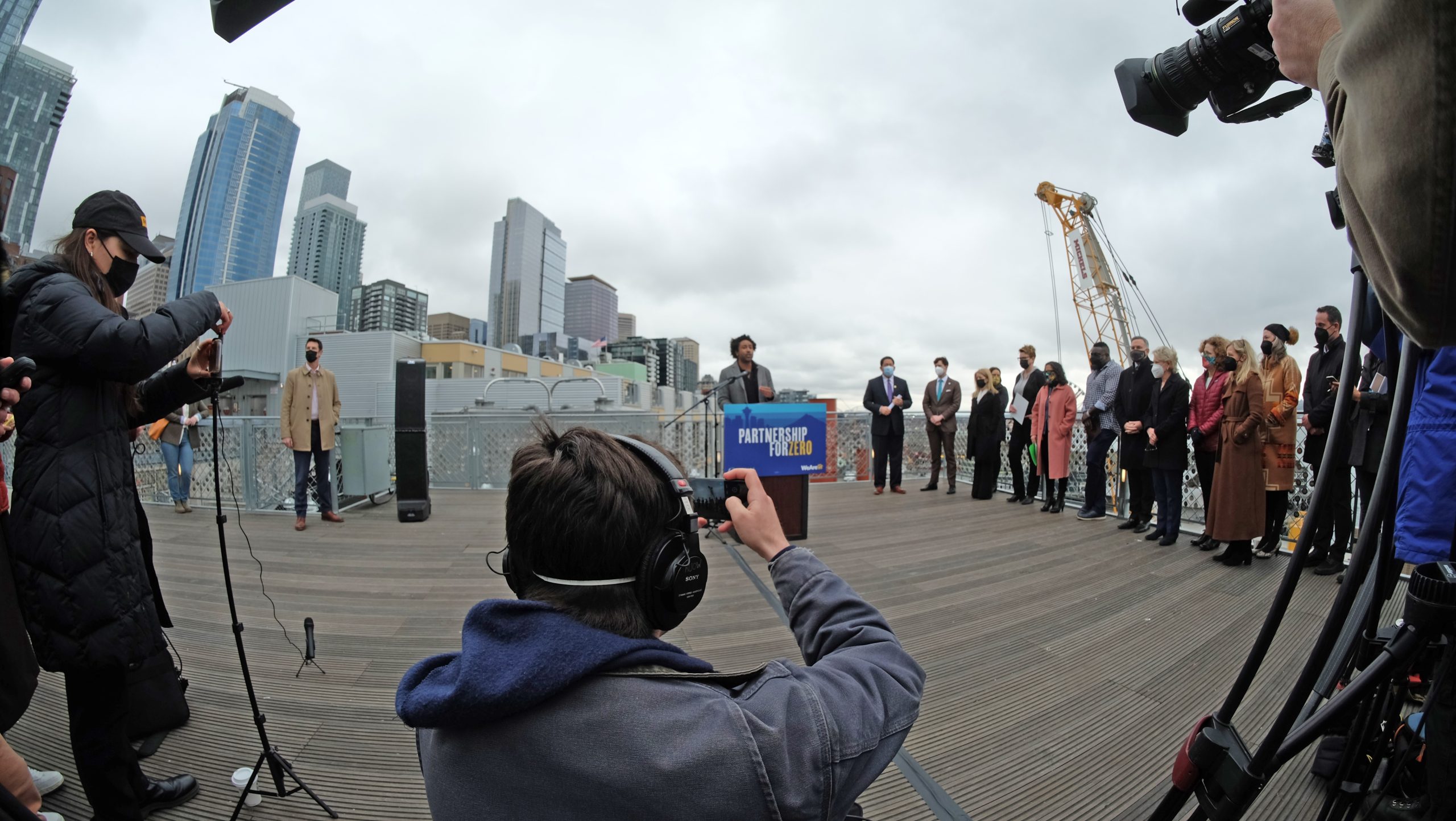 This article was originally published by the Puget Sound Business Journal on Feb. 17, 2022.
By Marc Stiles – Senior Reporter, Puget Sound Business Journal
Feb 17, 2022, 5:38pm EST
A new Puget Sound-area public-private collaboration, Partnership for Zero, on Thursday unveiled a plan to "dramatically reduce" homelessness on the streets, starting in downtown Seattle with a first-year investment of more than $10 million.
The money will fund a five-phase demonstration project with the fifth phase expected to be reached in as fast as 12 months. Because homelessness is a vexing, multi-layered crisis, the partnership said it expects "some variance" due staffing, the availability of resources and other issues.
The announcement comes four months after business and civic leaders called for immediate action and investment to address street disorder.
"(Partnership for Zero) is a major game changer in our efforts to address homelessness downtown," said Downtown Seattle Association head Jon Scholes, who said there's no bigger issue in the city. With around 800 people living on the streets, downtown has the greatest concentration of unsheltered individuals in the region.
The new King County Regional Homelessness Authority (KCRHA) is leading the project and funded with what the group said is a historic investment by King County's business and philanthropic organizations.
The city of Seattle, the county and We Are In coalition are launching the pilot program, with Ballmer Group providing lead funding. Among the other backers are some of the region's largest public and private companies, including Amazon.com Inc., Costco Wholesale Corp. and REI.
KCRHA will hire and manage staff, including 15 trained incident responders and up to 30 "peer navigators," who have experienced homelessness.
In the first phase, the program will establish a command center, followed by development of a by-name list of unsheltered people. The third phase will entail case planning and service matching, followed by the "drawdown" phase when people will be placed in housing or shelters. The last phase is "hold steady," with KCRHA maintaining the infrastructure necessary to "immediately respond to new individuals experiencing unsheltered homelessness," according to a Partnership for Zero press release.
It was not clear where the command center will be located.
Through its Hometown Dignity campaign, Starbucks Corp. on Thursday said it is contributing nearly $500,000 to support chronically homeless people, with $150,000 going toward Partnership for Zero. The other funds will support access to basic needs like bathrooms and showers, helping ensure access to housing and food through contributions to organizations like Mary's Place, Plymouth Housing and food banks.
Other backers of the partnership are Alaska Air Group, the Bill & Melinda Gates Foundation, Boeing Commercial Airplanes, Campion Foundation, Expedia Group, Fred Hutchinson Cancer Research Center, the Northwestern division of JP Morgan Chase, Kaiser Permanente Washington, Madrona Venture Group, the philanthropy arm of Microsoft, Nordstrom, PATH, Puget Sound Energy, Raikes Foundation, Russell Investments, Schultz Family Foundation, Seattle Foundation, Ste. Michelle Wine Estates, Symetra, T-Mobile, Weyerhaeuser and Zillow Group.