DSA's "Shine On Seattle" Art Installations Light Up Downtown and Elevate Local Talent
Posted on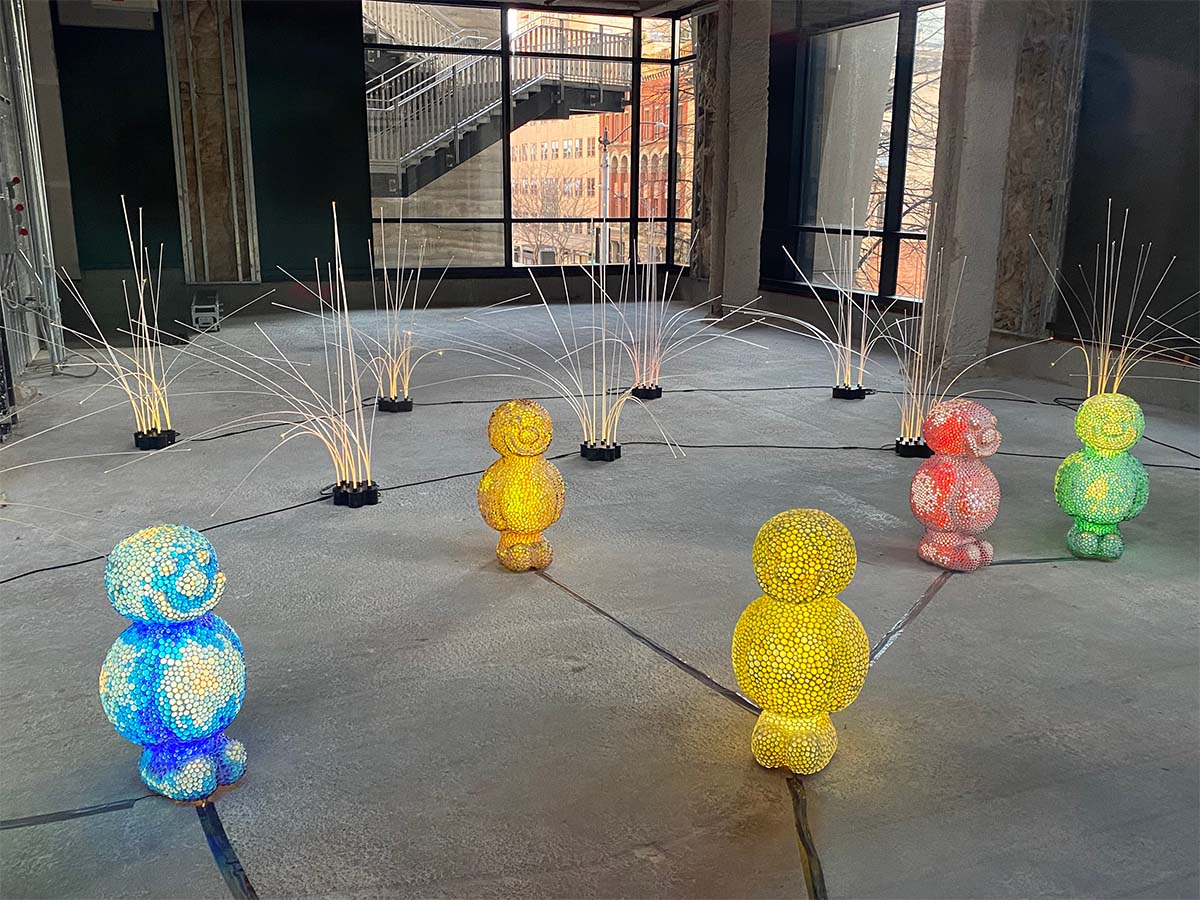 There's more free art to enjoy in more places downtown thanks to "Shine On Seattle," DSA's latest art program illuminating storefronts and public spaces in the center city. The work of 20 local artists is transforming empty window display areas and vacant areas downtown through a partnership between the Downtown Seattle Association, Lusio Light and downtown property owners.
Themed "Shine On Seattle," the series was inspired by the success of DSA's "Shine a Light" art project that enlivened empty storefronts in 2021 during the height of the pandemic. Each piece in this current collection is inspired by the artist's personal interpretation of the theme. Installations are currently on display throughout downtown's Retail Core, Belltown and Pioneer Square neighborhoods.
"We're thrilled to continue featuring art in these unique spaces," said Seth Geiser, DSA manager of urban planning & design. "The reaction to last year's installation was extremely positive — from the artist community, property owners and the public. For artists, having their work on display in storefronts was something they had not been able to do before and people really appreciated our efforts to brighten up downtown. These creative, intentional, fun installations make a positive psychological impact on everyone involved, whether you're viewing, hosting or creating."
A full listing of the collection's artists and their work is below.
Artists and Locations
1936 First Ave.
Artist: Sean Hennessey
Title: The Paths Before Us
Artist: Jen Fuller Studios
Title: Super Fly
Artist: Emily Tanner-McLean
Title: woman is a word
2+U (Corner of Second Avenue and University Street)
Artist: The Moonlight Collective
Title: The Prairie
Artist: Seattle Design Nerds
Title: Parhelion
Artist: Phill Pasqual
Title: in_flux
Artist: uckiood Studio
Title: The Odd Jelly Out
Artist: Sabin Timalsena
Title: Photosynthesis
Bellwether (2303 First Ave.)
Artist: Sparks Designs
Title: A Snake's tale, twisted and winding
Artist: Lunaglow
Title: Energy Lightsculptures, MetalEyes Lightsculptures and the Lightbox Screens
4Culture (101 Prefontaine Place S.)
Artist: Alexis Neumann
Title: The Neurowillow Tree
804 Second Ave.
Artist: Sara Carnahan
Title: For Proposals or Other Inquiries
Artist: Eric Muhs
Title: Every Time We Look In a New Way, We Find New Questions.
Artist: Yale Wolf and OctoEyes
Title: Lumenoki
Artist: Bryan Ressler
Title: Chromata
A.E. Doyle (119 Pine St.)
Artist: Emanate
Title: Chronosite
Artist: Kelsey Fernkopf
Title: BIG NEON
Occidental Square
Artist: Mokedo
Title: Enchained
Past Installations

Freeway Park
Artist: Scott Keva James
Title: Peak Flow
2+U
Artist: Retina Ghost
Title: The shades of impermanence