COVID-19 Threatens to Decimate the Economic Future of the Nation's Downtowns, including in Seattle
Posted on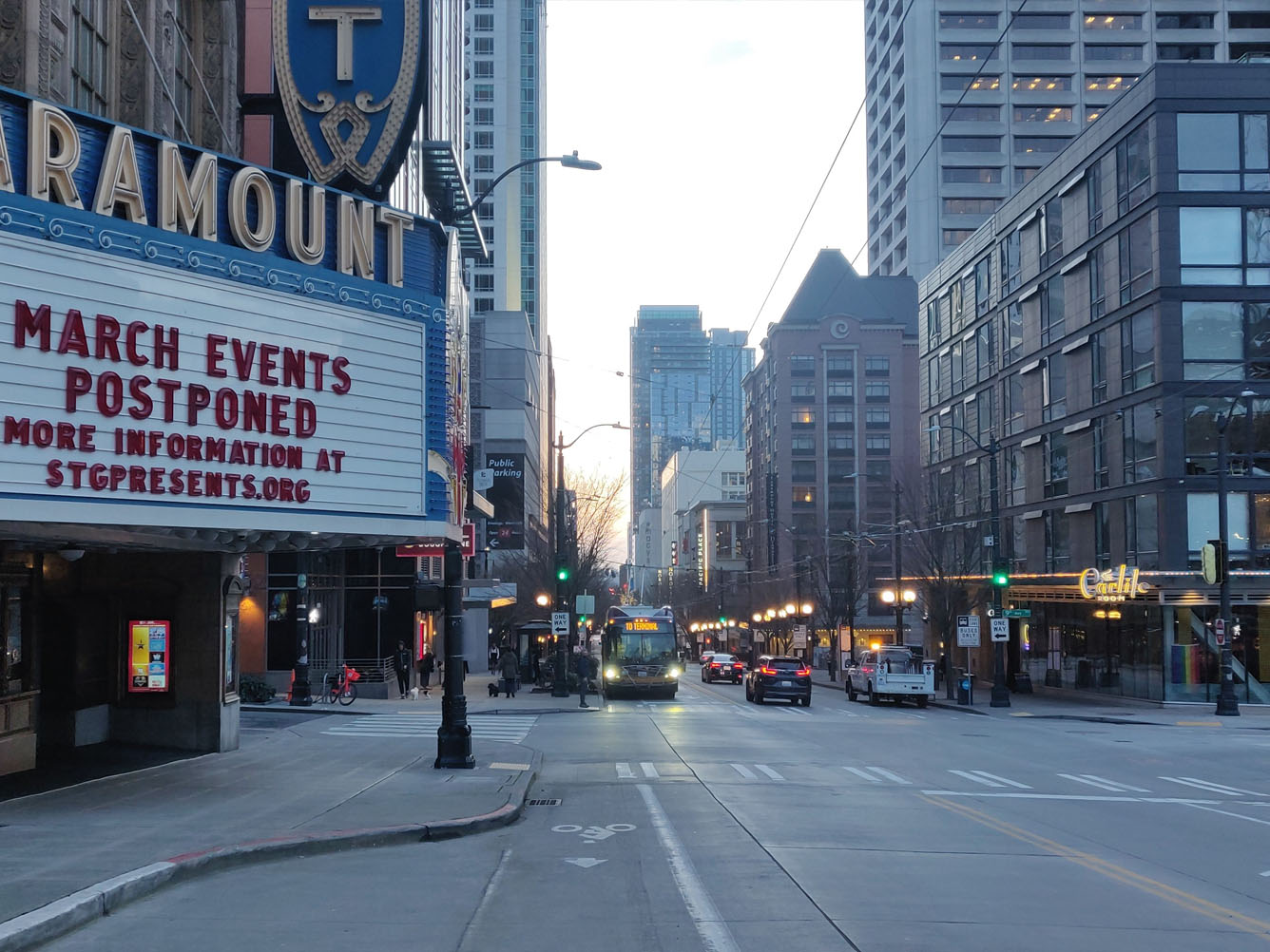 This op-ed column was originally published by Seattle Business Magazine on Monday, March 30, 2020.
We need the federal government to move quickly to invest in people, nonprofits, small businesses and employers' to stabilize the economies of our urban centers
BY: DON BLAKENEY, DOWNTOWN SEATTLE ASSOCIATION
As someone who grew up in Seattle and has devoted my career to improving how cities work for everyone, it's been particularly hard to witness our typically vibrant downtown grind to a halt these past few weeks. Our parks are empty, sporting events and concerts are cancelled, art galleries and museums are vacant, and our hundreds of restaurants, bars and clubs sit silent.
On a brisk walk past the shuttered Paramount Theatre, I noticed the marquee had been updated to read: "This is just intermission. We'll see you soon." While I applaud their stiff upper-lip sentiment, I can't ignore the compounding data that illustrates the severity of what we are facing.
It's important to acknowledge that while this situation is grim, it's a sign that we're taking needed actions to slow the spread of the coronavirus. In fact, in the first week of social-distancing measures, Seattle saw the greatest decrease in movement of people in the western hemisphere (fifth largest decrease in the world), according to Citymapper. Today, personal movement in Seattle (including driving, transit, walking, biking, etc.) is down to 9% of usual.
Unfortunately, the key ingredients that make downtown Seattle so compelling are the exact things that make our center city vulnerable in the weeks and months ahead. Our robust arts, culture, food, entertainment, retail and nonprofit organizations are about to be impacted in a way we have not seen in our lifetimes. To illustrate the scale of this issue, consider this: Downtown has over 46,700 jobs in retail, restaurants, hotels, recreation, arts and entertainment. These sectors are at greatest risk and jobs are already evaporating.
In 2019, 23,000 of these jobs were in downtown restaurants. Restaurants that stayed open prior to the March 16 social-distancing order saw sharp declines in daily revenue of 35% to 95%. With the mandates to close or move to take-out and delivery, some businesses have been able to pivot. In most cases, however, restaurant operators have made the difficult decision to close their doors as they try to weather this storm. Our 840 downtown brick-and-mortar retail stores, which employ another 10,000 people, have taken a similar approach. If we do not want to see these temporary closures become permanent, we need a meaningful plan and funding to help these small businesses.
Downtown Seattle's tourism and visitor industry has been essentially frozen in amber, with an impact that is staggering. With convention and vacation cancellations, hotel occupancies have dropped below 10% on average, with revenue down over 90%. Hotels represent 7,000 jobs in downtown and more than 20 downtown Seattle hotels have shuttered, at least temporarily, leaving thousands of people without jobs. Convention cancellations will likely lead to economic losses in excess of $172 million. Cruises represent $900 million in annual spending on local goods and services, crew expenditures in the local economy and ship operations, procurement from local vendors, and onshore services. All dockings have been suspended indefinitely.
According to ArtsFund, Seattle's arts and cultural organizations are also in trouble. Downtown represents nearly 7,000 jobs in arts, entertainment and recreation and we are already hearing about thousands of layoffs in these sectors. With continued losses in ticket sales and cancelled fundraisers, we will see roughly $74.1 million in lost revenue by the end of May if this crisis continues through the spring.
These numbers are frightening and point to a deep hole out of which we will need to climb if we don't act with urgency to stabilize the economies of our downtowns. The solutions to these problems must come at a scale that far exceeds the capacity of our local (or even state) governments. We need the federal government to move quickly to invest in people, nonprofits, small businesses and employers, and to double down on critical infrastructure in our cities, so short-term budget shortfalls locally don't hamstring what needs to be a rapid nationwide economic recovery.
This may indeed be intermission, but we need to write acts two and three before there's nobody left backstage to lift the curtain.
Don Blakeney is the vice president of advocacy and economic development for the Downtown Seattle Association, an organization that advocates for the health and vibrancy of Seattle's urban core.