Ambassadors Layer Up, Outreach Kits Evolve and Clean Team Clears 250,000 Gallons of Leaves
Posted on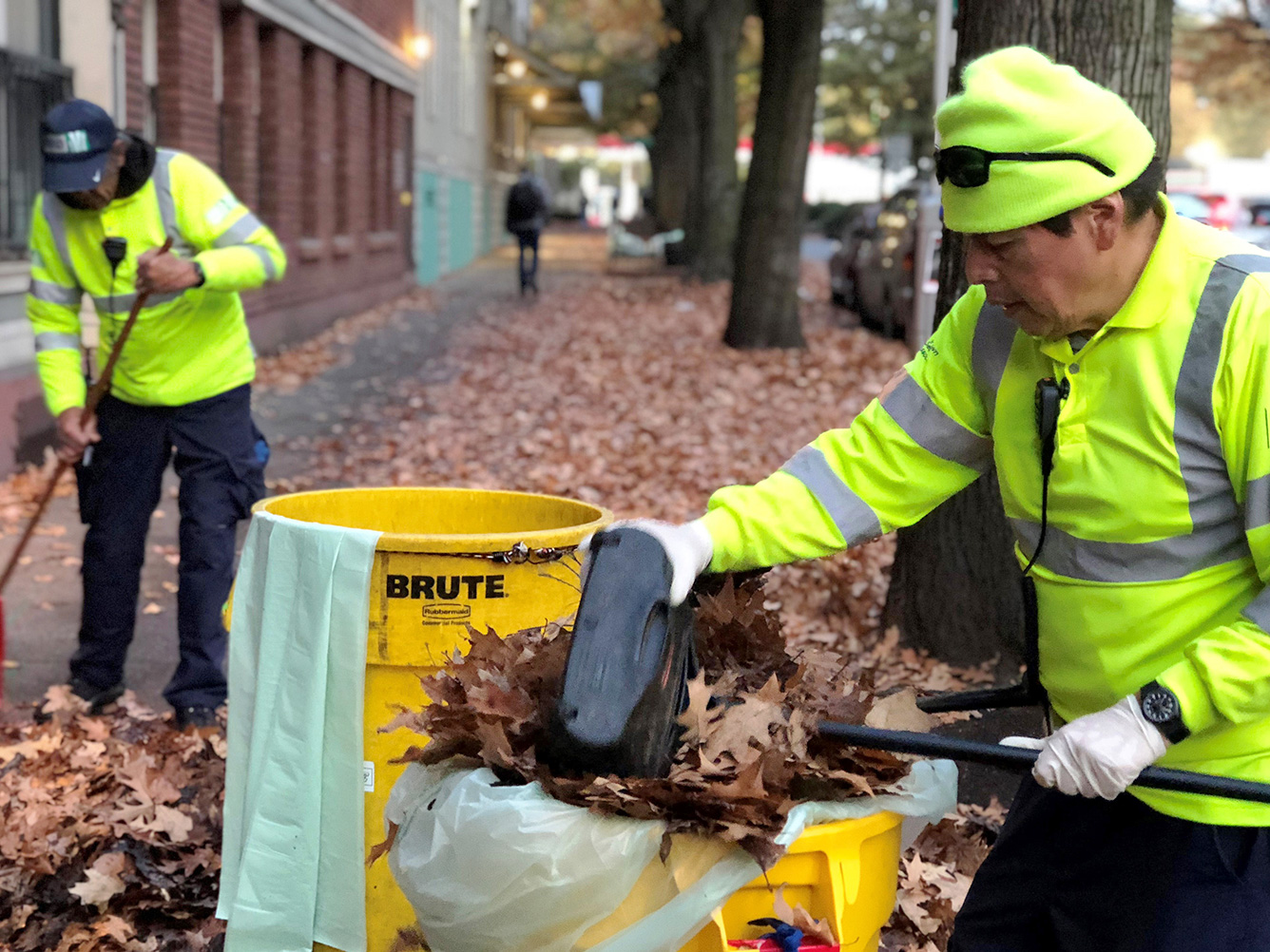 Fall is here, and the city is settling in for months of cool, wet weather. As the seasons evolve, so does the work of the MID-funded Clean, Safe and Outreach ambassadors.
When the leaves start falling, removing dead foliage is a frequent MID ratepayer request. Each year the Clean Team rakes, sweeps, blows (with new battery-powered equipment) and collects more than a quarter-million gallons of leaves from downtown sidewalks. Most leaves will be composted, thanks to a partnership with local organic waste recycler Cedar Grove. Leaf stains on the concrete are power-washed away.
"Our teams work hard to keep the sidewalks clear," says Steve Walls, senior manager of the DSA/MID cleaning program. "Removing fallen leaves improves pedestrian safety and cuts down on urban flooding."
The moisture and low temperatures can make life harder for those living unsheltered on the streets of downtown. Hygiene kits distributed to people in need are repacked for chilly and damp days. Gloves are added, as are hand warmers, toe warmers and rain ponchos. The Outreach Team gets more questions about housing and support resources, and conversations about permanent shelter are easier to start.
"Winter is difficult if you're experiencing homeless," says Chris Park, DSA/MID outreach manager. "We try to stay in contact with our clients and offer resources to stabilize and bring them inside."
To protect against long hours outside, ambassadors are issued winter gloves, jackets, compression shirts, boots and beanies. The morning shift starts before sunrise.  Bikes ridden by Safety ambassadors work fine, even through the rain and grit. Their gear system is shielded from dirt and grime.
If you have a service request, send us a message through our website and we'll contact you within one day. The Clean Team provides cleaning services within the six neighborhoods of the Metropolitan Improvement District Monday–Sunday between 6 a.m.–9 p.m.