Occidental Square is getting a playground
Posted on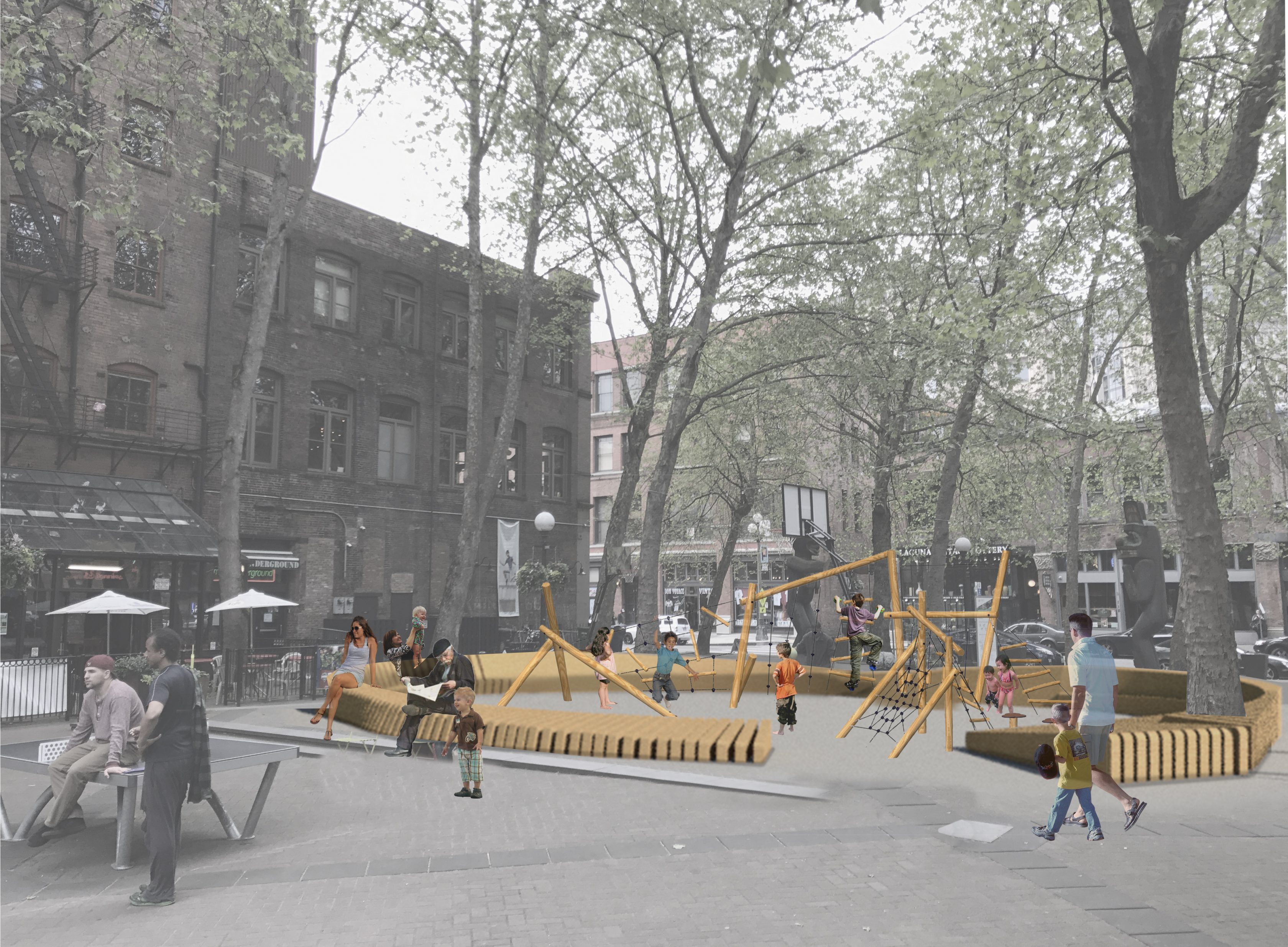 This piece was originally published by Curbed Seattle on July 17, 2018 during Curbed's Play Week.
A play structure is coming to Pioneer Square's Occidental Park later this year through a collaboration between neighborhood group Downtown Seattle Association (DSA) and Berger Partnership, the landscape design firm behind the development of the Arboretum Loop Trail and other projects in local parks.
The playground was inspired by a play space added to Westlake Park in 2013—which contains one of the few play structures downtown, said Jennifer Casillas, DSA vice president of public space operations and events.
"Downtown Seattle is short on supply of outdoor play equipment for children, and the popularity of the Westlake Park play space proved the fact that additional play areas in the city would be a welcome addition," Casillas told us over email. She said that DSA started working on the play structure in 2015, but ran into delays while working on other park programming.
Occidental Square is a unique park, surrounded by vine-covered brick and anchored by a tunnel-like corridor of trees.
"The play space is being designed to blend into, and [complement], the natural environment of the park," said Casillas. "The boundaries of the space will be rounded to work with, and to incorporate, existing features, including paved steps, totem poles and trees."
To blend with the rest of the park, Casillas explained, the play structure will be built from natural materials, like sturdy timber "to reflect the timber industry that once was thriving in the area."
To arrive at the design, said Casillas, DSA consulted with the Pioneer Square Residents Council, the Alliance for Pioneer Square, and Parks and Recreation, in addition to doing public feedback.
According to DSA's own statistics, there are about 4,400 children living downtown, including 2,700 kids ages 5 to 17—a number that's doubled since 2010—although DSA's definition of "downtown" stretches as far north as Uptown (or lower Queen Anne, depending on your preference) and includes parts of west Capitol Hill.
Occidental Square is owned by Seattle Parks and Recreation, but Downtown Seattle Association took over operations for both it and Westlake Park in 2015—more recently adding McGraw Square—so it's a publicly owned, privately operated park. DSA is footing the bill for the playground construction, although Casillas notes that there are "sponsorship opportunities available."